How to Measure Alpinestars Racing Suits
Use the table below to find the perfect sized Alpinestars racing overall. Use a second person and a soft measuring tape for most accurate results.
A: The chest circumference around the thickest part of the chest.
B: The waist around the narrowest part, approximately the level of the navel.
C: The hips around the thickest part of the hip and buttocks.
D: The thigh, around the thickest part.
E: The inside leg from the ankle to the crotch.
F: The external arm length from the shoulder bone to the wrist.
G: Height from the floor to the top of the head.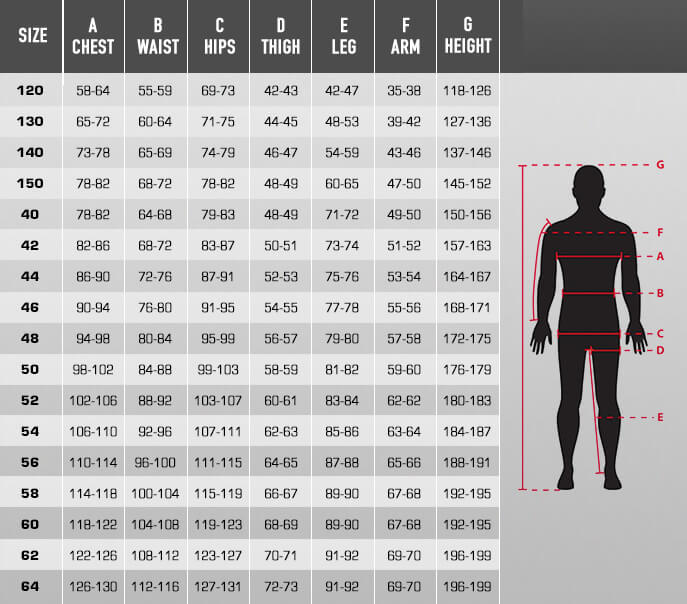 How to Measure Alpinestars Racing Gloves
Measuring your hand for your next pair of racing gloves isn't particularly difficult, yet it's critical that you take the correct measurement.
You'll need your racing gloves to fit, well, like a glove, to best feel and respond to the steering wheel's feedback. See the video below if you require more information on how to measure your hand for a racing glove.
You'll need a fabric measuring tape
Place the end of the tape on the back of your knuckles
Wrap the tape around your hand
Keep hand and knuckles flat
Take the measurement
Compare your measurement to our glove size charts below
| Hand Circumference (cm) | 6-10 | 8-12 | 10-14 | 12.5-16.5 | 16.5-19 | 18-21.5 | 20-24 | 23-26.5 | 25.5-29 | 28-32 |
| --- | --- | --- | --- | --- | --- | --- | --- | --- | --- | --- |
| Alpinestars Glove Size | 4 | 5 | 6 | 7 | 8 | 9 | 10 | 11 | 12 | 13 |
| Glove Size | | | XXXS | XXS | XS | S | M | L | XL | XXL |