Towards the end of last year, I was asked to complete a first test, otherwise known as a 'shakedown', in a 2009 GP2 car. Although I've been lucky enough to drive quite a few F1 cars, I've never driven a GP2. So naturally, I jumped at the chance.
For those of you who don't know, a shakedown is simply a test where the team go and check everything is OK with a race car, usually when it's new or after a rebuild before they go and test properly.
With most modern race cars being so reliable, shakedown test days are usually left for historic and more complex racers.
And this 2009 GP2 is incredibly complex.
The car has had it's original 612 bhp Mecachrome V8 removed and replaced by a 680 bhp 4-litre Judd V8.
This GP2 will race in the 2017 BOSS GP championship – a series for ex-F1 and GP2 machinery with quite open rules – meaning it's beneficial to have a faster, economical and more durable engine.
The engine change is not as simple as it sounds and really warrants its own post from Mansell Motorsport – the team who converted this car and many others – for the BOSS GP series.
As you might have guessed, I'm no stranger to Mansell Motorsport as it's headed up by Kevin Mansell, the original Driver 61 and my father.
The to-do list for converting an ex-F1 or GP2 to a more wallet-friendly motor is long and complicated, requiring months of planning and many more to complete:
remove and relocate original engine pick up points
install new engine with new oil and water piping
design and repackage new exhaust system – 4 into 1 replaced by 4 into 2 into 1 to optimise Judd V8 power output
change Magnetti Morelli control unit which controls engine, drive-by-wire throttle, gearshift, paddle clutch and dashboard with EFI for the engine, Shiftec for gearshift and paddle clutch and Motec dash and logger. The huge complexity here is getting all these systems to talk to each other seamlessly
design and fabricate an engine/gearbox adapter plate – to accommodate new engine and retain original wheelbase
change the diff gear to ensure an appropriate top speed with new engine's maximum RPM
alter and relocate suspension pickup points for correct suspension geometry (due to new engine and pickup points)
fabricate new wishbones to fit the new engine
As you can imagine, it's a lengthy process.
In the weeks before the shakedown, the team run the car on chassis stands in the workshop, mainly to check the electronics and engine function, but nothing can prepare it for actually turning a wheel on the circuit.
This car is capable of an astonishing 53-second lap at Donington Park National, with an average speed of 130mph – yes, average!
With these types of speeds, you can imagine the forces being put through the suspension, brakes and drivetrain, so it's imperative we build up to pace gradually.
The Test: a Typical Thursday at Donny
I arrive at Donington Park (see our circuit guide here) on a chilly Thursday morning. As with every Thursday at Donny, it's an open test – meaning I could, and would be, sharing the circuit with any type of race car.
I remember once testing a 1999 Benetton on a Thursday, where I followed a Mini Challenge racer down the Craners. I was in 2nd gear, less-than-cruising on my in lap, while the driver ahead was struggling to keep it between the white lines.
Needless to say, the speed difference is massive and can be over 100mph at certain points on the circuit!
This Thursday is no different. You may be wondering why we're running the program at Donington? Aside from being a friendly and accommodating bunch, they also don't have a testing noise limit.
I'm not sure how loud a (pre-modern power unit) F1 or GP2 car is, but it's certainly over the standard limits, making testing at most UK circuit impossible.
As I enter the garage, I see the car and begin to feel excited. The car looks awesome and even just sat there, it looks fast.
After I've signed on, I sit down with Kevin and Barry (Judd's engineer) to discuss what's needed. To be honest, shakedown tests with cars of this complexity can be a little slow. There's lots of data to check between runs, and any mistakes can be hugely expensive.
The team advise me that we'll be doing one installation lap (out and in), a run of five laps and if all is well, a final run of 25.
By 10am the car's ready to go, meaning that it's been through its 2-hour long water and oil heating process using an external heater. It's also been run up to temperature a few times to ensure heat is thoroughly spread throughout the engine. You can't just start these engines up cold!
Run One: Installation Lap
Once I've jumped in the tub, and I'm strapped in tightly, a mechanic inserts the external starter into the rear of the 'box and I give the go ahead to start the vicious V8.
As always, the noise is surprisingly powerful.
The team push me out of the garage, I pull the hand clutch and select first. I add some revs as I let the clutch out and…. Stall.
I don't want to make excuses, but I'm going to anyway.
The car has a hydraulic shift and clutch system on it, meaning there's absolutely zero feeling as to where the biting point is. Still, it's never cool to stall.
Second time round I add a few more revs (and clutch dust) and make my way down the pit lane. First two ticks on the list: the clutch works and the wheels roll.
When driving the installation lap, your senses need to be extremely sensitive.
Listening out for a change in engine tone or something rubbing, looking at the temperatures on the dash or for smoke in the mirrors, and feeling that the gearbox changes freely or the brakes aren't pulling.
Even though I'm pretty much crawling around, there's a lot going on. And all of this while trying not to trip over Caterham Academy cars or be tripped over by a quick kid in an F3.
When driving this first lap, it's safe to say that although I'm going slowly, I'm close to mental capacity.
It's critical, though. I once did the shakedown in a '97 Jordan – the cool one with the Benson and Hedges livery. After half a lap, I could feel a little tightness in the drivetrain, so I pulled it over and stopped.
It turns out the diff gear had been made slightly too large – just 0.2mm – by the outsourced manufacturer and was getting hot then expanding with the new forces on it. It meant scrapping the test, but saved the diff and more importantly the diff casing.
That's the thing about these ex-F1 cars; the surrogate teams sometimes have very few spares. Meaning that if one part is destroyed, it can be very difficult to make the car run again. In this case, they only had one diff housing, and as they're cast in magnesium, they're very difficult to reproduce.
Luckily, everything went well with the GP2, and after two short miles, I headed back down the pit lane.
Download and Analyse – Data, Data, Data
I jump out the car to debrief with Kevin.
It's more of a touchy-feely description, explaining how the car felt and giving as much detail as I can about various aspects of the car: the water and oil temperature were fine, the gears work from one to six, the brake pedal is strong, the steering wheel isn't quite straight, it's difficult to pull away – the clutch might need remapping, nothing I could see rubs, my seat doesn't have enough shoulder support, the throttle pedal is really heavy, the shift lights aren't quite right.
And on, and on, but nothing is a significant problem – which is a great start.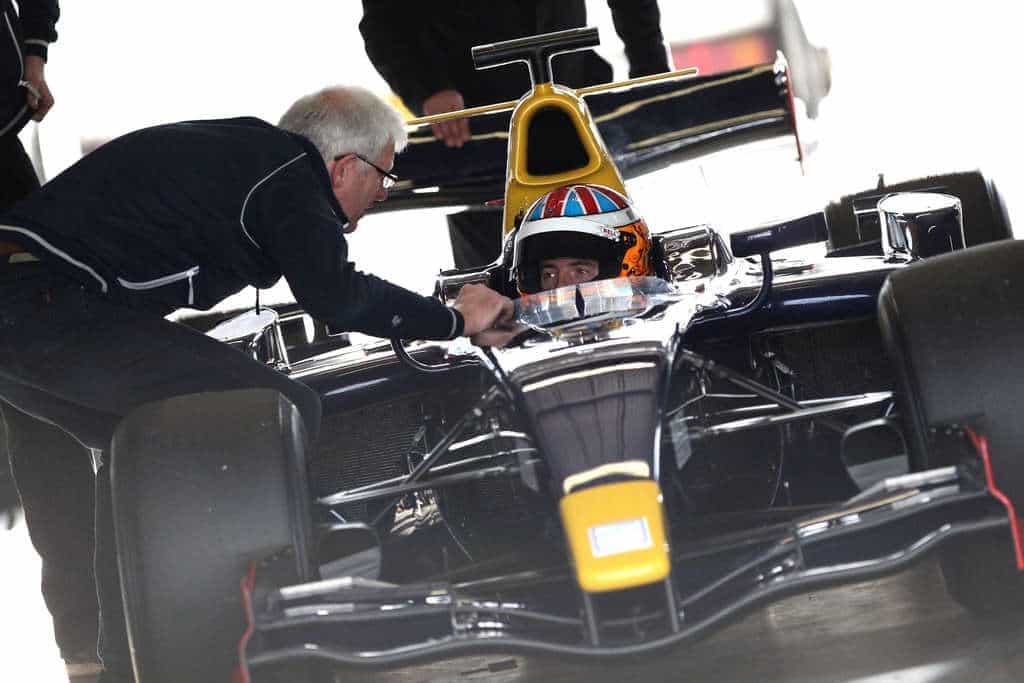 Meanwhile, Barry downloads a host of hard information from the EFI data logging. The first thing he needs to check are the water and oil temperature. Until now, the car has never had air running over it. With such tight packaging, cooling is difficult, and an uncooled engine overheats very quickly.
Barry checks over more than 50 channels and everything seems good – however the car's only been driven for two miles, so we'll need further confirmation.
In the short time I'd driven it, the handling of car felt pretty good. At this point, it was too early to tell, but the mechanical grip seemed high, although I'd not got anywhere close to the edge in the fast, aero corners.
Kevin and Barry were happy with the feedback and data, so it was time for the second run; five laps, increasing speed from cruising to beginning to get 'on it'.
Run Two: Building Pace
On my second run, I happily made it out of the pit lane without stalling.
Now it was time to build the speed, and physical load on the car, up to around 80% of its potential.
From my point of view, this session is quite difficult as going quickly and keeping a very keen eye on all of the telemetry, as well as navigating my way through the traffic, is understandably challenging.
In a really quick car, Donington is basically a series of linked turns all the way from Redgate to Coppice and it's difficult to look down at the dash – things come up fast at that speed.
Even at around 80-90% of a decent lap time, you're still beginning to have the car to move around.
As I'd never driven this car before, I first find the edge of grip in the slower corners. This is obviously the most sensible thing to do and allows you to extrapolate the level of grip around the other of Donington's corners.
However, care must be taken as with a high-downforce car the mechanical to aero grip level changes substantially. This means that in the quicker corners, you simply have to build up to the edge.
Thankfully, everything in run two went well. The car felt good, and the engine temperatures and pressures were all within their parameters.
The only thing I noticed was that the engine cut on the upshift was a little too long.
The GCU (gearbox control unit) on these cars cuts the ignition for a split-second, allowing the dogs of the engaged gears to free and the next gear be selected.
Usually, you get a bit of a bump on an upshift, but this felt like my head was being kicked back and forth. This is something I commit to memory to tell Kevin and Barry once I return to the garage.
In this session, it becomes apparent how quick the GP2 car is relative to the other cars on track, overtaking GT3s and other formula cars like they're standing still.
To put this into perspective, the Craner Curves can be taken flat, at around 170mph at the bottom of the hill.
Once back in the garage, the team, download megabytes of data and trawl through it for a good 90 minutes.
They find the slight configuration issue with the upshift; the ignition cut was simply too long. Barry inserts some new numbers, and soon I'm getting strapped back into the fantastic car.
Run Three: Race Sim – 25 laps at close to race pace
The final session is to ensure the car is capable of a race distance. The BOSS GP races are around 20 minutes, so we decide to complete a 25 lap run around the Donington Circuit.
Although I still need to be sensitive to feeling what's happening with the mechanics of the car, in this run I'm able to settle into a decent rhythm and really get a feel for the performance of the GP2, driving somewhere near the ultimate pace.
After a few laps of warming brakes and building pace, I get down to 0:57s and 0:58s. As I mentioned before the car will go quicker, but I'm still careful, and it's near impossible to get a clear lap on the busy general test.
During the run, I get down to a mid 56-second lap which feels like a good pace for what we're trying to achieve.
At this pace, the car is being to work properly, although ultimately I'm giving a little safety margin in the braking zones and the mighty Old Hairpin.
In a quick car, Donington is a very busy circuit, all the way from Redgate to the back straight; you don't get a break – physically and mentally.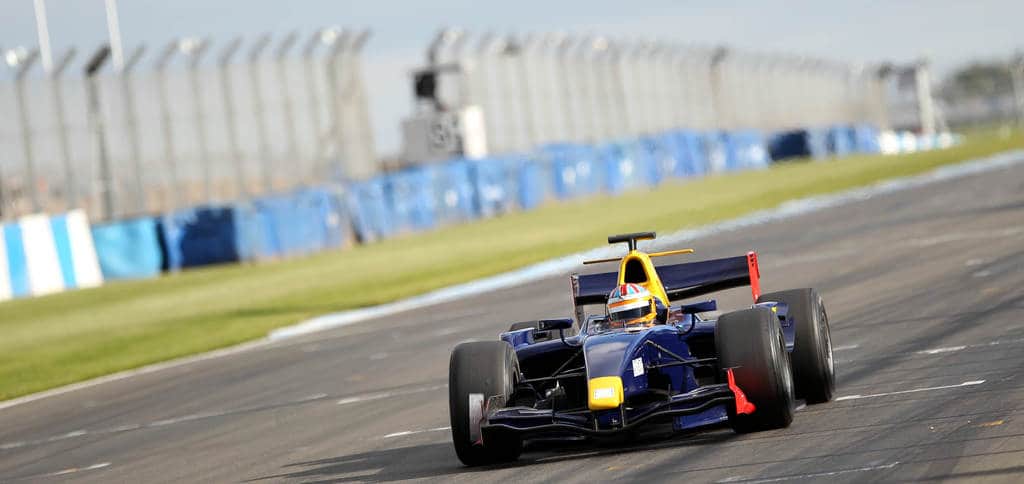 Coming over the start/finish line and towards Redgate, I grab 6th gear for a short period before braking – about 15m after the end of the blue triangle for those of you who know the circuit.
The brakes feel great in the GP2; strong yet retaining a good amount of feel. Some of the older F1 cars I have driven seem to have zero feel, making maximising the braking zone very tricky.
Regate is a late apex in third, before feathering in the throttle and heading down the Craners. It was flat, but it's always a heart-in-mouth moment the first time you do it at around 170mph in a new car without tarmac run off to protect you. Imagine what Eau Rouge used to be like!
The Old Hairpin tests the neck, a soft brake and down a gear to fifth before getting back on the throttle hard – the lateral G is incredible.
Schwanz is flat, but it's important to make sure the car's platform is flat before braking hard for another third gear right-hander. The entry feels good Mclean's, but the bump on the exit always forces a little oversteer.
I have time to grab fourth before I get back on the brakes – quite lightly – for Coppice. In this quick car, it's critical to have my vision a long way forward as I introduce the throttle and head down the back straight.
I hit the top speed here, maxing out just over 180 mph on Donington's short Dunlop straight.
Finally we're on the brakes for Goddard's hitting almost 4G and down to third gear once again before the flicking right and left and feeding in the 680 bhp.
After a brief 25 laps, I head back into the pits to debrief once more with the team.
For me, the car felt good. The setup wasn't perfect out the box, but that wasn't the goal of the day – that's the next test.
Once again Barry checks the mountains of data, and Kevin speaks with me and checks the car, but all looks well. It's been a very successful shakedown with no real issues.
Now the car's ready for the next test to fine tune the setup. This is something I'll likely do to ensure this beast is as driveable for it's owner as possible.
Then, once the season gets underway, it's off to the 2017 BOSS GP championship.
All in all, I think the GP2 compares well to the ex-F1 machinery I've driven. On a twisty circuit – in F1 terms – like Donington, it feels nimble and the extra power from the Judd V8 will mean it's ready to fight with the mid-2000 F1 cars in BOSS GP.
Well done to all involved, it's genuinely an absolute pleasure to drive.
More information
Check out some of the driving techniques mentioned in this article in our Driver's University. Find out more about Mansell Motorsport, Judd Engines and BOSS GP here. And take a look at our list of track and test dates at Donington, as well as race driver coaches too.