What are the Best HANS Devices?
Hello, I'm Scott Mansell (above, orange helmet), founder of Driver61, race driver and coach.
I always get asked about the different types of head and neck support devices we have in the store, so as someone who's been wearing one for 14 years, I thought I should write a guide to help you find the best FHR or HANS device for your racing.
Finding the right HANS, FHR or Hybrid FHR device is extremely important, yet with so many types, materials and angles available it can be a confusing process.
First of all what does HANS, FHR or Hybrid FHR device mean?
An FHR is a Frontal Head Restraint: it's the overriding term for what you might call a HANS device.
HANS is actually a trademarked name – an acronym for Head and Neck Support – that only certain manufacturers can use. It's the most common term for these devices.
A Hybrid FHR uses a non-traditional design (shown later in the guide) with straps around the driver's torso. Unlike the regular FHR devices, the hybrids are functional with any seating position.
What's in this HANS Device guide?
The Driver61 HANS Device Buyer's Guide will help you to understand:
How a HANS device helps in a crash
The difference between a HANS and Hybrid device
Which angle of device you'll need and why
How your HANS/FHR device should fit
Other features of HANS devices
What does a HANS device do?
The HANS and FHR devices are designed to restrain a driver's head – compared to the body – during a front and angled-front racing crash. Due to the restriction of the head, the impact on the neck is reduced, lowering the risk of injury. HANS devices have been compulsory in British motorsport since 2016.
How a HANS device helps in a crash is most graphically demonstrated in the following video:
What's the best type of HANS/FHR device to buy?
Many stores have a large range of HANS or FHR devices, with prices ranging from around £200 to just over £1000 depending on design and materials used (plastic or carbon).
All devices are designed to offer the same protection during an incident – and have been certified to FIA standards – however, some HANS and FHR devices will vary quite significantly in weight. While this may not be important for a track day or club driver, it can make an important difference in top-tier racing.
There are a couple of types of FHR available namely the traditional Head and Neck Support (HANS) systems that sit around the driver's neck and the newer hybrid systems.
This buyers guide will take a look at both the HANS and hybrid devices.

What's the right angle for my HANS device?
When choosing your HANS device there a quite a few features that should be examined – one of the first decisions to make, is which angle is correct.
HANS devices come in various angles that should be suited to your race car – your seating position and how reclined it is. The devices come with angles ranging from 10-40 degrees – the former being more suited to GTs with upright seats and the later to a more reclined position such as in a single-seater.
The rule of thumb here is:
More upright seat: lower device angle
More reclined seat: higher device angle

The idea behind the different angles of device is to ensure the back section is the correct distance and angle from your racing helmet.
It is acceptable for the HANS/FHR device to lightly touch the back of your helmet, but if the back of the device is beyond upright (closer to the driver's helmet), then a more upright device itself may be required.
Alternatively, the HANS device may have slight contact with the seat or headrest behind, however, if it pushes the head forwards or goes back more than 60-degrees (from horizontal) a higher angle of the device may be required.

Other HANS Device Features
Some HANS devices include a small tab on the upper-outside part of the yoke section. These are there to help keep the harness in place and prevent them from falling off the side of the device.
The belts tab works in conjunction with a high grip surface on the same upper section, again to prevent dislocation. HANS and FHR devices are required to use a high-friction rubber to help grip the back of the race belts, supporting the device when the car and driver are moving.
You should keep a careful eye on the condition of the high-grip rubber as time passes. There should be no tears, breakage or damage – if there is, it's possible your HANS device might fail scrutineering. It's also worth noting that if you'd like to paint your device, the rubber parts must be completely uncovered.
The underside of the yoke section will also include a pad. The pad is there only to improve comfort over the shoulder and collarbone areas and is made from a fireproof material.
Hybrid FHR Devices
There is an alternative to the traditional over-the-shoulder type (HANS) systems.
Hybrid FHRs are an innovation by Simpson Motorsport, who use a combination of straps around the driver's body, to support the driver's neck in case of an impact, as you can see below.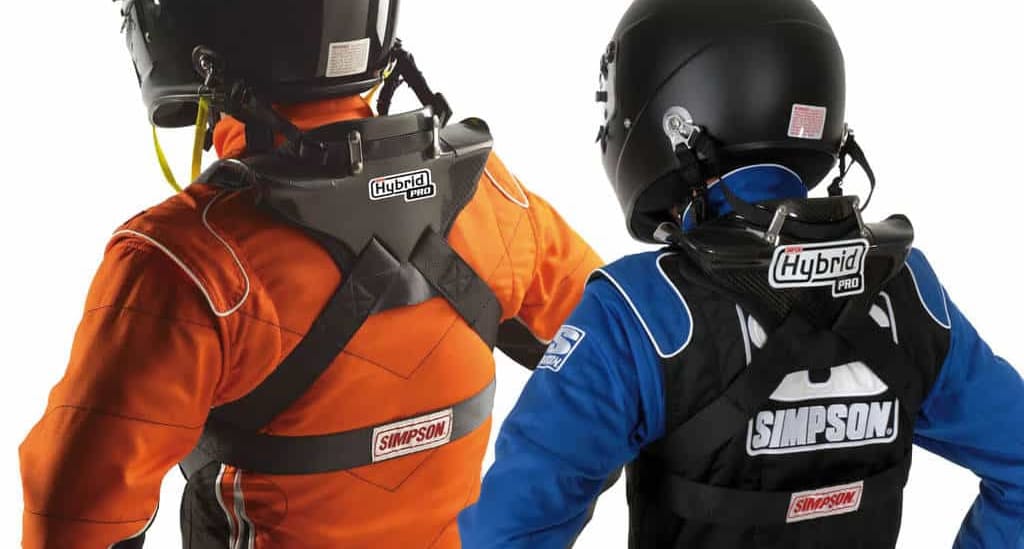 The hybrid FHRs not only protect drivers involved in a front-on collision but also angled-frontal impacts thanks to the innovative design. This type of design is particularly interesting for GT and saloon car drivers who might not have as much sideways head protection as in a single-seater car.
This hybrid type of FHR device has also been mentioned to be more comfortable than the traditional FHR devices. For me, (Scott M), I can honestly say I've never felt uncomfortable with my Stand 21 yoke-style device, but I thought I should mention what a few of our customers say.
Driver61's top picks: what are the best Hans / FHR devices?
COUNTERFEIT/FAKE HANS DEVICES
Finally, a word of warning. In the last years, there have been more and more reports of counterfeit race equipment in the market – see this report by Autosport Magazine for more information.
Counterfeit equipment is obviously not homologated and is made to poor standards – they're usually found on large auction sites, so please be aware and only buy from a trusted Motorsport retailer.
So that's all for this buyers guide to HANS and FHR devices. If there is any further information you require, please do not hesitate to get in contact with Driver61 using the instant chat feature in the bottom-right of this page.
Own the Podium.
Join the intensive driver course that will make you faster, safer & more consistent on track in the shortest possible time.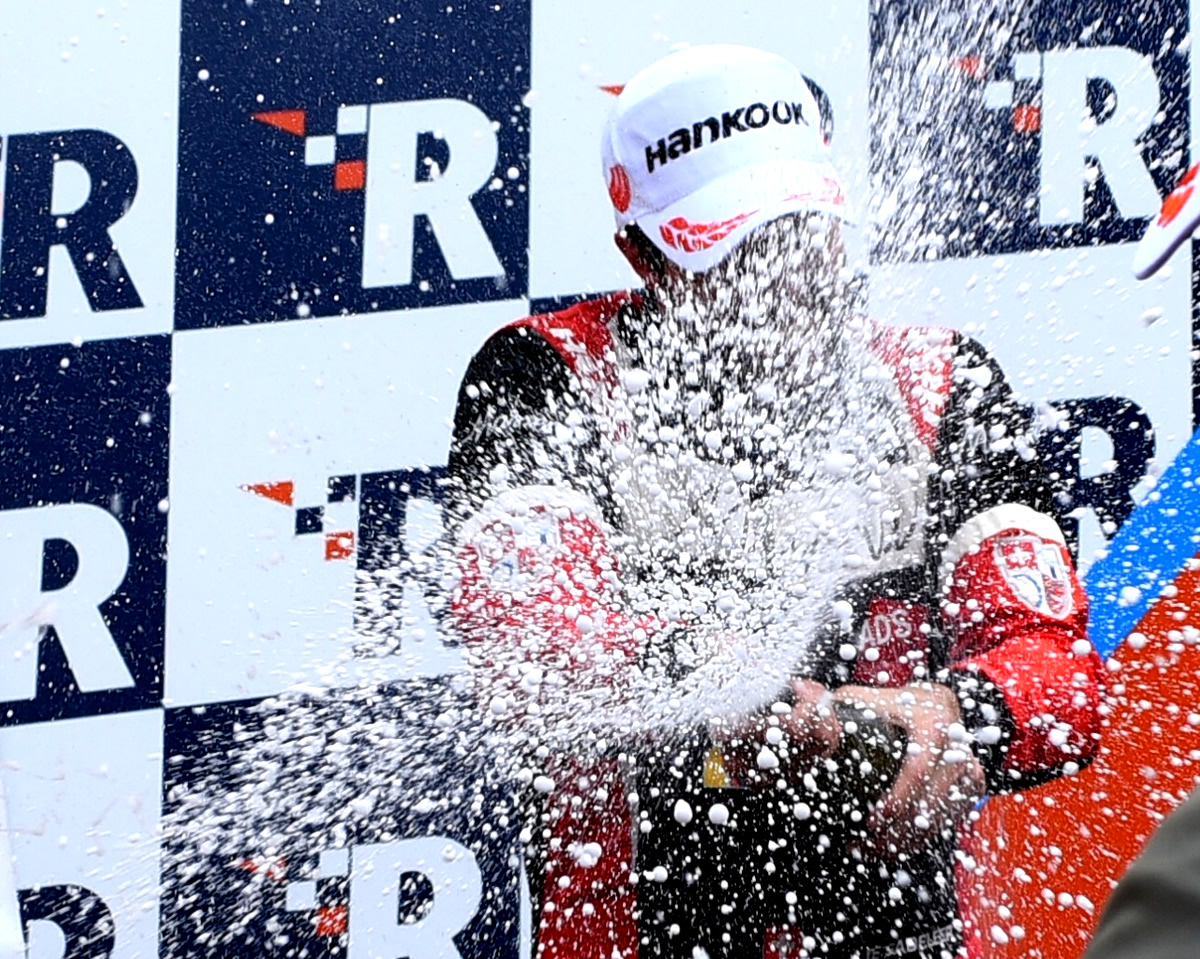 Are you ready for the podium?
Join the intensive driver course that will make you faster, safer, and more consistent on the track in the shortest time possible.