Caterham Coaching and Driver Training
Get faster and more confident with Driver61
How to get faster in your Caterham
Our Caterham coaching and driver training programme will make you faster and more consistent on track.
We enable drivers to shortcut their journey to finding the limit and make them confident to push it further – ultimately making them faster racers.
Our Caterham coaching is for all types of Caterham racers including:
Caterham Academy

Caterham Roadsport

Caterham 270R

Caterham 310R

Caterham Graduates
Find the ultimate grip limit in your Caterham as quickly as possible – in all conditions. This will allow you to lap on the pace in testing, qualifying or the race.
Work within the Driver61 training framework, but learn the bespoke techniques for you and your Caterham's style.
Our private track hire means we can run drills and embed muscle memory that'll help you win races. Spend all day in car, on a clear circuit.
Our Caterham coaching focuses on improving your fundamental technique, so you instinctively know what to do and when to do it.
Real learning is only done on the limit. We spend much more time on the limit than a test or track day – meaning you're in the zone and learning fast.
Fewer distractions, massive track-time and our to-the-point coaching means the most efficient learning possible through our structured framework.
What Drivers Are Saying
100% 5-star TrustPilot feedback from happy and fast drivers, read more here.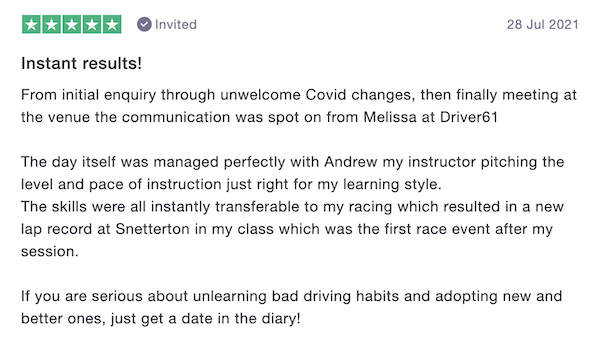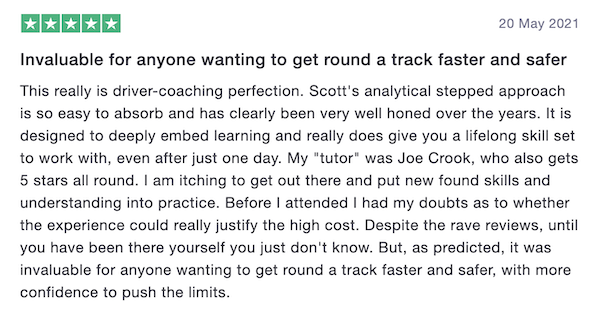 I'm Scott, founder of Driver61.
We develop championship-winning racing drivers.
Hi, I'm Scott Mansell (from the Driver's University) and I'd like to introduce Driver61 driver development programmes, practical driving courses to make permanent improvements to your circuit driving.
I've been lucky enough to spend the last 15 years – and thousands of hours – of my life racing and coaching at circuits around the world.
During this time, I've seen many drivers – even the experienced guys – get the fundamental techniques of driving completely wrong.
The unfortunate thing is they never get close to reaching their full potential and waste a lot of time and money along the way.
With this in mind, I've designed a range of training programmes that quickly instil perfect technique and creates lasting changes to make you faster, safer and more consistent.
Caterham Coaching Methodology
Track days and test days are not the best environments to receive coaching in your Caterham. The tracks are busy, you'll be constantly overtaken or overtaking, and it's rare to have the space to string a full lap together. 
That's why we run our Caterham coaching on a private test track. Our sole focus is on building your driving technique as quickly as possible and with a private circuit, we have clean lapping. Plus, we can break the circuit down into easy-to-digest bitesize pieces – with each corner we train a specific technique.
With fewer distractions, you'll have more mental bandwidth to focus on actually getting faster in your Caterham. We identify issues with your technique, then zone in and build new techniques through rapid repetition. You'll shortcut decades of learning on track as we transfer our knowledge as efficiently as possible.
One issue with traditional coaching in your Caterham during a track or test day is that it can often be quite two-dimensional. The focus is often on braking a few metres later, turning in at a different point or relying heavily on data logging. 
However, we believe you should know what fast feels like in your Caterham and be able to push yourself forward, faster each lap without needing someone to help you. We aim to give you the tools you require to make yourself fast.
The on-track Caterham Masterclass is formatted to build your foundational technique, using the following structure:
Break down each technique into its smallest form – for example, just initial braking pressure

Find any issues or inconsistencies in your current technique

Understand why you're making those mistakes and what the correct technique is

Practice that small part of your technique until you rewire your natural method

Move on to the next layer of your technique

Repeat this process until each area of technique has been improved
We've found with this methodology, our students make rapid and permanent changes to their technique – and unlock a lot of speed too. 
This process will also give you the bespoke tools to make these complex judgments yourself, meaning you can "self-coach" and transfer the skills to any car, circuit or condition in the future.
Previously worked closely with & with drivers from:






We hold the programme at Blyton Park, where we hire the circuit exclusively. This means we have complete flexibility.
We set up different braking zones and corner types for you to practice as drills – with no other cars getting in your way, meaning the most efficient learning.
The Caterham Masterclass runs with a maximum of six cars per day and runs once a month. You'll be using your own car on the track.
There is no unnecessary classroom time and you'll spend almost all of your time in the car working through practical techniques and drills.