Finding the right racing helmet is extremely important, yet with so many options out there is can be a tricky process. You only have one head, and it's important to protect it properly on track whether you're a track day warrior or veteran racer.
What are Driver61's best racing helmet picks?
Stilo ST5 F Carbon Helmet
Stilo ST5 F Composite Helmet
Bell RS7 Carbon Helmet
Arai GP-6 Ped Helmet
Arai GP-6RC Helmet
Bell HP7 Full Face Carbon Helmet
This Driver 61 guide to buying the best racing, rally or karting helmet will help you decide between carbon or composite, open or closed-face and which safety standard you'll require to find the right helmet for you. The Driver 61 Store stocks a variety of race helmets from Arai, Bell, Simpson and Sparco.
The racing helmet buyer's guide will cover:
---
Already know what you're looking for? Check out our store:
Race Helmets | Rally Helmets | Kart Helmets | Track Day Helmets
---
What Type of Helmet is Right For Your Track Driving?
The first thing to consider is what you're going to be using your new helmet for. If you're just doing the occasional track day, you'll likely want something different than if you're taking part in your first LMP3 race – in terms of safety standards, material, and of course, price.
Track Day Helmets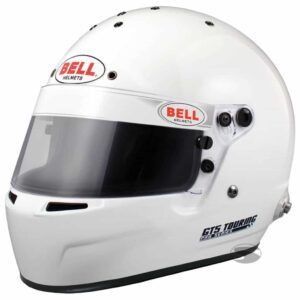 Concerning protection and safety, a helmet is the first piece of equipment we advise buying for track days.
Even though you're not technically racing on the circuit, you'll be reaching high speeds and there's still an element of risk – so you'll want the best protection for your head.
Helmets used on track days do not need to meet the same safety specifications as those being used to race, but you'll still want to find the best protection you can.
As most track day cars are saloons, you could go for an open or closed-face helmet. However, we'd generally go for the extra protection of a closed-face.
The only real advantage of an open-face helmet is that it's slightly easier to be heard, but it's unlikely you'll be chatting too much as you're heading down the Craner Curves.
If you're in an open-cockpit track day car such as a Caterham R300 or an Ariel Atom, a closed-face lid is the only choice. View our choice of well-priced track day helmets here.
Racing Helmets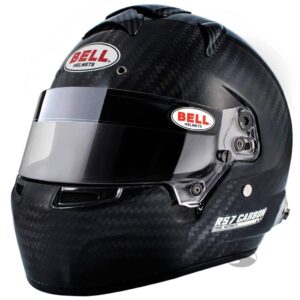 If you're taking part in competitive racing you'll not only need a good quality racing helmet for the best protection, but it'll also need to comply with various Snell or FIA homologations.
The safety standard your helmet needs to comply with depends on your level of competition. We'll go into exactly what the racing helmet standards are, and what you'll need, later in the guide.
If you race a single seater or prototype car, you'll need a full-face helmet. It's best to look for one with quite a narrow aperture – in the case of being hit by debris on the circuit.
The only exception to this rule is in historic racing, where it may be possible to wear an open-face helmet with goggles. However, we wouldn't recommend this for the obvious safety reasons.
If you race a saloon or GT car, you can wear either an open or closed-face helmet. Choosing between them depends on personal preference, but we would generally opt for the extra protection of the closed-face helmet.
Rally Helmets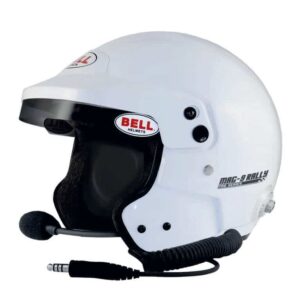 Rally driving is one of the most dangerous disciplines in motorsport, so you'll certainly want the best protection for your head.
As with circuit motorsport, your rally helmet will need to be Snell or FIA homologated, with the standard depending on the level of your competition. For an in-depth explanation view the safety standards section later in this guide.
Closed or open-face helmets can be used in rallying, which is down to personal preference.
Communication is critically important in rallying and so most of our rally helmets use Peltor intercoms which are compatible with Peltor, top-end Sparco and OMP amplifiers.
Karting Helmets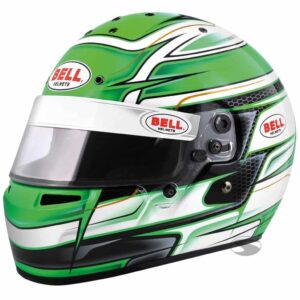 Karters are extremely exposed when on track, so using a high-quality helmet is important.For this reason, all karting helmets are full-face for obvious safety purposes.
The competitive regulations for karting helmets vary according to the age of the karter. If the driver is below 15 years, they must wear a CMR approved helmet.
The CMR helmets are made to a light weight, to ensure a less load on the young karter's neck. Drivers over 15 can use a non-CMR helmet. Helmets with Snell or FIA approval can also be used in karting.
For more information regarding the safety standards for karting helmets please refer to our safety section, where we explain exactly which standard you'll require.
You can view our selection of karting helmets on the Driver 61 Store.
Fibreglass v Composite v Carbon Racing Helmets

It's a complicated thing to understand: what do I need and what is the difference between a fibreglass, composite and carbon racing helmet?
It can be difficult to know if you actually need a full-carbon helmet or whether a fibreglass lid is sufficient. This section of our guide explains a little more about the construction of helmets, and which material might be best for you.
Fibreglass Race Helmets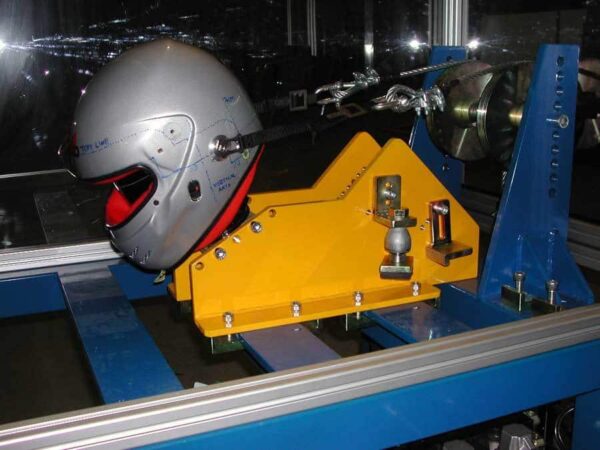 As you might expect, the shell of fibreglass race helmets is made completely from fibreglass.
Fibreglass lids are the most cost effective helmets we stock, but they are usually heavier and less penetration resistant than the composite and carbon options.
Composite Race Helmets
Composite race helmets have the most complex construction of all, using a variety of fibreglass, Kevlar and carbon.
In the areas that may be hit by debris, such as the forehead, the helmet is made from Kevlar. The sides of the composite helmet are made from carbon, while the areas in between the Kevlar and carbon, and the back of the helmet, are made from fibreglass.
Composite helmets are usually lighter than full-fibreglass lids and are generally a similar weight as carbon.
Carbon Race Helmets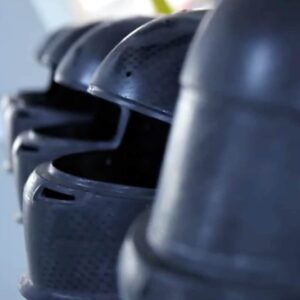 These race helmets are made entirely from carbon, with their benefits being the sheer strength. Carbon helmets are extremely strong and offer unrivalled protection from impact and penetration.
If you're driving a formula or prototype car, where your head may be exposed to debris, a carbon helmet is the best option.
Most people opt for carbon helmets due to the weight, however, even though they're very light carbon helmets generally weigh only slightly less than their composite counterparts.
You can view our full list of carbon racing helmets on the Driver 61 Store.
What Snell or FIA safety standard do I require?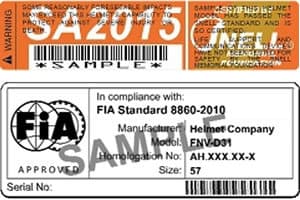 Thankfully, motorsport safety is always improving. Aside from developing car and circuit safety, our equipment – especially helmets – is critically important.
To this end, and to compete with your helmet in most categories of karting, rally and circuit racing, it must comply with certain safety standards from the FIA and Snell organisations.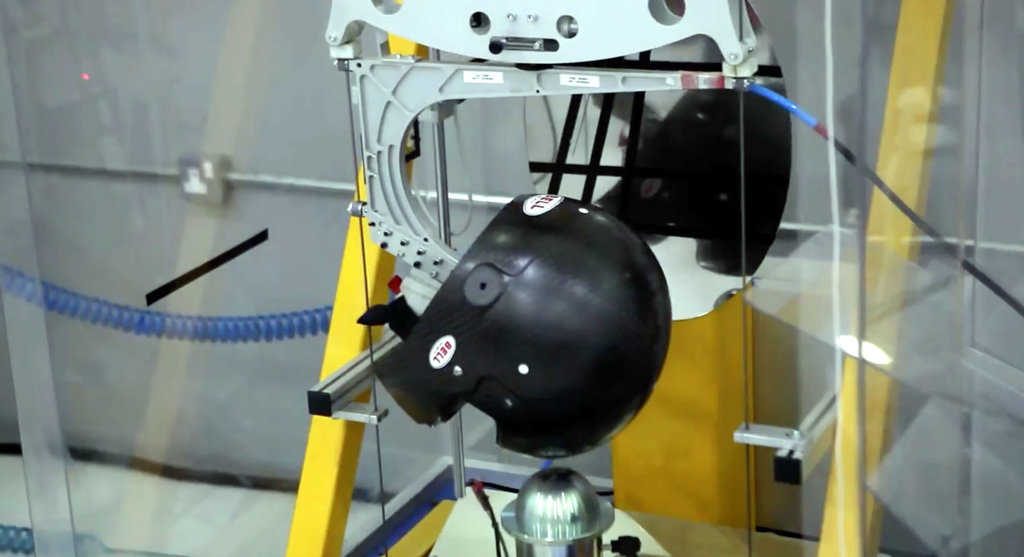 The FIA and Snell organisations set the regulations that helmets must be manufactured to and test each model of helmet to ensure they comply with these regulations.
In the section, we'll explain the safety standards and give some examples of which series you can use them in. However, we advise to check your official series regulations for confirmation.
Helmets can be used for 10 years from their homologation date, but we (and the manufacturers) recommend replacing at least every five years, due to helmet wear and tear.
Track Day Helmet Safety Standards
To drive on most track days you do not need a helmet with a Snell or FIA safety standard, however, track days organisers (and Driver 61) recommend at least Snell SA 2010.
Even though you're not 'racing' on track, you're still travelling at a high speed, and accidents can happen. For this reason a race-spec, high-quality helmet is always recommended.
Racing Helmet Safety Standards
SNELL SA2010, SAH2010, SA2015: Can be used in all MSA club circuit racing such as Clio Cup and Formula Ford.
FIA 8859-2015: Can be used in MSA club circuit racing and FIA international races. Please also remember that if your series runs a European round, your helmet will need this homologation that event.
FIA 8860-2010: This level of FIA homologation is required for FIA events like as British GT, Blancpain GT, GP3, GP2. Helmets made to this standard can also be used at all MSA events.
Rally Helmet Safety Standards
SNELL SA2010, SAH2010, SA2015: Can be used in all MSA club rallying including single venue and stage rallies.
FIA 8859-2015: This homologation of helmet can be used in all MSA club rallying and selected international FIA events – check your regulations for confirmation.
FIA 8860-2010: This standard is required for the World Rally Championship and specified FIA events. It can also be used at all MSA events.
Karting Helmet Safety Standards
SNELL FIA CMR2007, CMS2007, CMR2016: Need to be used by karters under 15 years old for example Cadet and Bambino drivers.
SNELL K2010, K2015: These are karting specific standards and are suitable for MSA club karting including Super 1.
SNELL SA2010, SA2015: These are not karting specific standards but can be used in MSA club karting including Super 1.
FIA 8859-2015: This is not a karting specific standard, but can be used in MSA club karting and Super 1.
Which Other Key Features Should I Consider?
When choosing your helmet for your time on circuit there are also some other things to consider:
Ventilation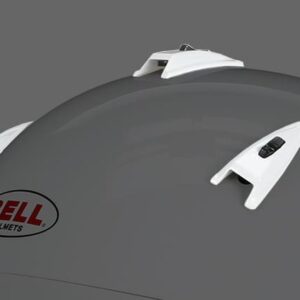 It's important to try and remain as cool as possible when racing to improve stamina and retain proper concentration. For that reason, good helmet ventilation is absolutely necessary.
Good ventilation is especially important in saloon and GT cars where air flow is poor, so look out for the helmets with the most vents in the chin area and on top of the helmet.
If you're driving a single-seater or prototype car, be sure to look for a helmet with adjustable vents to restrict the flow of air if necessary.
Aerodynamics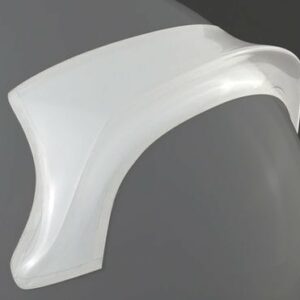 If you're in an open cockpit such as a Radical or Formula car, you may need a helmet with a chin bar or a spoiler to ensure you don't experience helmet lift at high speed.
Some helmets, such as the Bell HP7 with duckbill spoiler, already have an aerodynamic shape. However, it's also possible to buy plastic chin bars and spoilers and add them to your helmet (be sure to add them before you get it painted).
Intercom
If you're a rally driver or co-driver, it's likely you'll need to communicate with your partner. Take a browse through our rally helmets with intercoms. Most of our rally helmets use Peltor intercoms which are compatible with Peltor, top-end Sparco and OMP amplifiers.
HANS posts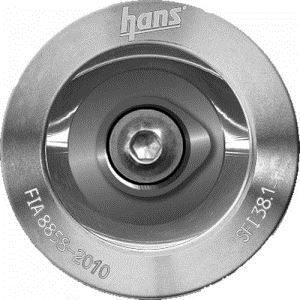 As of last year, it's now necessary to use a HANS device when competing in all circuit racing, stage rallying, hill climbs and sprints in the UK. All of the helmets listed on Driver 61 come factory-fitted with HANS posts (barring a few cheaper models).
All helmets listed on Driver 61 – barring a few value models – come factory-fitted with HANS posts. Even if you're a track day driver, we suggest using a proven life-saving device so long as you have harnesses.
View our large selection of HANS and FHR devices on the Driver 61 Store here.
Visors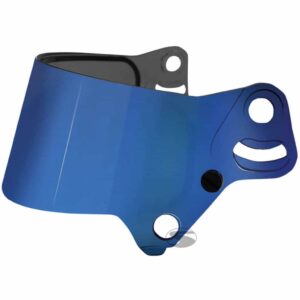 All of our full-face helmets come with a standard clear visor. However, it's best to have a few extra for different conditions such as a bright sun, a low sun or an overcast day.
For a bright day or low sun, you should consider a heavy smoked or mirrored visor to reduce brightness and glare in your eyes.
For a dark or overcast day, you should consider a clear or lightly smoked visor. A yellow or orange tinted visor will also help improve contrast in low light conditions.
For the rain, take a look at our dual-layer range which helps to reduce fog or condensation inside the visor and improves visibility. We also have a full range of peaks for those using their helmets in GT or saloon cars.
You can view our full range of visors on the Driver 61 Store here.
How to Measure & Fit Your Helmet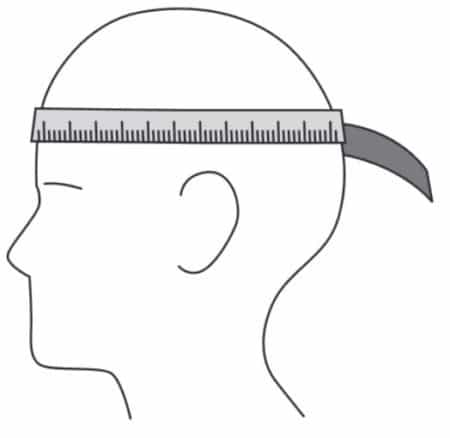 Measuring your head for the perfect fitting helmet is very important, but something you can do easily at home.
Simply use a fabric measuring tape to measure your head around the forehead, just above the eyebrows ensuring the tape is level. Use a friend to help if needed.
Each helmet manufacturer uses a slightly different method of sizing, but they're all based on the circumference of your head.
View size guides: Arai | Bell | OMP | Sparco
| Stilo
Thank you for using the Driver 61 racing helmet guide. Be sure to check out our range of helmets in the Driver 61 Store.
Racing Helmet Comparison
| | Product | Safety Specification | Type | Price | Link |
| --- | --- | --- | --- | --- | --- |
| | Stilo ST5 F Carbon 8860 Helmet | FIA 8860-2010 & Snell SA2015 | Race | £1,582.00 | View |
| | Stilo ST5 F Carbon Helmet | FIA 8859-2015 & Snell SA2015 | Race | £1,204.00 | View |
| | Stilo ST5 F Composite Helmet | FIA 8859-2015 & Snell SA2015 | Race | £676.00 | View |
| | Stilo ST5 F Zero 8860 Helmet | FIA 8860-2010 & Snell SA2015 | Race | £3,611.00 | View |
| | Stilo ST5 GT Carbon 8860 Helmet | FIA 8860-2010 & Snell SA2015 | Race | £1,695.00 | View |
| | Stilo ST5 GT Carbon Helmet | FIA 8859-2015 & Snell SA2015 | Race | £1,155.00 | View |
| | Stilo ST5 GT Composite Helmet | FIA 8859-2015 & Snell SA2015 | Race | £645.00 | View |
| | Stilo ST5 GT Zero Carbon Helmet | FIA 8860-2010 & Snell SA2015 | Race | £3,545.00 | View |
| | Stilo ST5 GTN Carbon 8860 Helmet | FIA 8860-2010 & Snell SA2015 | Race | £1,445.00 | View |
| | Stilo ST5 GTN Carbon Helmet | FIA 8859-2015 & Snell SA2015 | Race | £1,065.00 | View |
| | Stilo ST5 GTN Composite Helmet | FIA 8859-2015 & Snell SA2015 | Race | £505.00 | View |
| | Stilo ST5 GTN Zero Carbon Helmet | FIA 8860-2010 & Snell SA2015 | Race | £3,473.00 | View |
| | Stilo ST5F N Carbon 8860 Helmet | FIA 8860-2010 & Snell SA2015 | Race | £1,547.00 | View |
| | Stilo ST5F N Carbon Helmet | FIA 8859-2015 & Snell SA2015 | Race | £986.00 | View |
| | Stilo ST5F N Composite Helmet | FIA 8859-2015 & Snell SA2015 | Race | £445.00 | View |
| | Stilo ST5F N Zero Carbon Helmet | FIA 8859-2015 & Snell SA2015 | Race | £3,473.00 | View |
| | Arai GP-6RC Helmet | FIA 8860-2010 & Snell SA2015 | Race | £2,499.99 | View |
| | Bell HP7 Full Face Carbon Helmet | FIA 8860-2010 & Snell SA2015 | Race | £2,095.00 | View |
| | Bell HP7 Full Face Carbon Helmet with Chin Spoiler | FIA 8860-2010 & Snell SA2015 | Race | £2,095.00 | View |
| | Sparco Prime RF-9W Supercarbon Helmet | FIA 8860-2010 & Snell SA2015 | Race | £1,643.50 | View |
| | Bell HP5 Touring Carbon Helmet | FIA 8860-2010 & Snell SA2015 | Race | £1,395.00 | View |
| | Arai GP-6 Ped Helmet | FIA 8859-2015 & Snell SA2015 | Race | £1,149.99 | View |
| | Bell RS7 Carbon Helmet | FIA 8859-2015 & Snell SA2015 | Race | £869.00 | View |
| | Bell Mag 9 Carbon Rally Helmet - Built in Intercom | FIA 8859-2015 & Snell SA2015 | Rally | £759.00 | View |
| | Simpson Carbon Devil Ray Touring Helmet | FIA 8859-2015 & Snell SA2015 | Race | £722.39 | View |
| | Bell GP3 Carbon Full Face Helmet | FIA 8859-2015 & Snell SA2015 | Race | £695.00 | View |
| | Sparco Sky RF-7W Carbon Helmet | FIA 8859-2015 & Snell SA2015 | Race | £686.95 | View |
| | Simpson Carbon Devil Ray Racing Helmet | FIA 8859-2015 & Snell SA2015 | Race | £679.00 | View |
| | Bell Mag 9 Carbon Rally Helmet | FIA 8859-2015 & Snell SA2015 | Rally | £652.00 | View |
| | Bell RS7 Pro Helmet in Falcon Red | FIA 8859-2015 & Snell SA2015 | Race | £619.00 | View |
| | Arai GP-6S Helmet | FIA 8859-2015 & Snell SA2015 | Race | £599.99 | View |
| | Arai GP-W Helmet | FIA 8859-2015 & Snell SA2015 | Race | £599.99 | View |
| | Bell RS7 Pro Full Face Composite Helmet | FIA 8859-2015 & Snell SA2015 | Race | £539.00 | View |
| | Bell GT5 Rally Helmet with Peltor compatible Intercom System | FIA 8859-2015 & Snell SA2015 | Rally | £539.00 | View |
| | Bell GT5 Touring Full Face Helmet | FIA 8859-2015 & Snell SA2015 | Race | £469.00 | View |
| | Bell GP3 Sport Matt Black Full Face Helmet | FIA 8859-2015 & Snell SA2015 | Race | £469.00 | View |
| | Bell GP3 Sport White Full Face Helmet | FIA 8859-2015 & Snell SA2015 | Race | £469.00 | View |
| | Bell Mag 9 Pro Rally Helmet with Peltor Compatible Intercom System | FIA 8859-2015 & Snell SA2015 | Rally | £469.00 | View |
| | Bell KC7 CMR Karting Helmet in Venom Green | Snell CMR-2016 | Kart | £429.00 | View |
| | Arai GP-Jet 3 Helmet | FIA 8859-2015 & Snell SA2015 | Race | £399.99 | View |
| | Sparco Air Pro RF-5W Touring Helmet | FIA 8859-2015 & Snell SA2015 | Race | £395.00 | View |
| | Sparco Air Pro RF-5W Helmet in Black | FIA 8859-2015 & Snell SA2015 | Race | £391.25 | View |
| | Sparco Air Pro RF-5W Helmet in White | FIA 8859-2015 & Snell SA2015 | Race | £391.25 | View |
| | Bell Mag 9 Pro Open Face Rally Helmet | FIA 8859-2015 & Snell SA2015 | Rally | £360.00 | View |
| | Bell KC7 CMR Karting Helmet | Snell CMR-2016 | Kart | £359.00 | View |
| | Bell RS7-K Full Face Karting Helmet | Snell K2015 | Kart | £359.00 | View |
| | Bell Sport 5 Full Face Helmet | FIA 8859-2015 & Snell SA2015 | Race | £359.00 | View |
| | Bell Mag-1 Open Face Rally Helmet - Peltor Compatible Intercom System | FIA 8859-2015 & Snell SA2015 | Rally | £359.00 | View |
| | Bell Mag 1 Open Face Helmet in White | FIA 8859-2015 & Snell SA2015 | Race | £265.00 | View |
| | OMP Circuit Helmet Karting Helmet | ECE 22.05 approved | Kart | £74.17 | View |
| | Sparco Club X1 Helmet in White | ECE Approved | Race | £73.95 | View |
| | Sparco Club X1 Helmet in Black | ECE Approved | Race | £73.95 | View |
| | OMP Star Helmet | ECE 22.05 approved | Kart | £57.50 | View |