Sim racing is taking off in a big way, with real-world drivers like Lando Norris and Max Verstappen using sim racing to hone their skills and add to their F1 performance. 
Here at Driver61, we also use racing sims to help train our drivers, as well as offering sim training and courses. The blend between the real-world and simulated racing is getting closer each year, meaning real-world and sim drivers can blend between disiplines more easily. 
Here you can find our sim racing specific videos and well as more information about simulators below.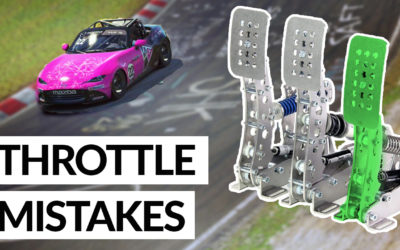 If your throttle response when you're sim racing isn't perfect, you'll be leaving lots and lots of time on the table. In this video, I'm going to...
Sim Racing Software
Finding the right sim software is the first step on your journey. There are quite a few different types of software that vary in terms of realism and physics. If you're new to sim racing, the physics and feel of each game is something that you'll begin to understand over time.
Here's a list of the best sim racing software:
iRacing
Assetto Corsa
rFactor2
Project Cars 2
Raceroom
Automobilista 
There are other less realistic sim titles out there such as the F1 series, GT Sport and Forza, but for the most realistic experience, we recommend the list above.
Sim Racing Wheels
Again, as with software, there's a lot of choice when it comes to sim racing wheels. Unfortunately, to get the most realistic feeling the wheels aren't cheap.
As with real-world driving, it's critical to get the best feedback from a steering wheel as possible and without the G-force feeling it a sim, it's even more important.
Here's a list of the best sim racing wheels:
Logitech G29
Thrustmaster T300 RS
Fanatec CSL
Fanatec Clubsport v2.5
Simucube 2
Fanatec Podium F1
Fanatec Podium DD1
The direct-drive sim racing wheels offer the most authentic and realistic experience, which naturally translates into fast times on track. Granted, the direct drive wheels are the most expensive, but the feel they offer gives an immersive experience.