Racing Suit Buyer's Guide
Hi, I'm Scott Mansell, founder of Driver61, race driver and coach. I get asked a lot about the racing suits we have in our store, so as someone who has raced for 25 years I decided to write a definitive guide to help you find the best race suit for you and your racing.
Buying fireproof overalls is one of the most important decisions you'll make regarding your racewear, whether a pro racer or track day driver.
With race suit prices ranging from just £240.00 up to over £1,400.00, there are significant differences in features available.
What are Driver61's best racing suit picks?
Alpinestars GP Tech Race Suit
Alpinestars Supertech Nomex Race Suit
OMP One S1 Race Suit
OMP One Evo Race Suit
Sparco X-Light RS-7 Race Suit
OMP Tecnica Evo Race Suit

This buyer's guide will explain everything you need to know to make an informed decision about your next race suit including features, FIA homologation, materials, sizing and customisations.
When you're ready, head over to our race suit category to find the best race suit for you and your particular type of racing.
Race Suit Features
Today's race suits can come with a range of features design to make you – as the driver – safer, more comfortable and freer in the cockpit.
When purchasing a race suit, you should consider the following features:
Number of layers
Race suits can come with one, two or three layers. The first thing to understand is that more layers do not mean better safety. If a suit has gained FIA 8856-2000 approval (we have more on this later) then it has been tested and is safe to use in any racing.
While the number of layers of a suit affects weight slightly, a one or two layer suit will be much more breathable – and therefore cooler in a hot cockpit – than a three-layer race suit.
Fully-floating arms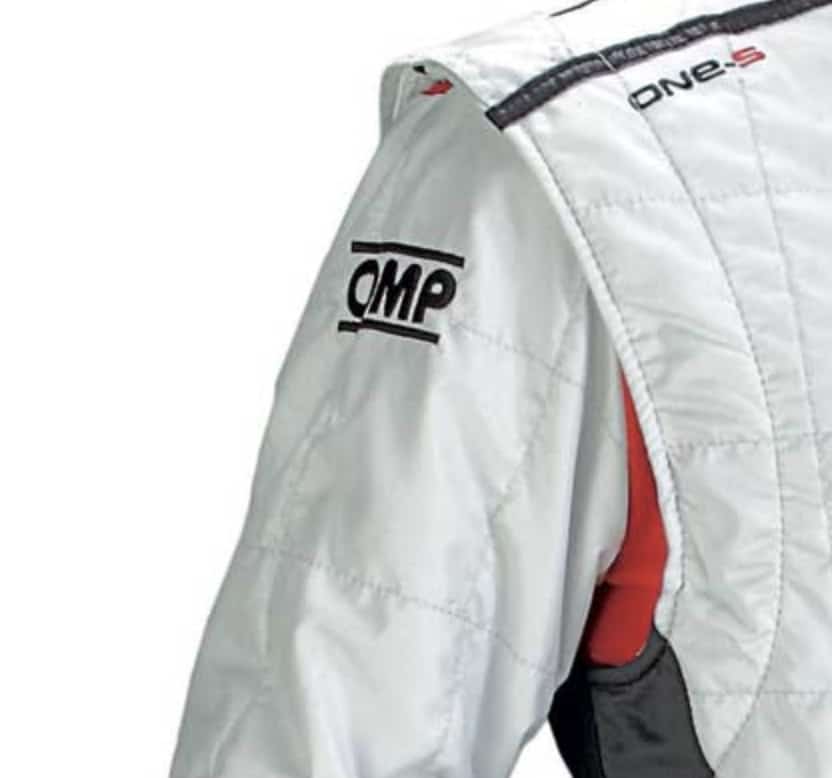 When a race suit has "floating arms" it means where the section where the arm connects to the shoulder is bellowed.
The arm section is joined to the shoulder with an elasticated material. This means that when the driver moves – turning the steering wheel or changing gear – the suit is more flexible and does not restrict the driver.
Pre-curved sleeves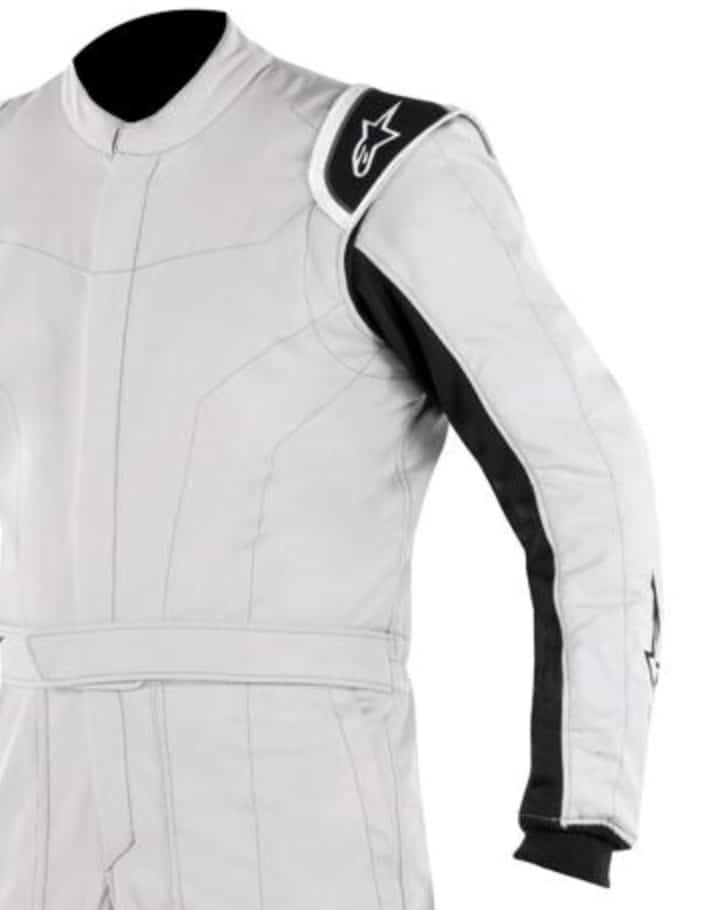 Motorsport racing overalls used to have straight-cut arms, but many modern suits are now pre-curved.
This means the arm section of the suit has been originally designed to work with the driver in their natural driving position.
To drivers, it means the suit will feel comfortable while giving an optimum range of movement – without restriction – when sat in the car.
Stretch Panels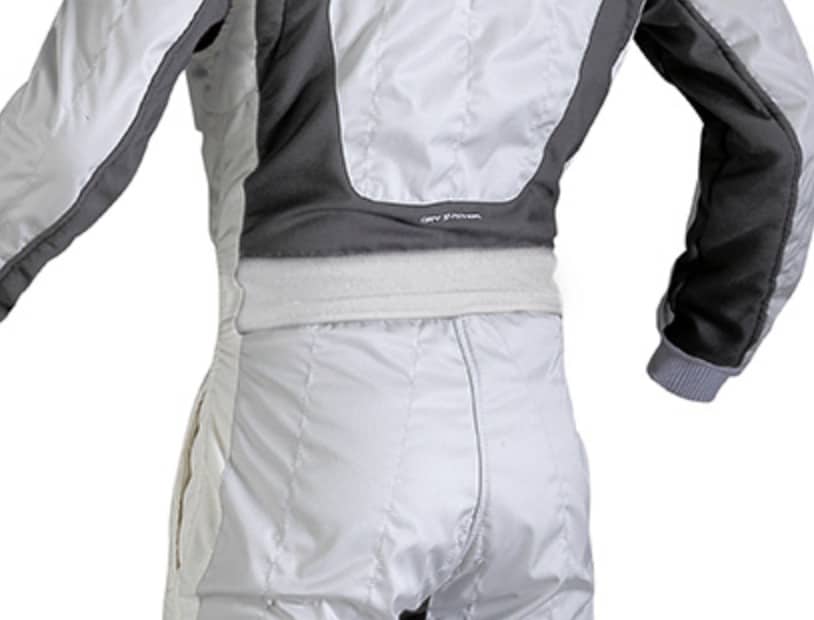 Many of the overalls we list have well-positioned stretch panels that use an elasticated material.
These panels, usually located at the bottom of the back, underarm and back of the knee, allow a driver easier and freer movement as well as improved cooling.
Flat seams
Many race suits and race underwear now boast "flat seams" as a feature, but how do these help as a driver? They're as simple as they sound; the material and stitch have been designed to be as flat as possible. This may not sound like an important feature, but if you're in a tight fitting custom seat, more pronounced seams can rub and become uncomfortable when you're in the car for long periods.
Soft Collars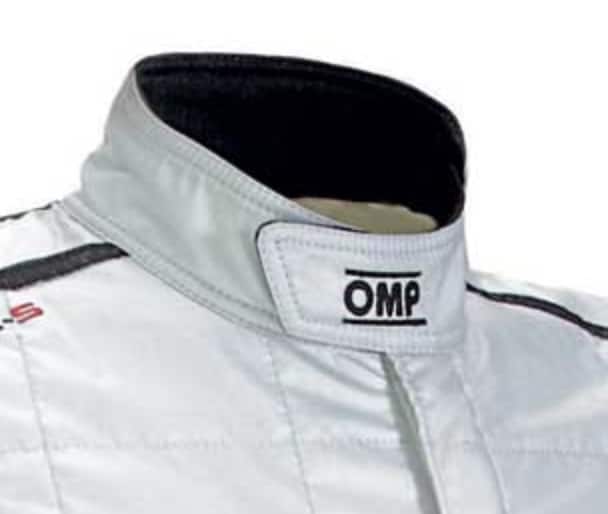 If your race suit has a soft collar, it will be made from a different material from the rest of the overall which is softer and much more comfortable around the neck area.
It's purely a comfort feature, but an important one as you're constantly moving your head and neck when looking for the next apex. If you're not, see our tutorial on circuit vision!
Ankle Cut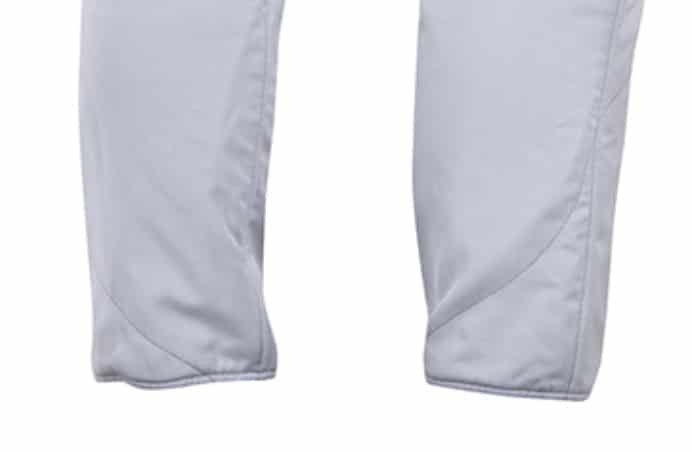 Most fireproof race suits have a traditional elasticated ankle cuff. However, some other suits use what is called a "Nascar cut", where the ankle section continues over the back of the race boot.
Pockets
There are a few different options for pockets: none, inside the suit or outside the suit. All options are self-explanatory and just a case of preference.
Belt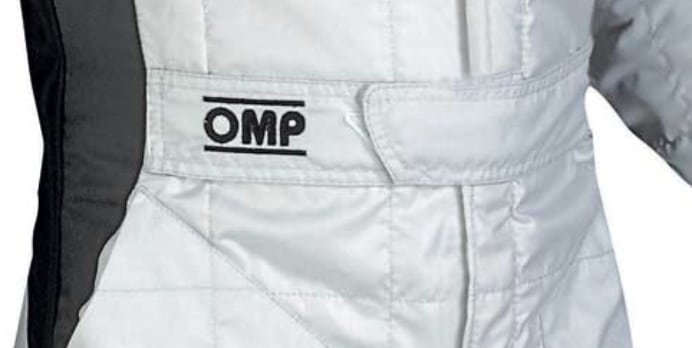 Suits come with or without a belt. Again, either is a matter of taste, but a belt can help improve the fit of a standard sized (rather than a made to measure) suit.
FIA Standards for Race Suits

There are different FIA safety ratings required depending on whether you're using your race suit for track days, rallying, sprints, hill climbs or circuit racing.
UK circuit racing: FIA 8856-2000
International racing: FIA 8856-2000
Special stage rallies: FIA 8856-2000 or FIA 1986 Standard
Sprints and hill climbs: FIA 8856-2000 or FIA 1986 Standard
Track days: No FIA rating required
All race suits on the Driver61 store will have the FIA homologation standard stitched into the fabric or on a sewn label, which is required for scrutineering of all racing.
The UK's Motor Sports Association advise that "with any item of safety equipment, evidence of damage or excessive wear can render it unsuitable for use. In case of race suits, this can include frequent or incorrect washing, broken seams and worn patches."
How to Size Race Suits
Each brand has a slightly different sizing, so please consult our sizing guides below. It's best to begin sizing your height, then work through your arm and leg length. When measuring, ask a (very good) friend to help and use a flexible measuring tape for the most accurate results.
Alternatively, you could have a made to measure race suit, improving fit, comfort and style which I'll go into in the next section.
Custom Race Suits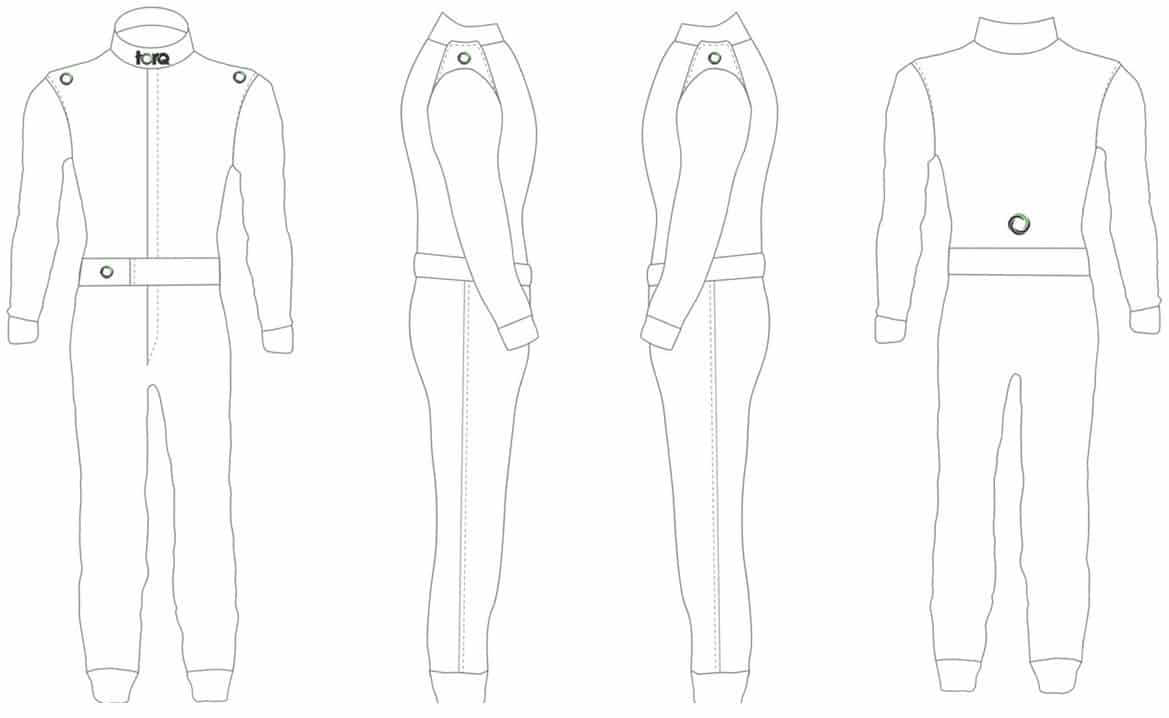 Standard sized race suits are great, if you have a standard sized body. However, we're all different shapes and sizes and sometimes want a custom race suit in our own colours and displaying our sponsor's logos.
Custom race overalls offer a multitude of options and are actually be excellent value for money. An example of customisations available are:
Made to measure
Custom pattern (eg. material design of the suit)
Custom colours
Sponsor's logos
Choice of number of layers
Choice of belts, ankle cuffs and pockets
Take a look at our custom suit by Torq to see more detail about the features available and design options. Custom overalls are a great option if you're looking for something bespoke and well-fitting.
Counterfeit/Fake Race Suits
Finally, a word of warning. In the last few years, there has been an increasing amount of counterfeit race equipment hitting the market – see this report by Autosport Magazine for more information.
The equipment is made to a poor standard and will not protect you properly when you need it the most. Counterfeit race suits are usually found on large auction or even some social media sites.
It sounds cliché, but if the product prices seem to good to be true, it most likely is. Race suits are highly-specific pieces of equipment that naturally have a high development and manufacturing cost, so be careful if buying from a potentially untrustworthy source.
So that's all for this buyers guide to race suits. If there is any further information you require, please do not hesitate to get in contact with Driver61 using the blue instant chat feature in the bottom-right of this page.
Scott Mansell / Founder Driver61
Scott Mansell is a driver development coach and racer, who has competed in professional motorsport for over 25 years.
He's driven and competed in hundreds of race cars, including everything from Mazda MX-5s to 26 different F1 cars.
This year alone he will develop more than 100 drivers over 26,000 miles of coaching through his MasterClass training program.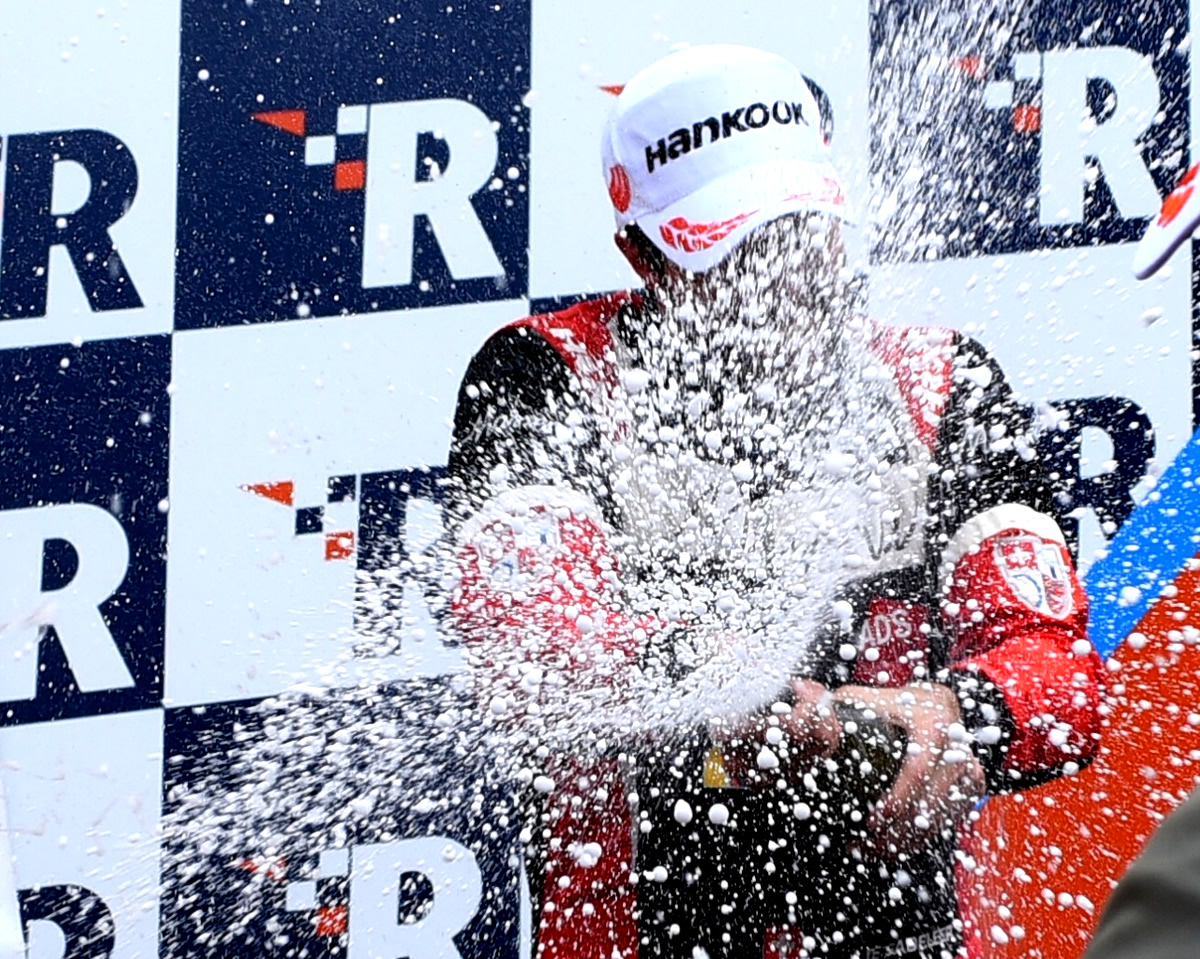 Own the Podium.
Join the intensive driver course that will make you faster, safer & more consistent on track in the shortest possible time.
Are you ready for the podium?
Join the intensive driver course that will make you faster, safer, and more consistent on the track in the shortest time possible.