Car: SsangYong Musso Pick Up Racing Series
Team: Works / ABG Motorsport (Contact / Facebook)
Location: Snetterton 300
Start / Finish Line: 52 27'48.2″N 0 56'41.0″E (Track Map / Track Guide)
"Never a bad idea to try something a bit different…"
That's what Andrew Bentley, one of our recommended driver coaches said when I showed him what I'd be testing on a very cold Snetterton morning.
This car certainly is a bit different: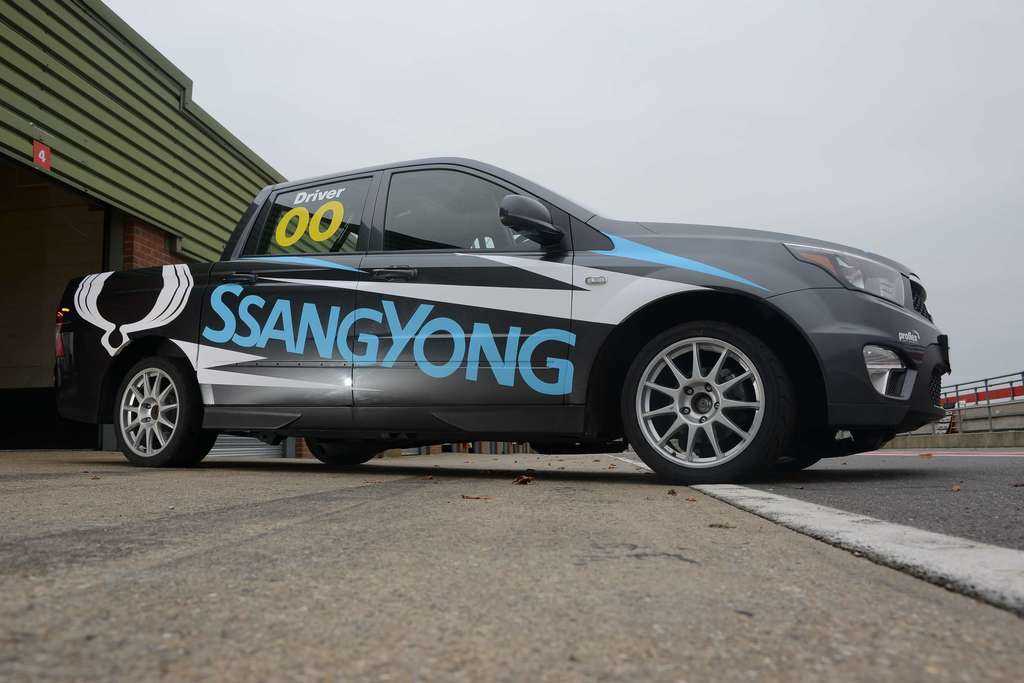 Seat time in as many weird and wonderful racing cars as possible is a good thing.
The theory goes that the more seat time you get, in as diverse a range of cars as possible, the better you might become at understanding a car quickly. All in an effort to get onto the pace as soon as possible.
On that note, I'll try anything on 4 wheels.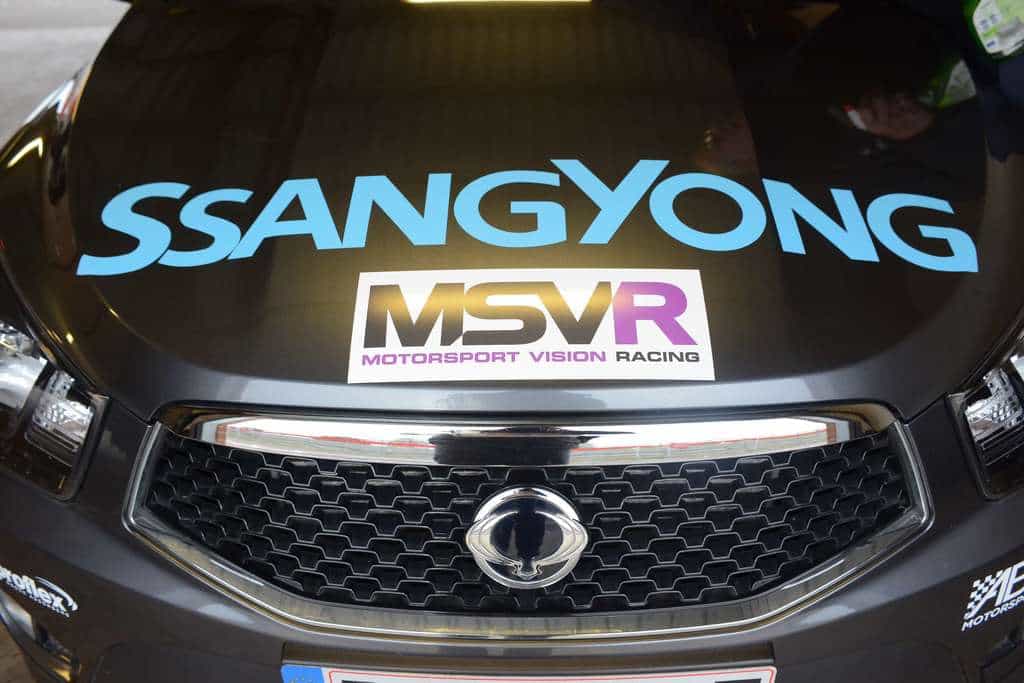 I didn't expect to try a car quite as unique as this SsangYong but when development driver, GT racer and all round top chap Marcus Clutton invited me down to one of their test days, I couldn't really resist.
As it turned out, I was surprised by what I found.
The New Zealand Series
See how you feel about this series potential after you've seen this:
Down there, our friends in New Zealand refer to these little pickups as Utes. And in New Zealand, Ute racing is a big deal.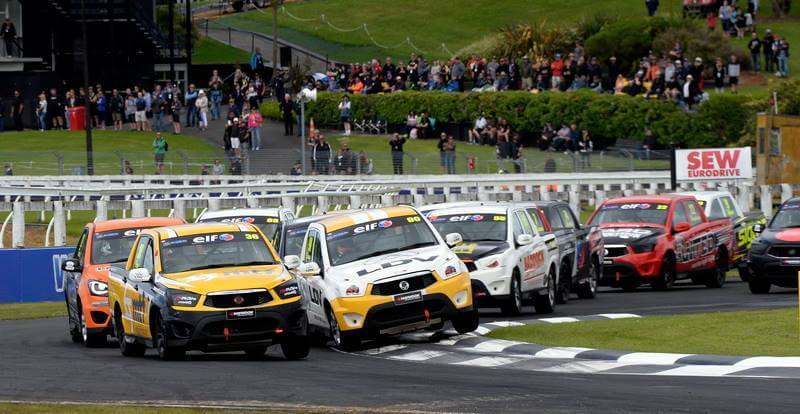 Image Source: SsangYong racing Series NZ
SsangYong launched the NZ series in 2014. The trucks are slightly modified versions of their road going brethryn; using identical drive-trains and regulation parts. You can hardly make any set up changes.
This allows driver ability to decide the results, which attracts a lot of young drivers, and encourages some pretty exciting racing:
The New Zealand chassis features a 2.3-litre petrol engine routed through a five-speed manual gearbox and open differential. Meanwhile, the suspension is lowered to improve handling and a full protective cage and harnesses are installed.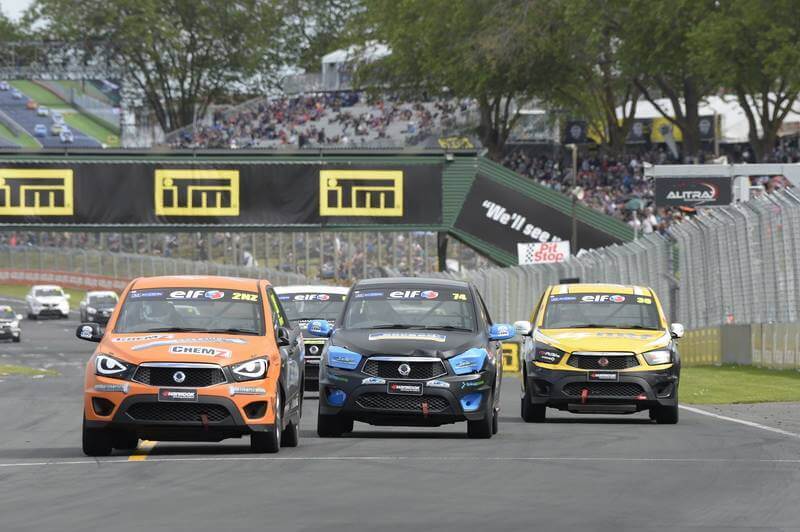 The 2017 UK Series
The UK category will feature a grid of ABG Motorsport built and developed 2.2 litre turbo-diesel powered pickups, racing on a six-event calendar.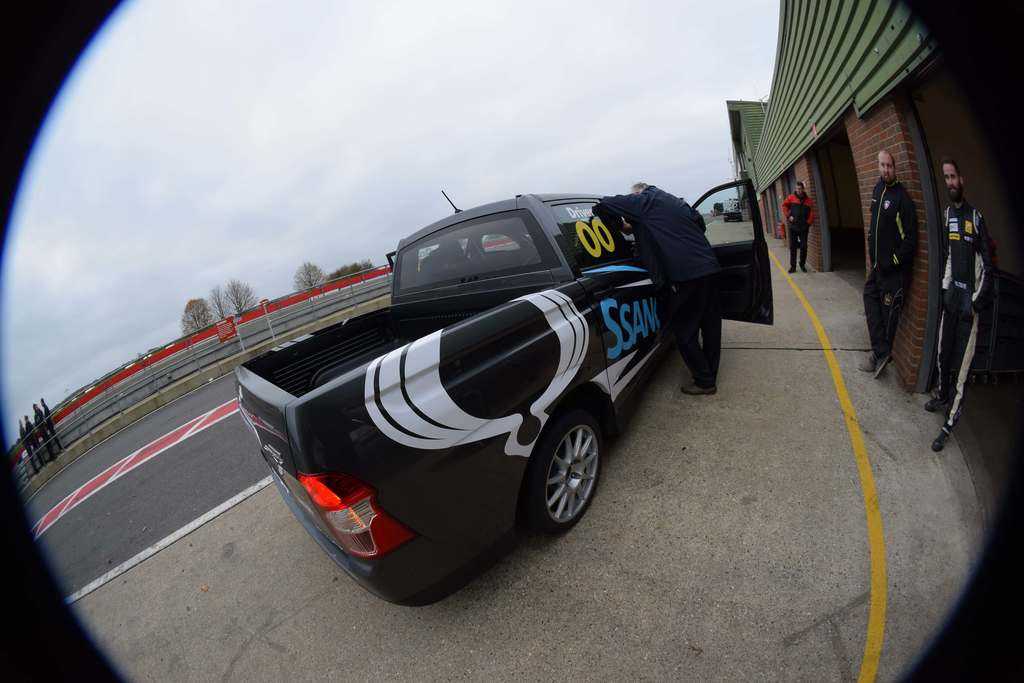 The series will run alongside the GT Cup at Oulton Park, Snetterton and Silverstone.
We'll also see the series supporting the MSVR Mini Challenge rounds at Brands Hatch Indy and Cadwell Park. They'll also be an event at Knockhill.
The racing is aimed at young drivers and novices; which at a price range of around £35,000 for the year (including car, tyres, entry and so on) might be an attractive option.
It will be extremely competitive racing with ride height, tyre pressure and front camber the only setup changes available.
The Ride
Pace wise, this car is not an intimidating experience, but in racing; top speed isn't the most important factor.
It's what you learn, how much you enjoy yourself and how much you can improve vs how many pounds you spend getting there.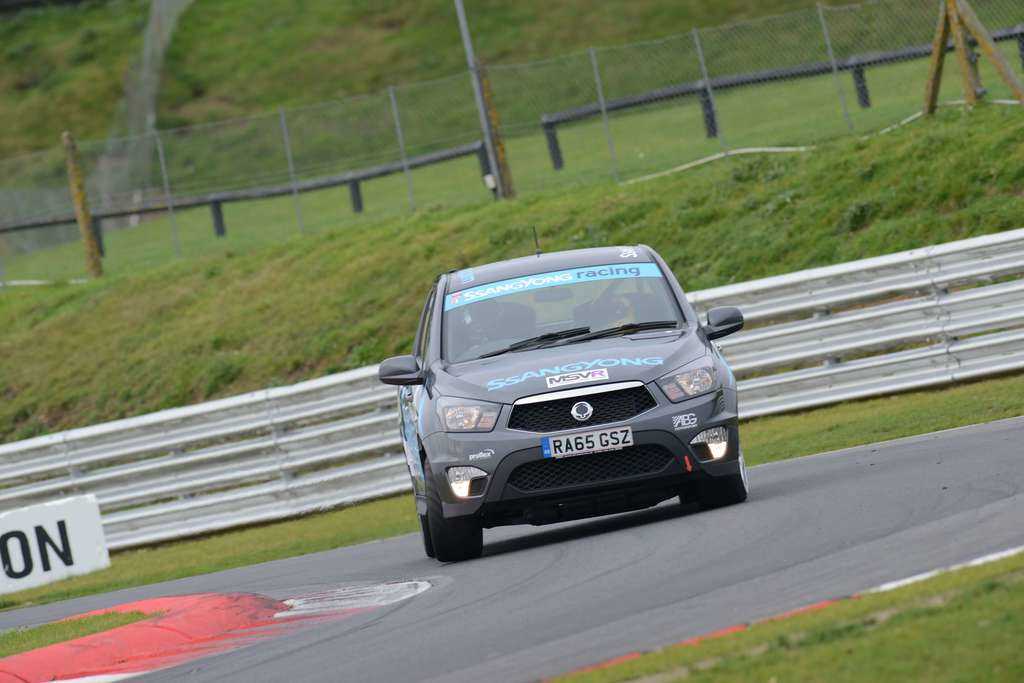 So the SsangYong is a little underpowered, but no more so than say, a Mini Cooper AM car. And if you're down on power you have to find your time in pure technique which mightily adds to the challenge. Getting a good lap time would depend entirely on your car handling finesse.
Maintaining momentum is the name of the game, just like the Funcup car.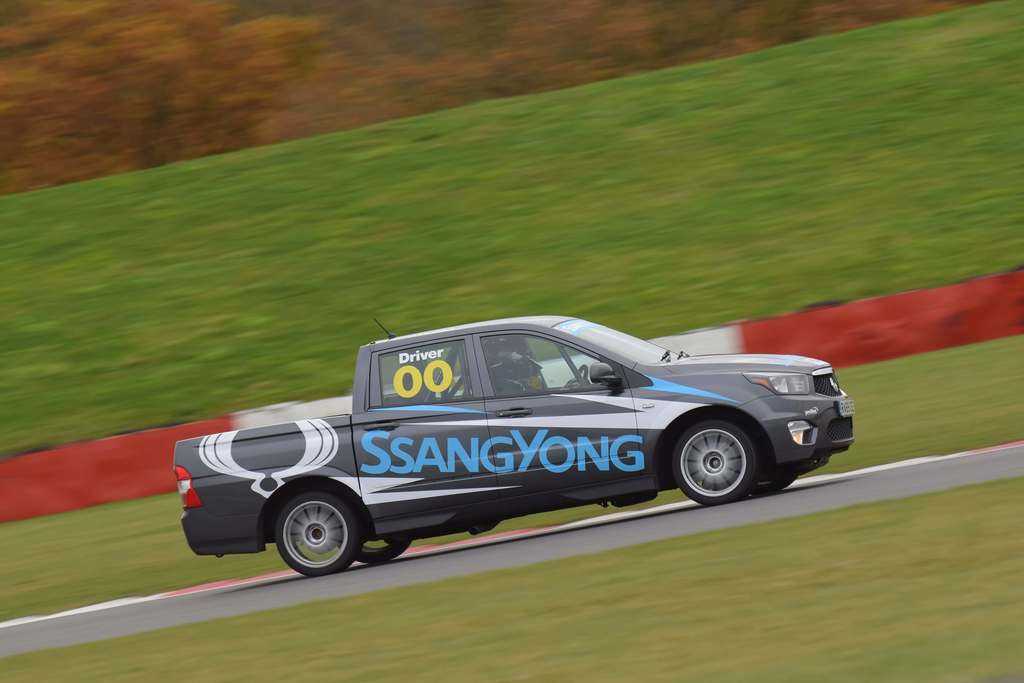 At this pace, you can have a real laugh and really think about your technique, and inevitably your racecraft!
The truck, given its ride height and (very) soft setup gave a lot of body roll into the corners. This means you really have to work to get the car balanced nicely as you enter a corner. Remembering that momentum is the name of the game, your technique certainly has to adapt to the car.
Once you've mastered the art of turning the car in, you find a remarkably easy chassis to drive. I found the trick was to enter the corners a little deeper than you'd normally like to.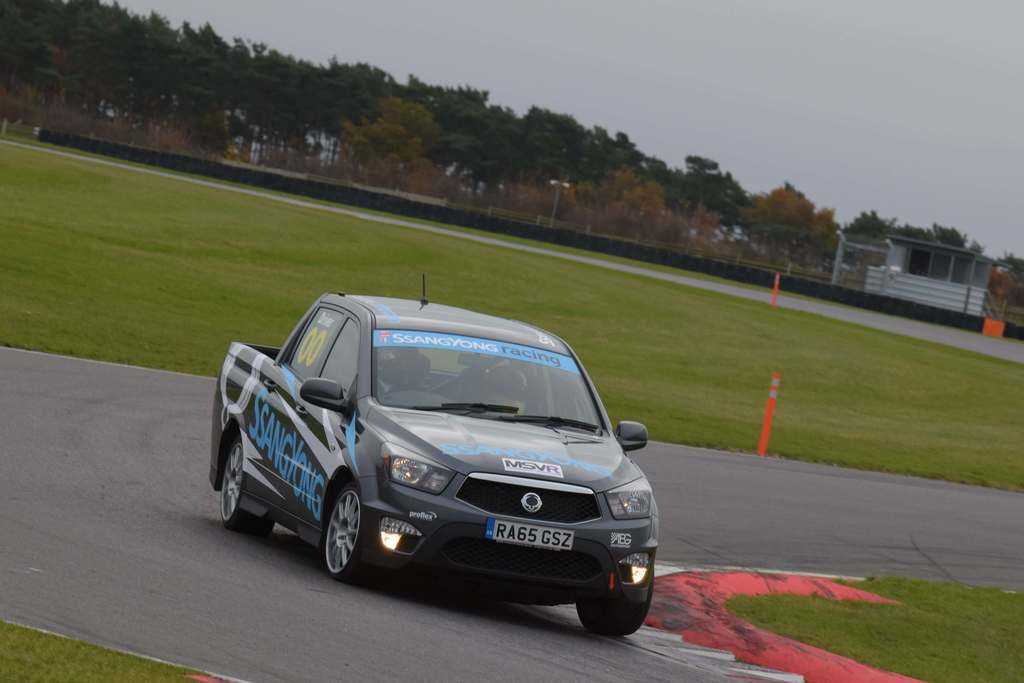 Trailing off the brakes, flick the car that last little bit into the apex and then get on full throttle as early as you can to use a very carefully measured amount of exit oversteer to complete the corner.
It's exit oversteer that really caught my attention; the rear of the car seems to have this remarkable ability to turn on throttle precisely the amount you need to get your exit nailed, without it ever going too far. Confidence building stuff.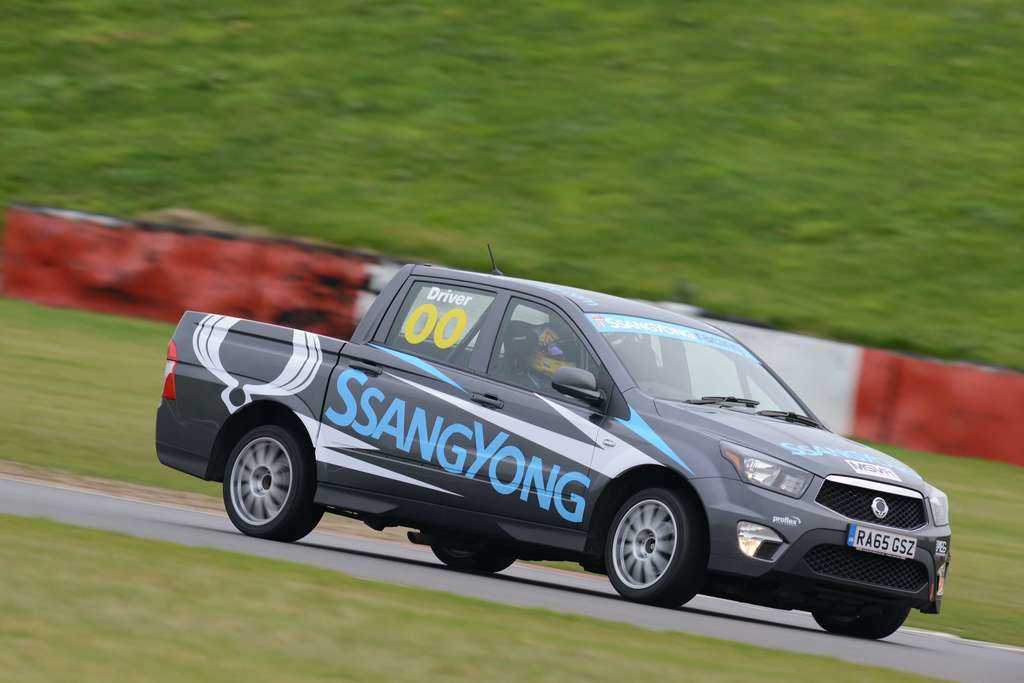 For want of a better word it was, perfect. This is where the development of the car has made such a huge difference.
I asked Marcus about the feel I was getting from the rear. His answer, "It's in the damping and the valves within the dampers. The car still runs an open diff not a limited slip witch is something that is in the pipeline.".
The low revving, torquey engine forced me to rethink my gear choice in every slow and medium speed corner at Snetterton, but once I'd adapted my technique to accommodate the car, I had a lot of fun.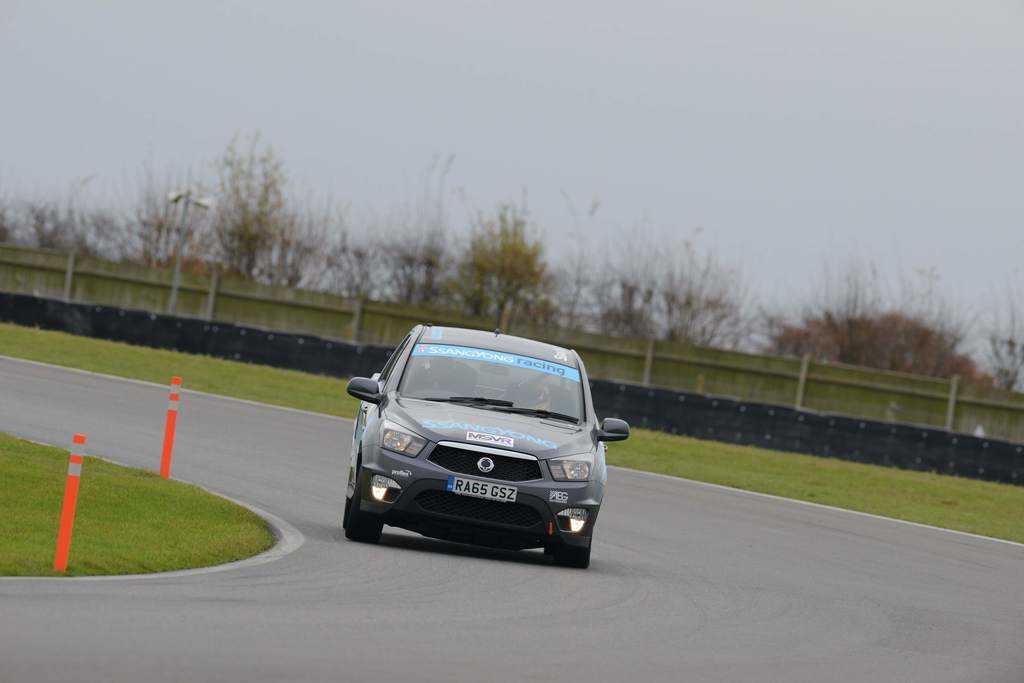 Our GoPro footage didn't quite do the experience the justice it deserves. Still, it was really quite fun and thanks to Ray Grimes, their track guide for the day, I got a bit of free coaching. Never a bad thing!
Low Budget Driver Development and Likely, Some Close Racing
After a fair bit of testing and a bit of racing, you start to realise just how much the enjoyment counts when it comes to how you're spending your money.
This series has the potential to be absolutely brilliant; competitive, safe, accessible and cheap. What's not to like about that?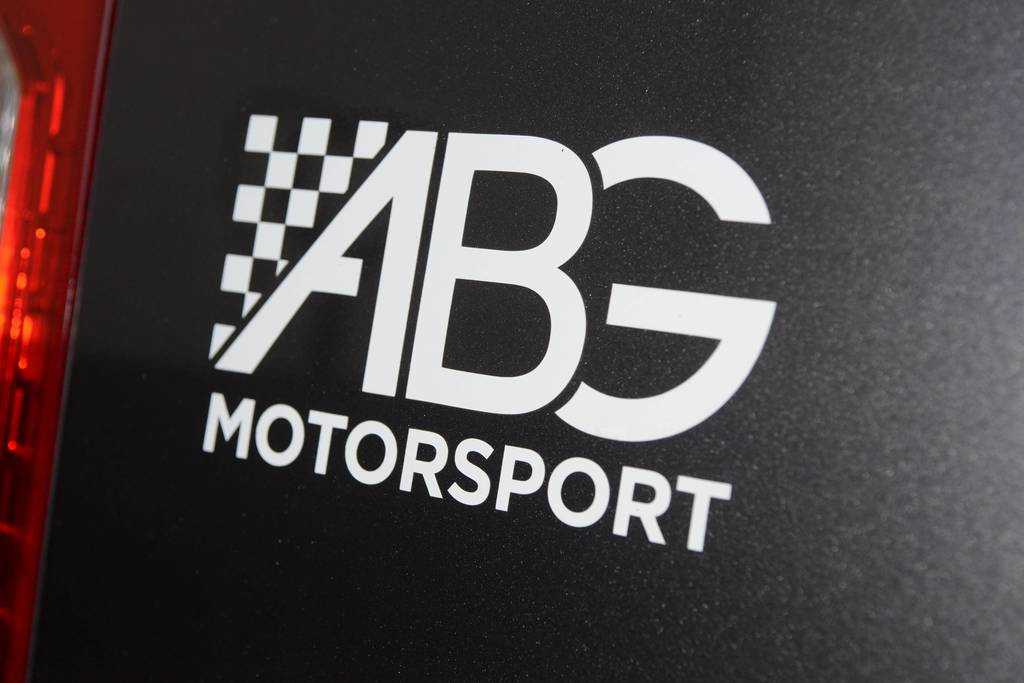 For a racing car that comes in at around £17,000 and a probable all-in budget of less than £35,000 for a year's racing, a series like this could be difficult to ignore. If the racing is anything like the sister series in New Zealand, this one could be a hoot.
One to keep an eye on for next season.
---
About the author
Richard Baxter is an amateur driver having run in Radicals, Funcup cars, Mazda MX5's and Classic Formula Ford
Read his personal blog, Purplemonkeydishwasher here, Follow him on Twitter here or follow his sim racing action at simracingcockpit.com.