Sim Racing Academy
AN END-TO-END TRAINING PROGRAM to push your driving to the next level.
One-on-one, Group Training, Racecraft Training, Weekly Clinics, Telemetry, and more! Training available in iRacing and ACC.
Sim Racing Academy
Designed from the ground up to provide simple access to coaching. Our Sim Racing Academy has a "pick and choose" credit system so that you can create your own training plan with various different training classes.
We offer a 100% money-back guarantee if you are not satisfied with the programme.
How Does It Work?
Step 1: Choose a Package & Sign Up
Choose a subscription package that best suits your current goals, timelines, and budget. Each subscription provides credits per month that you can spend on classes.
Step 2: Book Training
Use your credits for 1-on-1 coaching, small group training, racecraft sessions, race engineer services, and more. Scheduling sessions is easy using our online calendar.
Step 3: Focus & Advance
Pass our knowledge and time trials to continue your progress to the top levels of motorsport. The Driver61 Accreditation Program will walk you through the steps needed to achieve top pace.
Your Plan
Choose the training program that fits your needs & budget. We offer 1-on-1, group training, racecraft sessions, race engineer services & more.
Elite Coaches
Trained by Scott Mansell, all of our coaches deeply understand motorsport technique and their respective Sims.
Easy To Try
Unsure if this is right for you. We have a low cost trial that allows you to speak with a coach and run through test sessions.
Your Schedule
We run classes and events all weekend long. We 100% commit that you will find a regular session that works for you.
Become Alien
Our custom accredidation system will take you from beginner concepts to Alien pace. Focus your training and learn the right techniques.
1000s Trained
We have worked with 1000s of Sim Racers on how to improve their pace and consistency. We know how to make drivers faster.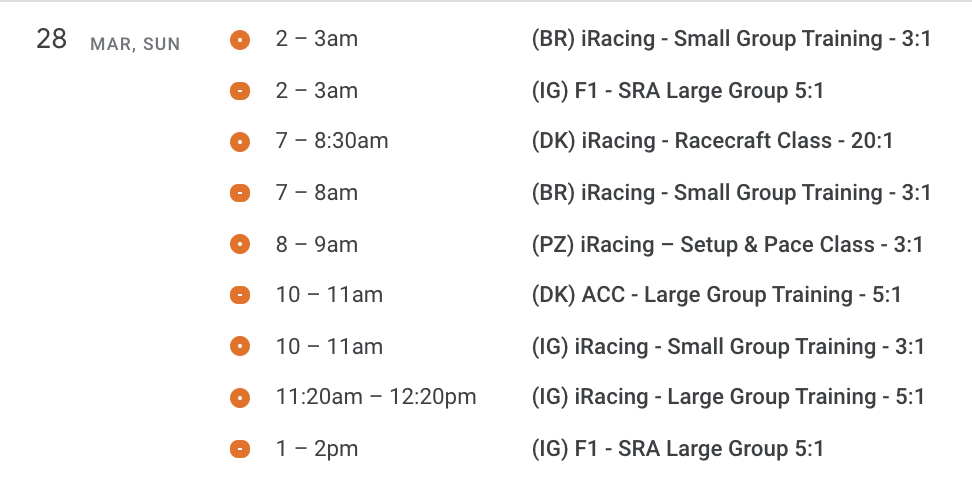 Simple & Incredibly Easy to Access Training
We're running classes all weekend long. Simply see what's available, check your schedule, and join the right classes for you. Our programmes are designed to fit your schedule, even if you have to miss a month.
Take Your iRating to the Next Level in Your Class of Choice
We have tons of great training in iRacing for drivers of all levels. Choose to join our Racecraft class, Weekly VRS Series Practice, Setup Lessons, One on One Sessions and more. All designed to help you maximize your learning.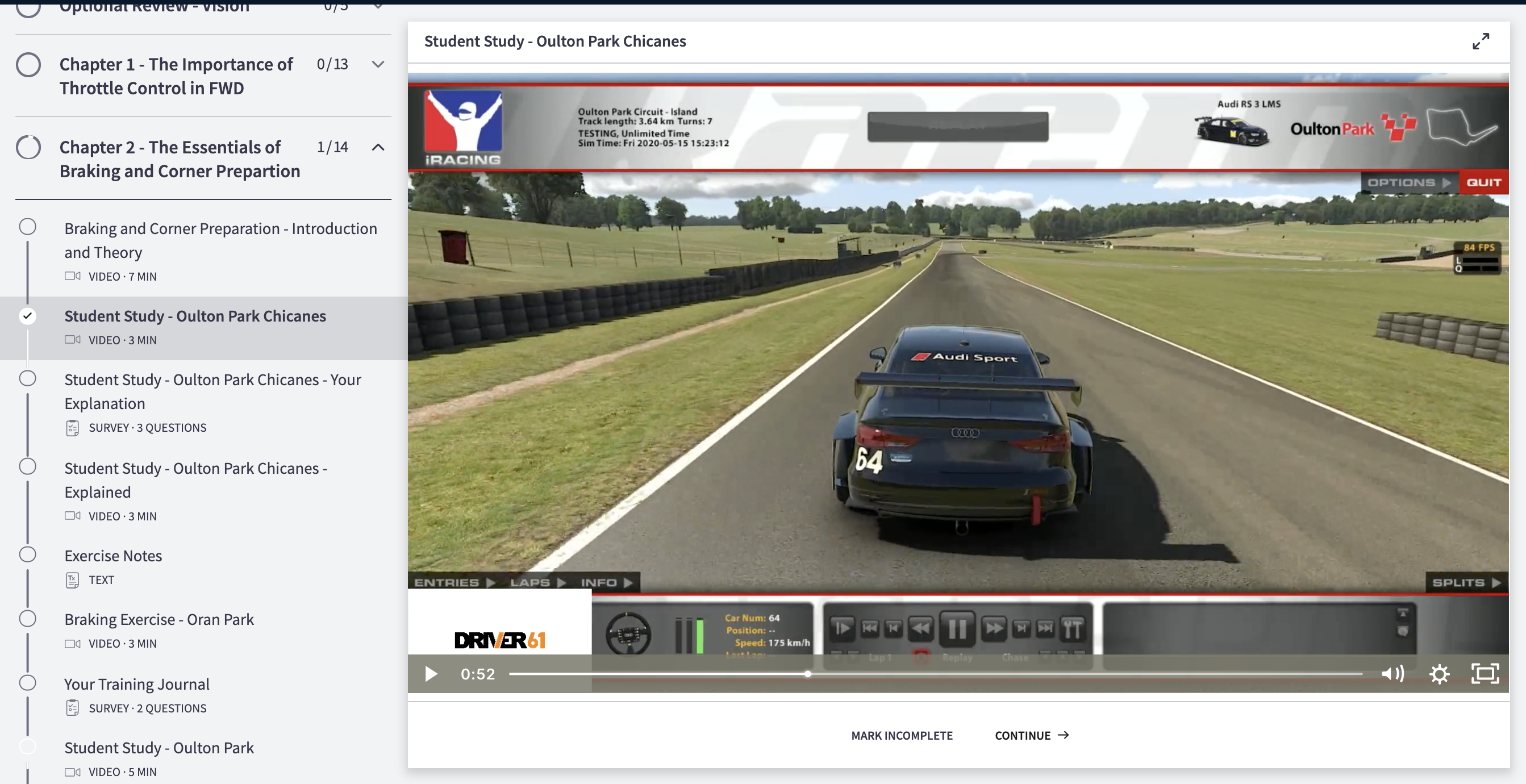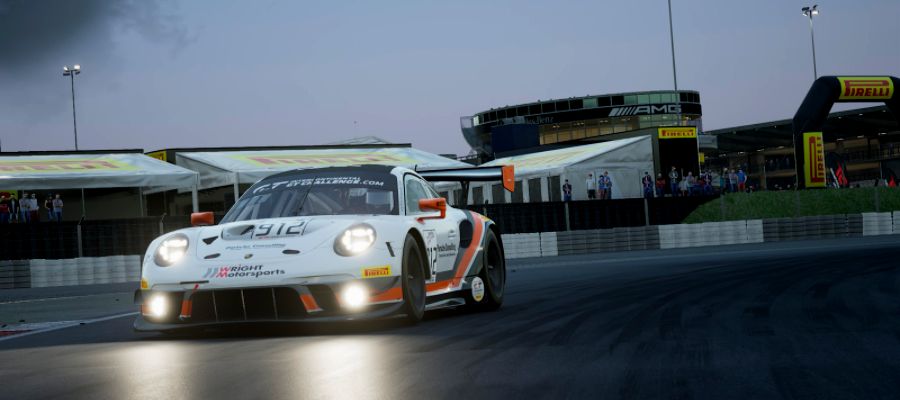 Find the Next Step in Your Pace in ACC
Choose the ACC training that is best for you. Want to learn about setups? Join our ACC Setup class. Want to practice defending and attacking, our Racecraft class will get you there.
Simply focusing on pace? Join a one-on-one session with our coaches. All ACC drivers all get free access to Hotlaps, our professional data and telemetry tool as well!
Unlock Your Pace in THE F1 SERIES
We love the F1 Series. It's a great starter sim for new racers and requires serious skill to get into the elite levels. Join the Academy and receive instruction from the best drivers in the world and quickly find your next-level pace.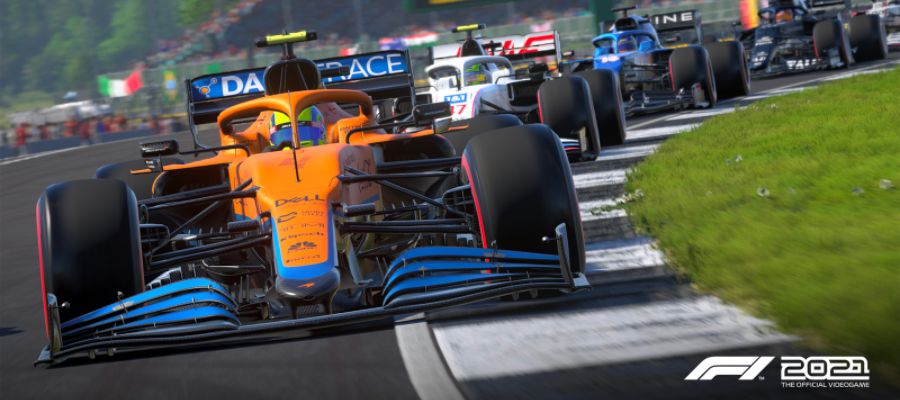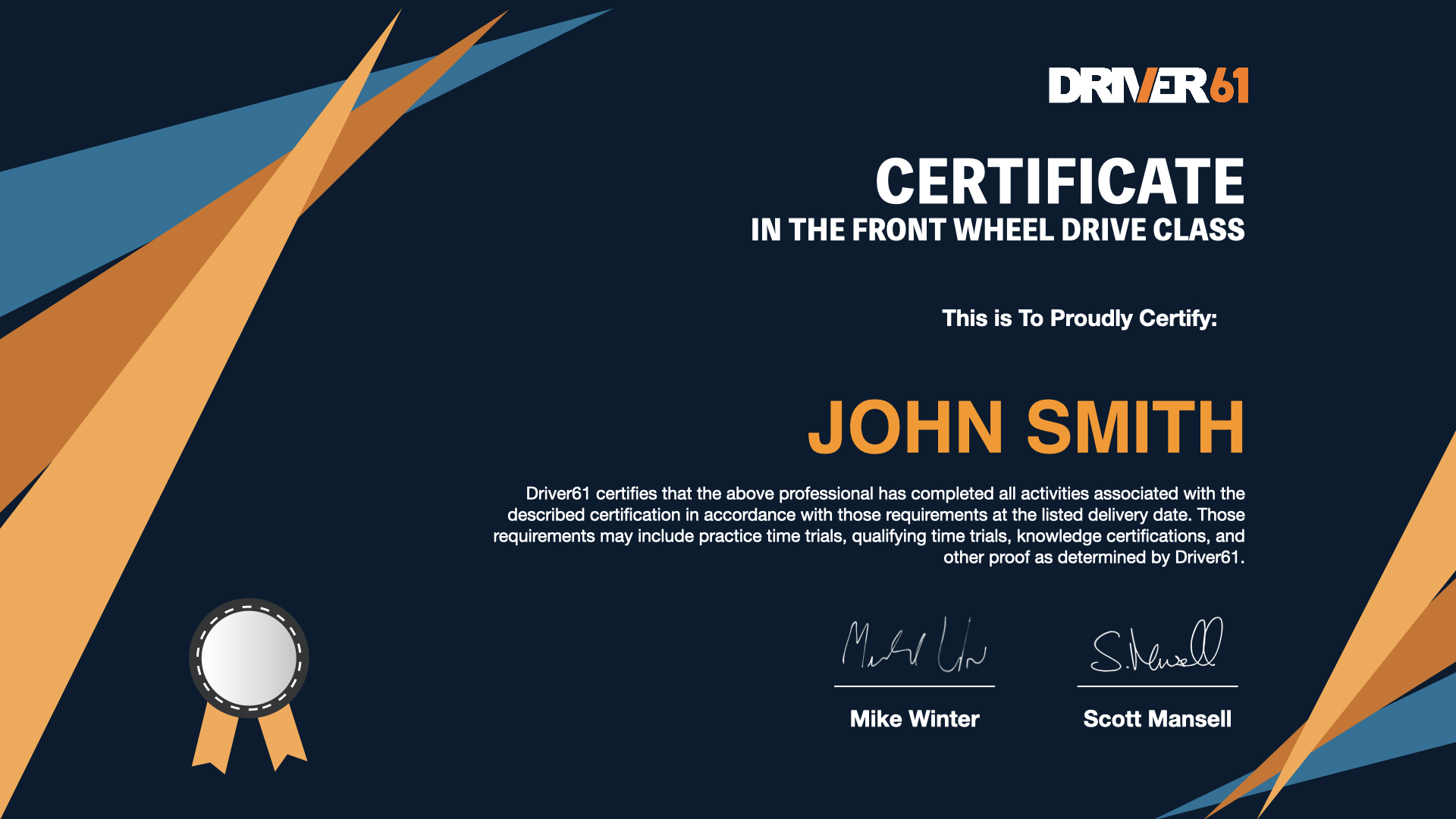 A Structured Path to Alien Pace
A lot of drivers struggle with understanding how they proceed to Alien Pace. When is the appropriate time to learn setups? What pace should they be targeting?
Our Driver61 Accreditation Program will 100% walk you through the steps you need to achieve top pace.
Our Student's Results
At first, Terry was a mid-tier Sim Racer. After 8 months with Driver61, he started dominating his league.
Group Training
Join 5 other students and a coach to work on your pace in your
Car and Track of choice.
In this class you receive feedback, run with it for 10 minutes, then get coached again!
Sessions are 1 hour.
One-on-One Training
We're proud to offer the most affordable yet high-quality one-on-one training on the market. Deeply focus on technique with our instructors and gain pace efficiently.
Sessions can be any length.
Racecraft Class
You finally get that chance to overtake a driver but collide and ruin your race. Sound familiar? Our Racecraft classes offer fun ways to practice overtaking with students who are there to be clean and learn.
Sessions are 1.5 hours.
Setup Training
Join 3 other students on track and an instructor to help review and tailor your car's setup just for you. Uncover technique flaws vs setup flaws and master your pace!
Sessions are 1 hour.
Small Group Training
Interested in slightly more time with our instructors during a Group Training Session. In this class, you join 3 other students in any car on any track to work on your pace.
Sessions are 1 hour.
iRacing High Downforce Cars
A limited time special offer. We're offering one-on-one training in iRacing Downforce Cars with Driver61 Instructor and expert Peter Zuba at a discounted rate.
Weekly iRacing Series Training
We provide you training details and areas of focus for your series that week. Join students to practice and get live coaching on the track.
Session are 2 hours.
Live Race Engineer
Book one our Coaches to be your live Race Engineer. Learn how the pros race, get strategy support, and receive coaching while driving in your favourite series!
Sessions can be any length.
Preparation Race Engineer
Book a coach to help you prepare for a big race or perhaps your first race in a series. They will help you design your strategy, review your setup, and more tips to get you on the podium.
Frequently Asked Questions
We know you have plenty of questions and we're happy to answer them as best as possible.
If you have questions that are not answered here, feel free to write us at our support email customerservice@driver61.com.
Credit Rollover
Your credits rollover every month so you'll never lose credits not used.
Class Times
Classes are scheduled mostly on weekends with a variety of times that fit international timezones.
Coaches
All the coaches have been trained by our Head Coach Scott Mansell. For training, you can stick with one coach or try many and see how they improve your technique.
Games
We offer training in iRacing, ACC and F1 2020. All of our coaches know their sim and core techniques.
Cancellations
If you want to cancel you simply let us know. You keep all of your credits and can join classes until your credits are all used.
Academy Packages
Choose the package that meets your training objectives.
Each package provides credits per month that you can spend on classes.
YOUR ONLY DECISION IS HOW MANY CREDITS YOU NEED
Our pick-and-choose credit system allows you to pick the training that best suits your current goals, timelines, and budget. Unused credits rollover monthly.

ALL PACKAGES GIVE YOU ACCESS TO THE SAME HIGH QUALITY TRAINING
1:1 Private Coaching   

140 CREDITS PER 30 MINUTES

3:1 Small Group Training   

STARTING AT 75 CREDITS FOR 1HR CLASSES

5:1 Large Group Training   

STARTING AT 50 CREDITS FOR 1HR CLASSES

Setup Training   

STARTING AT 75 CREDITS FOR 1HR CLASSES

Group Racecraft Classes   

STARTING AT 20 CREDITS FOR 1.5HR CLASSES

Discord Community
FOR A LIMITED TIME, GET FREE UNLIMITED ACCESS TO
Hotlaps.io Telemetry

$9.95/month

   

INCLUDED WITH ALL SUBSCRIPTIONS

Driver61 Accreditation Program

$749.95

   

INCLUDED WITH ALL SUBSCRIPTIONS