Car: Ginetta G55 GT4
Team: Fox Motorsport (Contact)
Location: Donington Park (National)
Start / Finish Line: 52 49'47.3″N 1 22'46.4″W (Circuit Guide / Track Map)
---
"You Didn't Waste Any Time Getting Out of Shape…"
That was the first comment Scott made to me when I brought this incredibly fun car back to the pits. Unfortunately, he was referring to my pit exit. I'd exited the pit lane with the pit limiter switched on.
In the time it took to find the switch on the steering wheel I was already at full throttle.
As soon as the pit lane limiter was deactivated, I received my first introduction to a full-fat helping of Fox Motorsport's Ginetta G55's 355 BHP.
Ok, We're definitely not short on power.
Spinning up a freshly warmed set of Michelin wets out of the pit lane is one way to announce the start of a 10 lap test. It's also a good way to get an immediate sense of the grip levels on a freshly soaked Donington Park.
The amount of grip, even in the wet was striking. I'd been in a sports prototype all day with no traction control or ABS. This is a different world.
I headed into Redgate with an enormous sense of confidence.
The Team
Fox Motorsport run in the British GT Championship campaigning in this Ginetta G55 GT4 driven by Jamie Stanley, Sam Webster and Team Principle, Paul McNeilly.
Their stable includes a Ferrari 488 GT3 and for the younger drivers a Ginetta G40.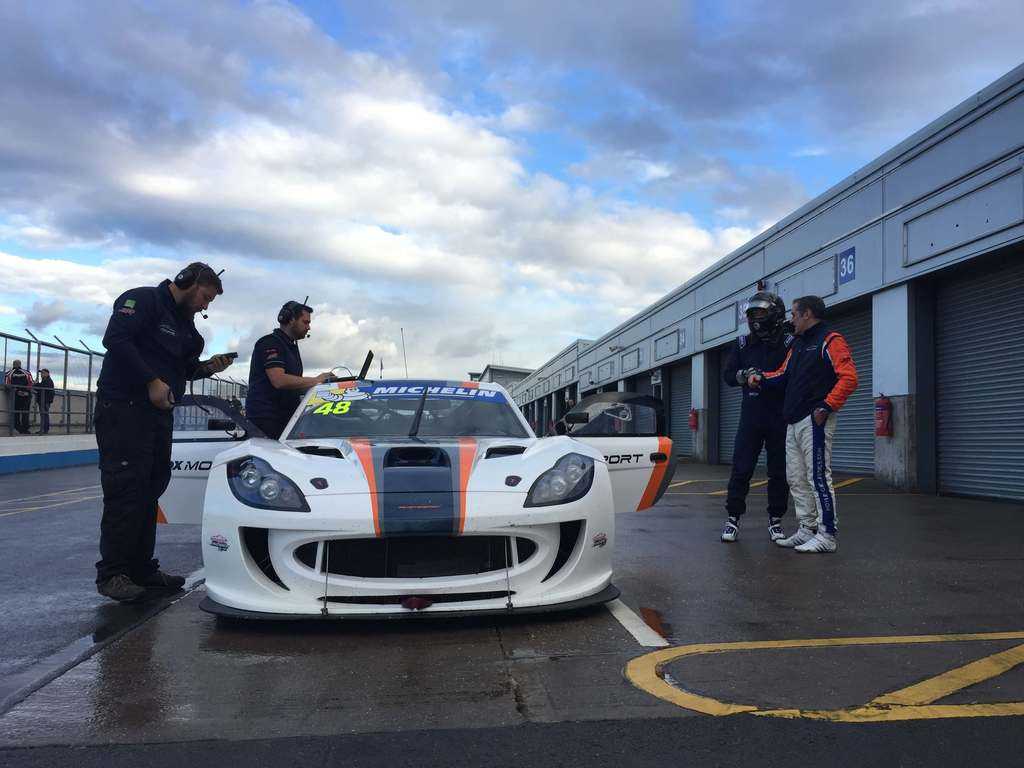 In fact, young driver development is a key focus for Paul who is now focusing solely on their young driver development program, taking his son Liam through his karting campaign and offering the Fox Motorsport G40 to a young driver to campaign the 2017 Ginetta Junior Championship.
So it's not surprising then that I get a real sense of family from the team as I'm welcomed by Pohl De Vissor who will be my engineer for the day and Jamie Stanley, Fox's resident Driver and instructor for some basic orientation in the car.
The Car
The G55 is Ginetta's most popular car on the International stage.
The GT4 version is an impressively versatile piece of racing hardware, eligible to run in GT class racing categories (such as the GT Cup, Ginetta Supercup and British GT in the UK). In endurance racing, the VLN Nordschleife 24hr, Gulf 12 Hour and Dubai 24 Hour.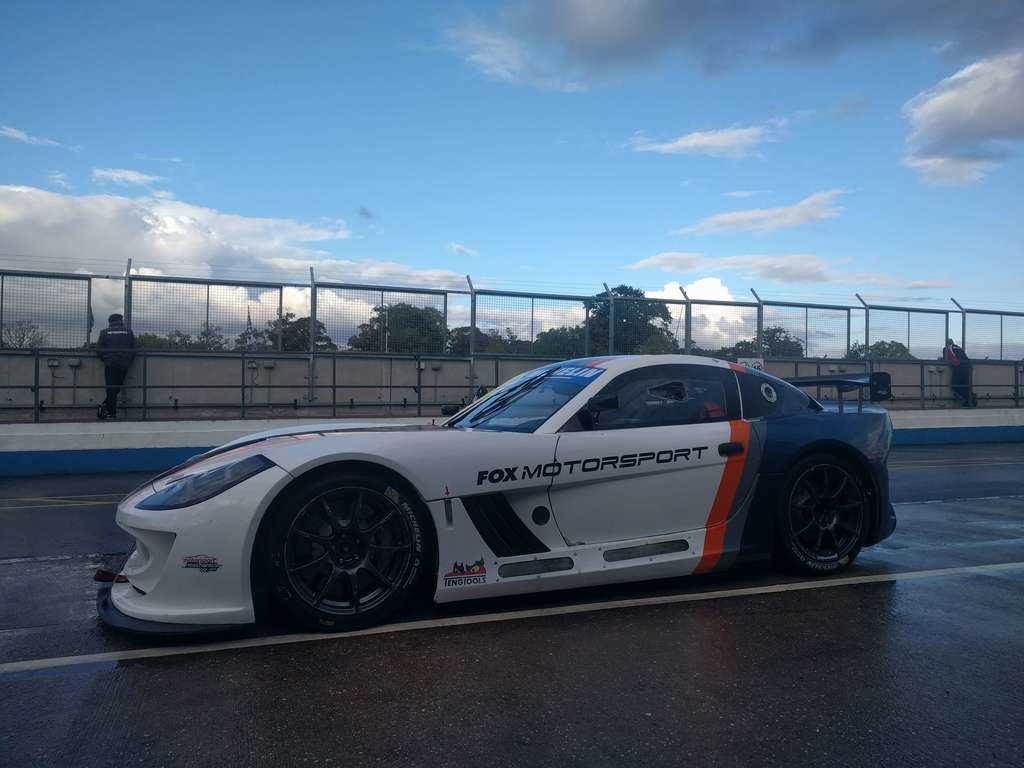 Under the hood there's a 3.7 litre V6 engine producing 355BHP delivered via a Hewland 6-speed paddle shift gearbox and 10" x 18" Rear wheels. I was running in the wet on freshly warmed Michelin tyres.
Orientation
Before running the test, Pohl took a moment to talk me through the features of the car. This included teaching me how to get into the car. Having no GT experience I'm not really used to having a roof, and climbing in takes some thought.
Pohl patiently showed me where on the roll bar to grip, as I carefully step into the seat and unceremoniously lower myself into position.
Inside, I see a familiar looking data logging dash, a bank of switches to the right and some buttons on the steering wheel. The important ones; pit lane speed limiter, scroll control for the dash display, neutral select and the radio.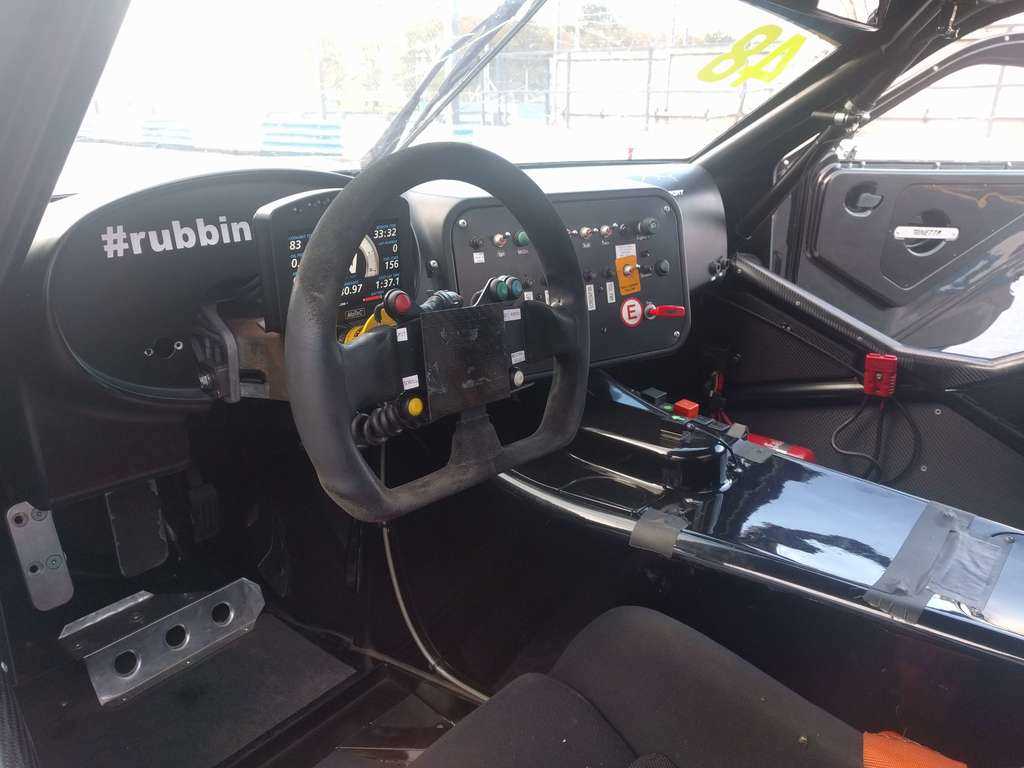 On the right, the ignition switch and engine start are clearly visible, and Pohl highlights the wiper switch, just in case that's needed.
Getting the car started is easy, ignition switch down, engine start. To get into gear, clutch down, "neutral select" button on the steering wheel and right paddle down to select 1st gear.
We're now ready to exit the pits and head out for the test!
The Ride
In a G55 you immediately become aware of the size of the car and the visibility through the windscreen. The view feels proportionally smaller to most cars I've driven but you soon adjust.
In your first few laps in a car it's important to get a sense of the weight transfer characteristics and overall grip level available, which is exactly what I did.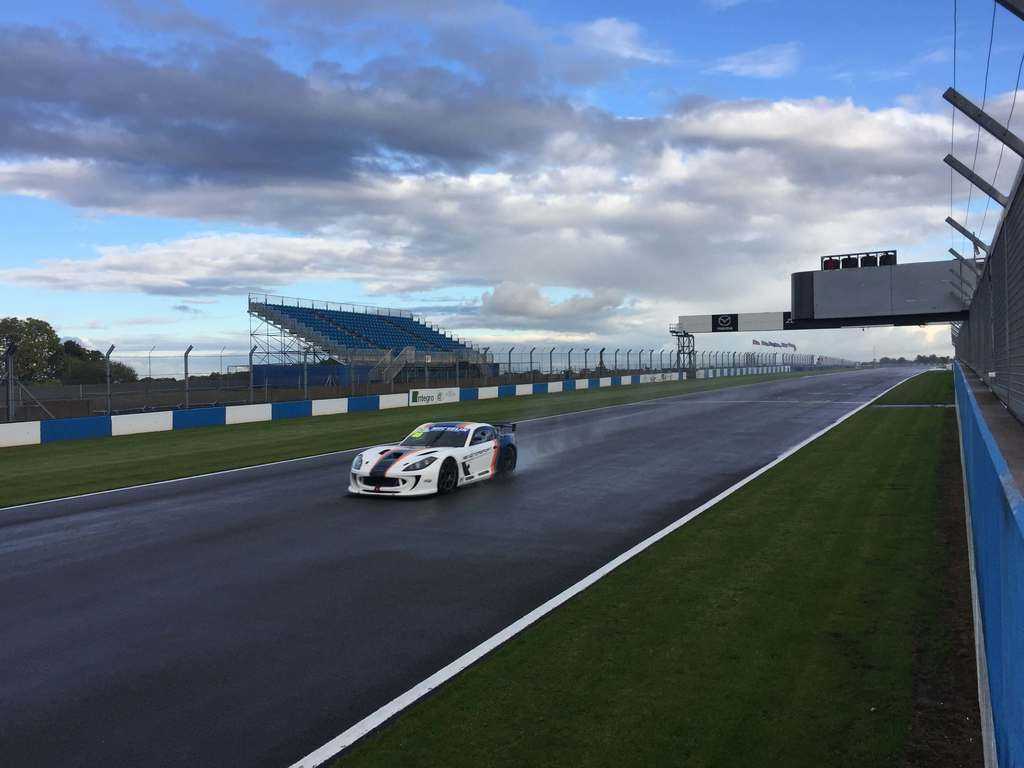 Thanks to spinning up the rear tyres on the pit exit, I already have a sense of how much power would cause the Michelins to break grip, so learning where lateral grip levels are is my next goal.
Entering Redgate and trailing into the corner I begin to feel the weight transfer of the chassis as I start a small rotation. I'm not fully up to speed so Redgate is in essence a slow corner, ideal for collecting this important early data.
Though I could feel the movement of the chassis, there was certainly a lot more grip available to me.
On exit, a careful application of the throttle gave me some feel for the potential for oversteer in the car. As it's wet, it's easy to break traction but the car is so easy to manage. A quick correction with some opposite lock and I'm out of the first corner.
As I'm headed through Craner Curves and into the Old Hairpin, I've picked up enough pace to need a bigger stop on the brakes. Trailing off the brakes, using the wet line and turning the car into the corner is a joy. Rotation is easy to sense, over rotation is easy to catch.
While it's a quick car, the G55's setup makes manipulating it easy, as if the window you need to control the car is huge and extremely forgiving.
I head into McClean's with a smile on my face; confident that the car is easy to control I'm looking for the available grip on this wet circuit.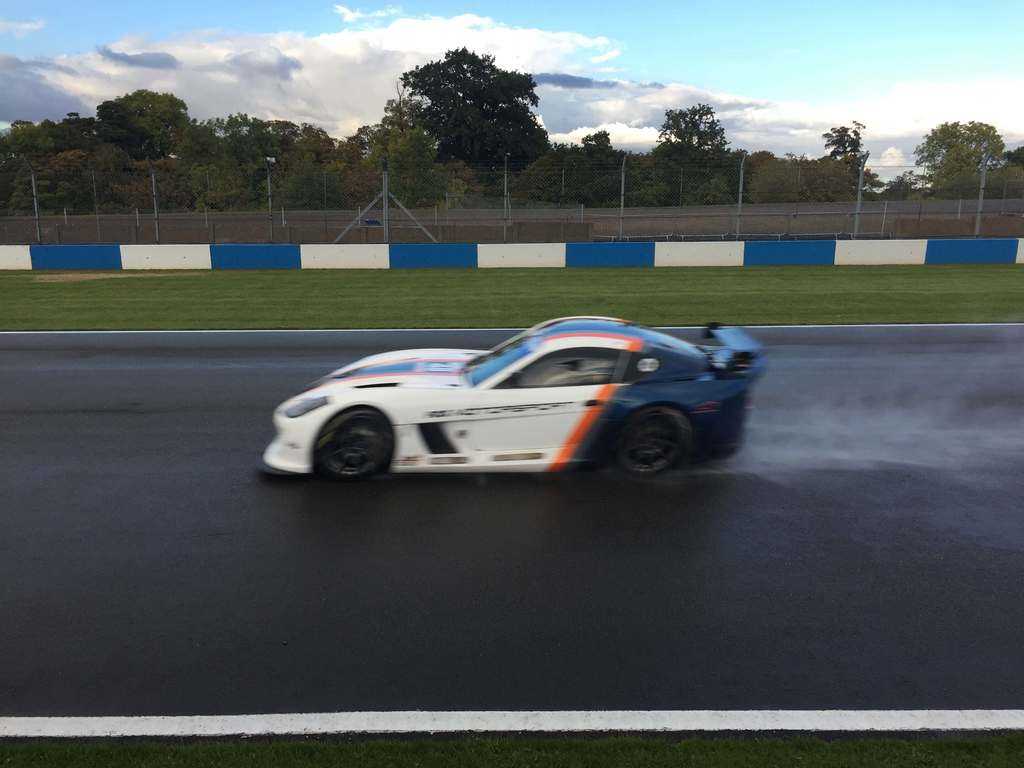 As I head down the pit straight, I leave braking quite late; getting a little out of shape on the entry to Redgate. No problem, the car's easy to manipulate and it's a doddle to correct any slightly over adventurous moves.
As I'm nearing the end of the session, Pohl lets me know a faster G57 is on my inside and I should let him through. I'll happily admit I've been enjoying the thought of the road ahead so much I've not been as aware of my mirrors as I should.
I'm thankful for my race engineer!
Eventually, it's all over and the all too familiar "box this lap" message arrives on the radio. As I bring the car into the pits, I've found enough confidence to get up to a decent pace in some of the most challenging conditions a driver can face.
Time to Give Fox Their Car Back
I must say, testing the G55 was a real highlight of the day. Fox are a fantastic team of friendly and knowledgeable people with professional class engineering support and driver development.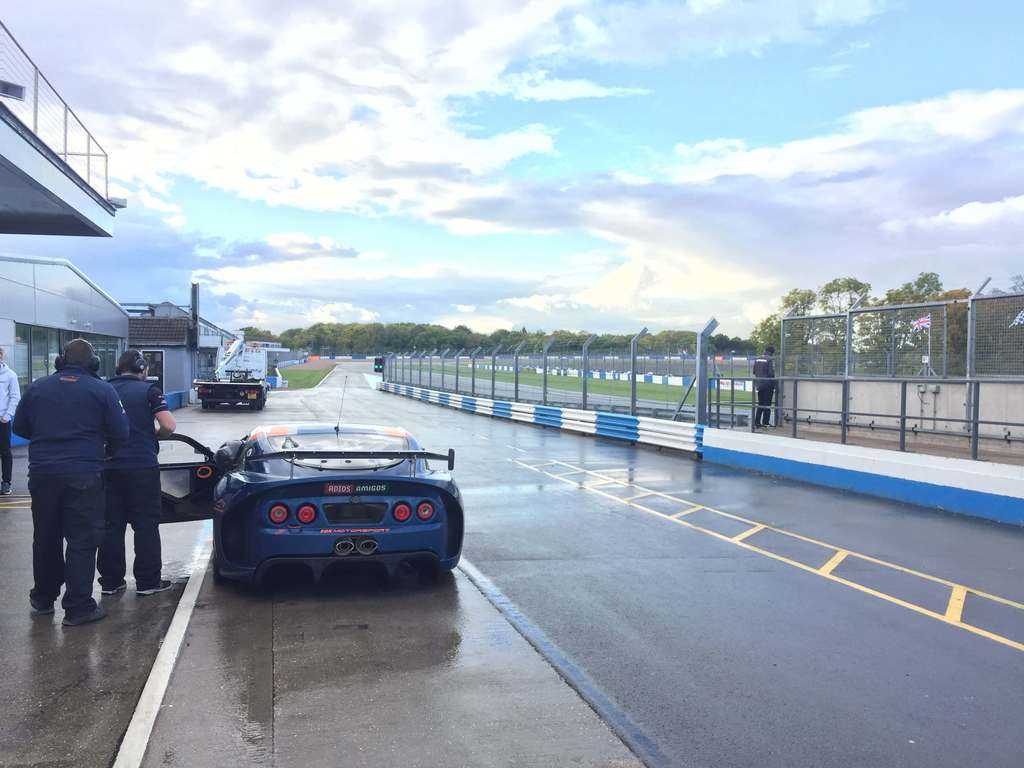 Their car is very easy to get to know (I wish I'd had a dry run on slicks to test my pace!). It's such an accessible car that you can really have fun in it, without feeling too intimidated, within just a couple of laps.
Would I fancy another go? Yes I would!
---

Fox Racing will provide this car to run in the UK for testing or competition for a weekend or an entire season. So, ff you'd like to test with Paul and the whole team at Fox Motorsport in their G55, get in touch with them via their site follow them on Twitter or Like them on Facebook.
Thanks guys!
---
About the author
Richard Baxter is an amateur driver having run in Radicals, Funcup cars, Mazda MX5's and Classic Formula Ford
Read his personal blog, Purplemonkeydishwasher here, Follow him on Twitter here or follow his sim racing action at simracingcockpit.com.