Location Day 1: Silverstone International
Start / Finish Line: 52 4'5.8″N 1 1'24.5″W (Circuit Guide / Track Map)
Location Day 2: Donington Park (National)
Start / Finish Line: 52 49'47.3″N 1 22'46.4″W (Circuit Guide / Track Map)
Team: Nielsen Racing
---
Goodbye, Radical SR1 Cup. Hello, Radical Challenge Championship.
After a P5 Championship finish in my first year in the Radical SR1 Cup, it's time for me to move from Novice to Amateur racer. In 2017 I'll be contesting the Radical Challenge Championship in a Radical SR3rsx.
After my first few days in the seat, I'm pining slightly for the relaxed and simple days of the SR1 but I'm completely hooked on the mental and physical challenge of a significantly quicker car.
Has this season given me a decent primer for what's to come in 2017?
"You're Not As Quick As I expected You To Be"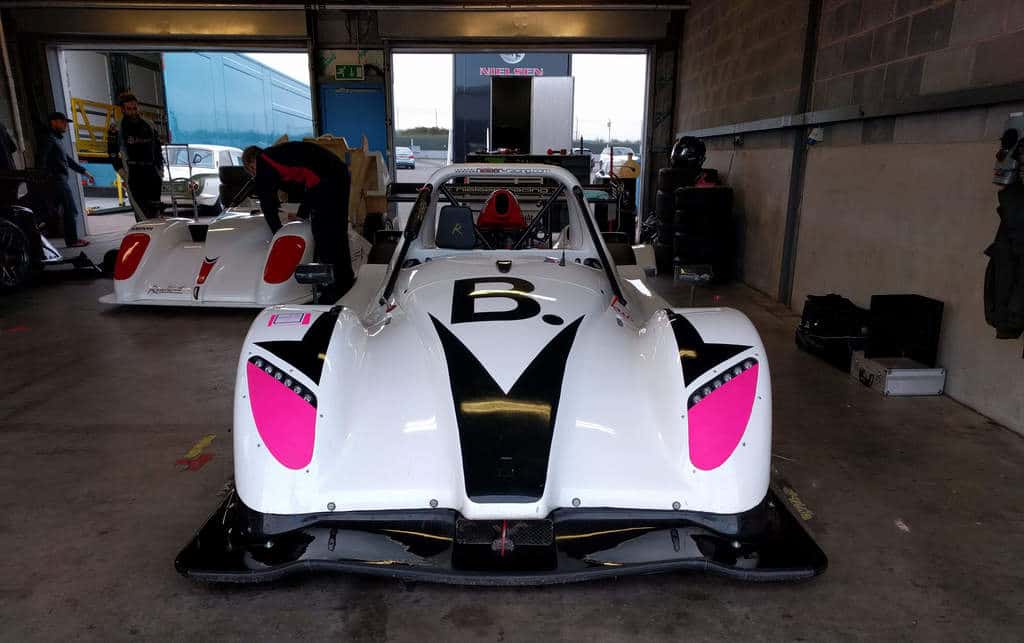 Those words from Stuart Moseley, my coach for the day and the Silverstone SR3 lap Record Holder. To be fair, I took his comment as a compliment. This is from a driver with more experience in his little finger than I have in every bone in my body.
Before the big day at Donington we took the SR3 to Silverstone National for a first run. It was a bit of an eye opener to say the least.
He expected more, I'd underestimated the step up. Given the cockpit of this Radical SR3 RSX is going to be my office for the next few years, I'd better get myself upto speed.
James (Littlejohn) happened to be with us testing the soon to be Masters Championship winning Radical SR8. He had a hearty laugh at my pace (6 seconds off Stuart's), and carried on with his day.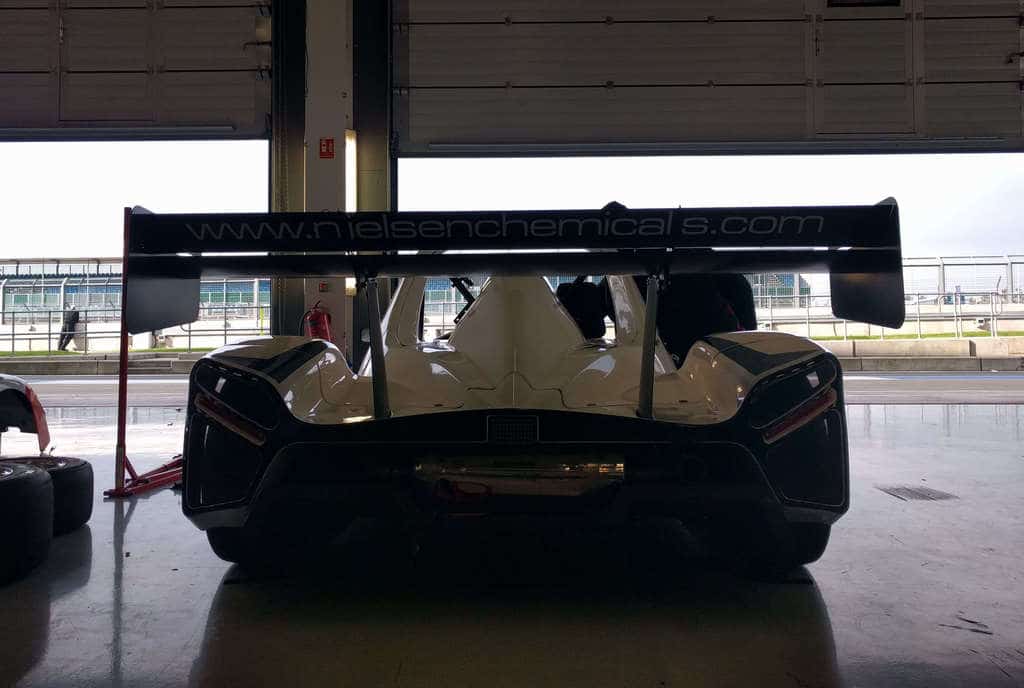 Challenge Accepted.
After a few hours in the car; I'd learned just how much a step up a Radical SR3 is compared to the similarly powered, but far less grippy SR1. They're almost a universe apart.
On a difficult morning at Silverstone International I had to learn a new circuit, learn left foot braking, learn a new car, learn how to warm the cold, hard slick tyres and hopefully, not go off.
By the end of the day, I'd made some progress. At least, I understood what I needed to improve.
The Car
The prettiest of the Radical Sportscar family, the SR3 RSX is also the most popular.
It's quick in a straight line, powered by an RPE-tuned Suzuki Generation 3 4-cylinder, 1500cc DOHC motorbike engine. That translates to 0 to 60 mph in just 3.1 seconds with a top speed of 155 mph.
Its 260 horsepower (155 kW) is delivered via a six-speed sequential transverse gearbox, pneumatic paddle gearshift system with an auto-blipper. The final drive system incorporates a Quaife torque-biasing limited-slip differential. Torque meets the track via Dunlop bespoke slick tyres.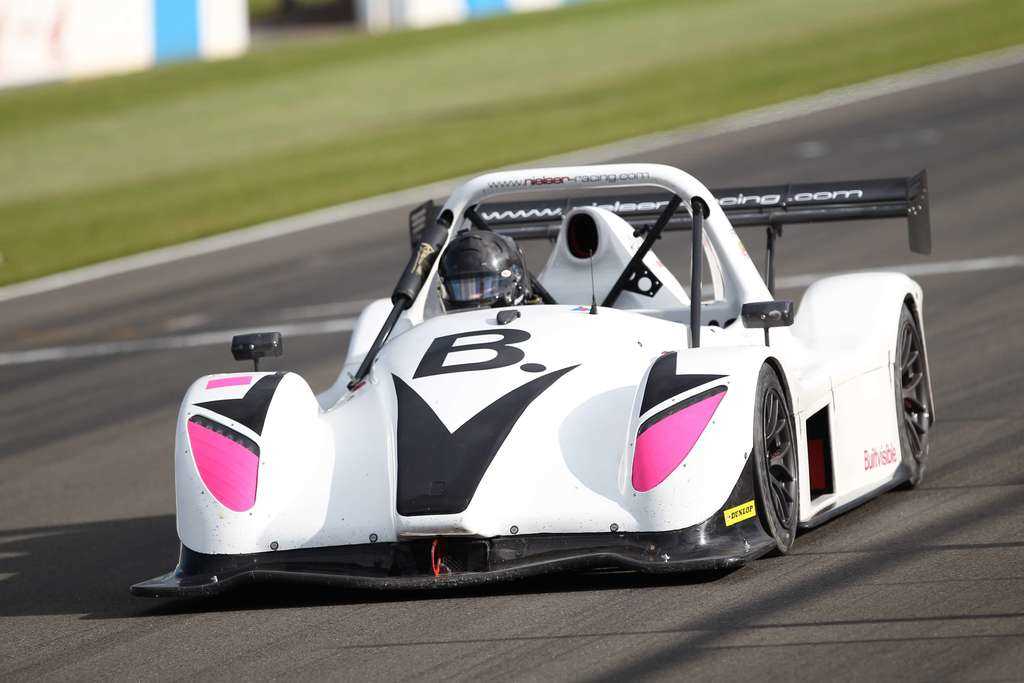 Once warm, there's a large and very obvious helping of grip through the slick tyres and plenty of aerodynamic down force provided by the front splitter and rear wing.
For the budget, you have a serious piece of racing hardware that you'd have to spend in order of magnitude more to beat.
That's what makes the Radical series so tempting for AM and PRO drivers. When you're at a test day threading your way past GT spec Porsche 911's and Ferrari 458's, you can enjoy the fact you're running at a significantly lower cost for a pure racing experience.
Here's my first run at Donington National:
The Manufacturer
Radical put itself on the motorsport map with the iconic Clubsport model in 1997, a model, along with its successor, the Prosport you still see in club racing championships such as 750 Motor Club today.

In 2002 Radical launched the SR3 and a year later the compact SR4, Radical's successor to the original Clubsport.
Then, in 2005, Radical launched the SR8, powered by a 380bhp V8 RPE engine, making near LMP2 pace accessible to the AM driver.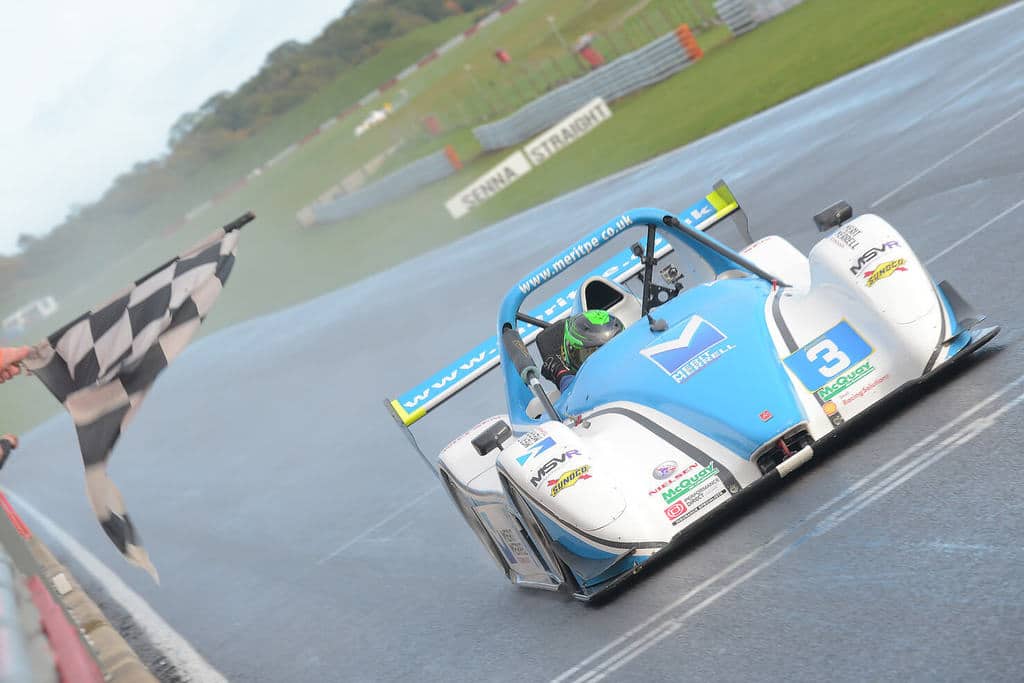 James Littlejohn, 2016 Masters Champion in the Radical SR8
Later, Radical launched the RXC which competes in the Masters Series along with the Radical SR8.
The Series

Radical "Racing Ladder" starts with the SR1 Cup, a UK series for novice drivers comprising of race meetings at Brands Hatch, Oulton Park, Cadwell Park and Snetterton.
After you've graduated, entry into the Challenge Championship in either your SR1 or your new SR3 becomes an option. The Challenge Championship offers 3 classes of entry: the SR1 Challenge, Solo Challenge and Team Challenge.

Finally, the European Masters Championship offers racing at European circuits in the Masters Class (for SR8s and the RXC Spyder), Coupe Class (for the RXC GT3) and Supersports Class (for the SR3 RS and SR3 RSX) teams.
Running in each category is extraordinarily cost effective with SR1 Cup races generally costing in the low thousands.
The Ride
The Radical SR3 is a well balanced, stiff racing car. Weight transfer is predictable under braking and easy to manipulate. The trick with this fast car at a circuit like Donington Park is to drive smoothly, especially off throttle and off brakes. It's incredibly easy to adjust to; and quite forgiving of mistakes.
The difference in driving technique from the SR1 to the SR3 is stark, especially in corner entry speed, exit speed and braking: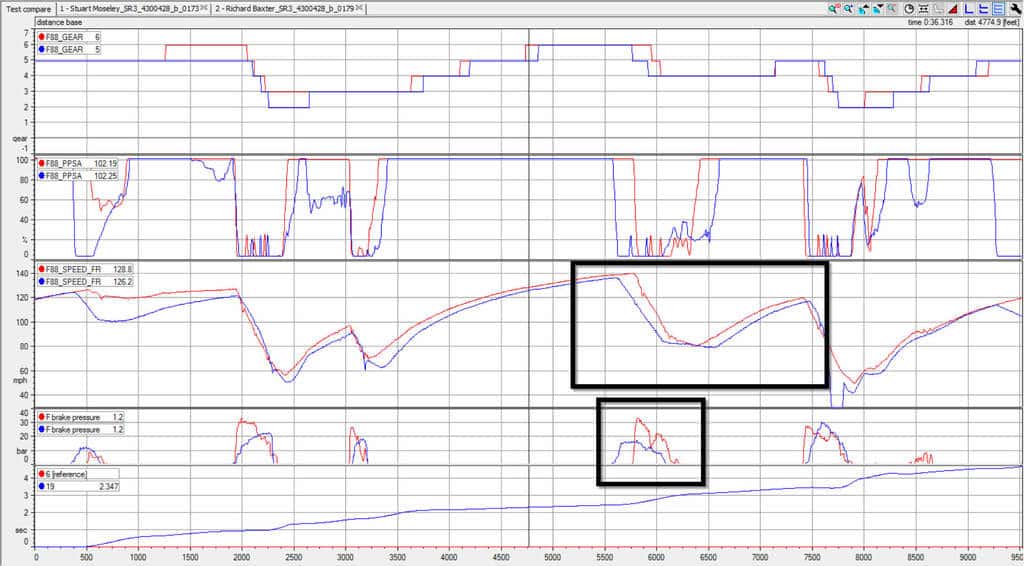 Comparing my corner entry / exit speeds in blue and brake pressures into Stowe (highlighted in dark box). They are massively different to Stuart's.
Given my 150 hours of seat time in the SR1 I thought I could be pretty much up to speed within a few hours. That's definitely not the case.
Here are the big differences:
Tyre Warming
Cold days and hard slicks are not a fun prospect. When we spoke to Oli Hancock (who was running the same car, same tyres, same day) he said the tyres were taking 6 or 7 laps to fully come up to temperature.
Warming the tyres is a tentative process to say the least. It's also critical, if your tyres aren't warm you're going to have a very bad time. Like any procedure this is something you must learn in an SR3, and it's something I think is worth dedicating a test session to at least.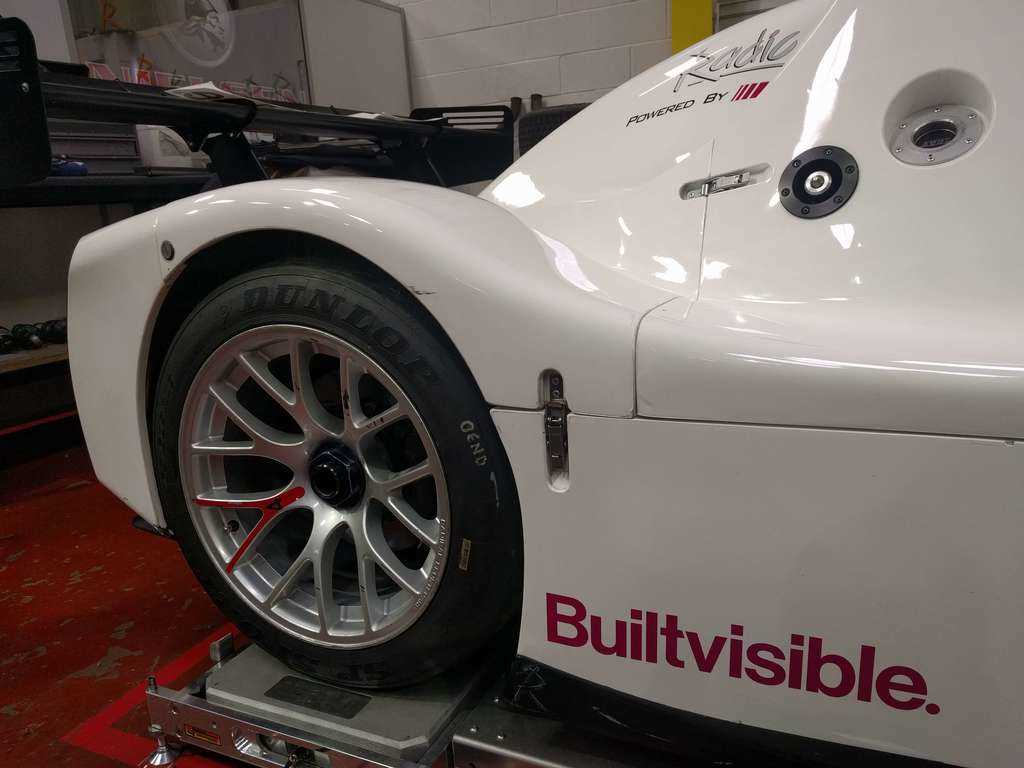 In cold conditions it's wise to take 3 or 4 laps to gradually build heat in the tyres. As I learned, spinning up the rear tyres a few times as you exit the pits (carefully!) gets a little surface temperate in the rear tyres. From there, throttle on, brake, throttle on, brake in as straight line as possible. As you enter corners, you'll find you have massive understeer as the front tyres are still cold. The trick is to warm the rears so you can safely start to weave to warm the fronts a lap or so down the road.
As I learned, you can think you've warmed the tyres but really you've only warmed the very flat section in touch with the tarmac. The curved sides (some of the rubber you use in a corner) may still be cold, so you have to be so careful and make sure you've warmed the entire surface of the tyre.
This is definitely one of the more technical aspects of running an SR3; if you've never experienced slicks before, learning to warm your tyres needs to be your top priority.
Braking
Braking is an extremely violent experience.
In the SR1, you had to be quite tentative with your brake pressure onto the brakes, before trailing off with a nice smooth curve.
That technique is wrong for the SR3. You use around 3 times the brake pressure on to the pedal, which combined with left foot braking takes a little practice to master.
Left foot braking is an absolute must; because the time between going off throttle and jumping on the brakes is time lost. With the left foot you can be on the brakes instantaneously (or, never fully lift off the throttle to keep the engine braking to a minimum and keep the car balanced in a way that suits your style and the corner).
The SR3's brakes are very, very good. If you do need to brake (there are plenty of corners where you don't!) you brake quite a lot later, in some cases quite deep into the corner. This takes some adjustment!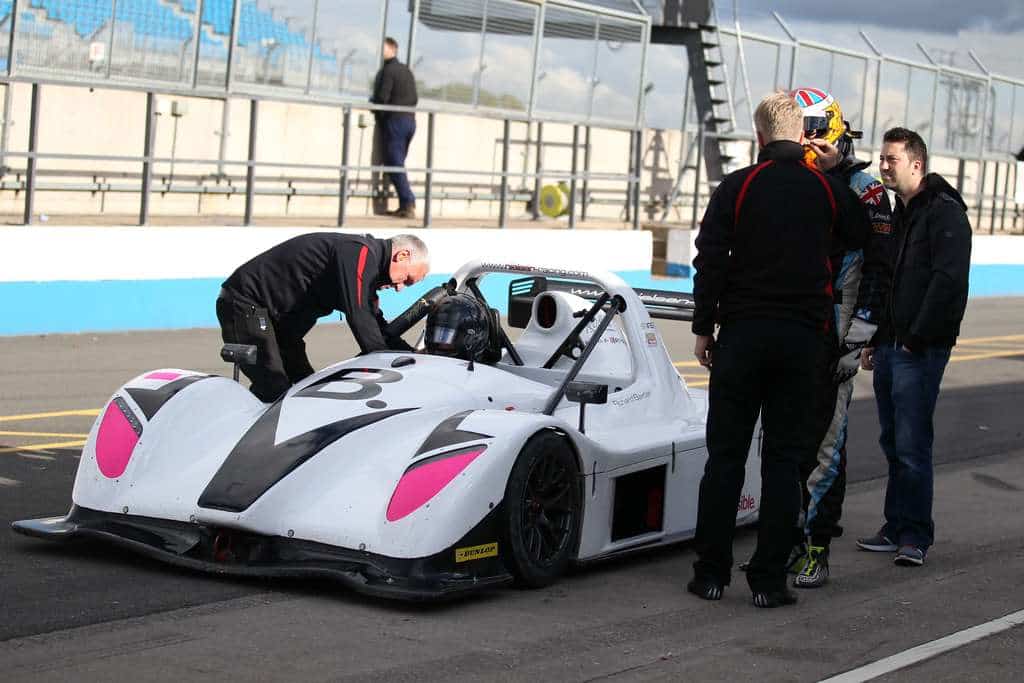 Throttle
With an SR1, you have to be tentative on the throttle when exiting a corner. Too much, too quickly might over rotate the chassis and because the car's so soft it's hard to rescue.
In an SR3 you can pretty much stamp on the throttle. A combination of higher grip, aero load and a better differential all make the car much, much more forgiving. With the set up of my car on the day, a bit too much throttle at the apex and exit just made the car understeer. That's something we can resolve with setup.
Coming to Terms with the Increased Lateral G Force
As you get more used to a car you become completely accustomed to the lateral G loads you experience in the cockpit. The G load in an SR3 is much, much higher than an SR1 and it takes some time to come to terms with it. This is one of the many reasons why it's critical to have a coach with you; he or she can go out on the car and set a datum lap and demonstrate which corners are easy flat.
At first you won't believe the car can do it, as I was in Craner Curves at Donington.
Proper Racing Car
The SR3 is a proper racing car.
Knowing what I know now, it'll be a few more test days to get within a second of the pace, and quite probably a lifetime to find the rest. That time will definitely be a lot of fun. The SR3 is a highly recommended bit of kit; and I look forward to putting in a lot more seat time next year.
---
About the author
Richard Baxter is an amateur driver having run in Radicals, Funcup cars, Mazda MX5's and Classic Formula Ford
Read his personal blog, Purplemonkeydishwasher here, Follow him on Twitter here or follow his sim racing action at simracingcockpit.com.