In this Oulton Park circuit guide, Driver61's pro-driver, Scott Mansell takes an in-depth look at this 2.7-mile technical and fast track.
This track guide will take you through each of Oulton Park's undulating curves, step-by-step, pointing out braking points, racing lines, bumps, kerbs and everything you need to be fast at this unforgiving track.
Oulton Park Track Map
If you'd like to make notes at your next track or test day, use one of our handy track map driver's sheets here.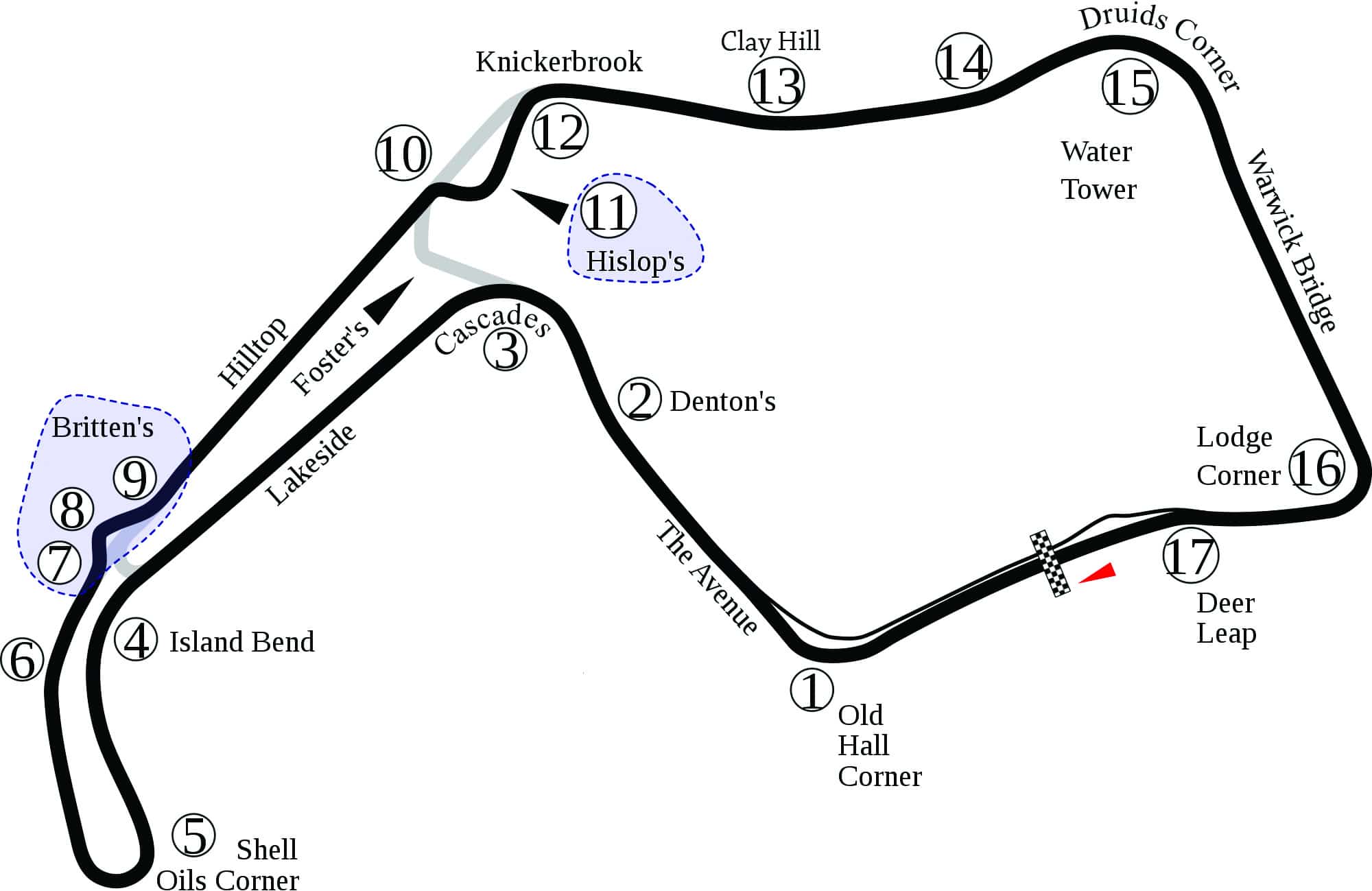 Oulton Park starts with Old Hall, a medium-high speed right-hander with a tricky braking zone. You'll want to resist the urge to turn in too early, rather loading up steering angle gradually.
Next, the circuit heads downhill to the quick and cambered left of Cascades. Here you'll find a common trait for many corners at Oulton Park – more grip on the inside of the bend, thanks to the camber.
Cascades is followed by a straight that leads to the very quick and brave Island Bend. Possibly the most dangerous of all at Oulton, Island bend will require you to build up to your optimum speed lap-by-lap. Like Cascades, be sure not to run too wide here as you'll lose the benefit of the circuit's camber.
Momentarily after Island, the Shell Oils Corner follows. Late braking is required and once again the circuit gains camber, meaning you can carry lots of speed into the right-hand hairpin.
A short straight follows before the challenging Britten's chicane, the first of two at Oulton Park. Our circuit guide recommends being careful with the huge first kerb and carrying as much speed as possible through the second section of Britten's, as the exit is quite steeply uphill.
After a decent straight – where you should check your mirrors and temperatures – we have Oulton Park's second chicane, Hislops. Like Britten's before, you'll need to be careful with the large first kerb. The rest of the chicane is a compromise and your attention should be on the final exit out of Knickerbrook.
Oulton Park then flows uphill. The circuit curves right and left, but in all cars, it's flat out before we get to Druids. As mentioned in the track guide, there are a few variations of line here depending on what car you're driving. Generally, you'll make two apexes and you'll need to be careful on the exit as it's located on a crest. The normal mistake here is to misjudge your racing line then need to tighten steering and lift off the accelerator as you head over the crest. This usually causes a problematic spin.
Finally, we head down another medium-length straight to Lodge Corner, one of the simplest at Oulton Park. The braking zone is bumpy and the apex is on a crest and late. You'll need to be sure to apply the throttle as early as possible to get a good run uphill and along the start-finish straight.