The Portimao Circuit otherwise known as Algarve International Circuit is 4.7km and consists of 16 turns.
In this in-depth Portimao circuit guide our resident driver coach, Scott Mansell, details everything you'll need to be fast at this Portuguese track including analysis of racing lines, braking zones, kerbs and other features.
The Portimao circuit is excellent entertainment with a technical mix of fast and slow corners that include some massive gradient changes. The Algarve circuit is certainly one of the most interesting in Europe.
Our video circuit guide to Portimao works through each corner individually, explaining how you should approach your time on the track.
The braking zone for Turn 1 at Portimao travels downhill quickly before the circuit heads through a medium-high speed right-hander. Turn 2 is just about flat out in most cars, before the hairpin of Turn 3.
Turn 4 is one of the most interesting at Circuit Algarve, as it heads up over a blind crest that can cause some oversteer. See the circuit guide for much more detail.
Then we head down a short straight, again into a downhill braking zone before the left-hand hairpin of Turn 5. Turn 6 is flat out again and blind before the quick right-hand corner of Turn 7.
Braking into Turn 8 at Portimao is tricky as the car is still turning from the previous corner, but you can roll off the brakes and carry a lot of speed into the apex and up the hill.
After a steep hill, the Algarve circuit once again falls away into the fast and brave Turn 9 where good vision is critical.
Again we race uphill to the extremely technical section of Turns 10 and 11. It's important to watch the circuit guide video to really understand this section of track.
After hooking up to the apex of Turn 11, the circuit moves downhill to the apex of the fast Turn 12 before moving uphill once again to the left-hand hairpin of Turn 13. Be careful on the outside of the circuit here as the circuit falls away.
Then we move the car back to the left side of the circuit before tackling the technically difficult Turn 14. It's off-camber, so it's not possible to carry as much speed into the apex as you'd expect.
Finally in the Portimao track guide Scott details the fast and tricky Turn 15, an undulating high-speed right-hander.
Portimao Circuit Map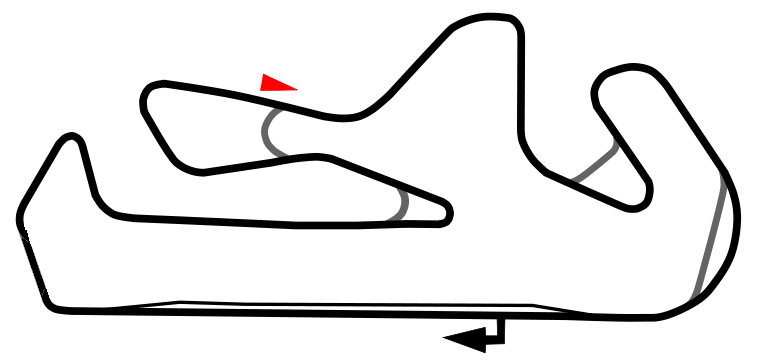 Portimao Circuit Map