Having fun on a circuit doesn't have to be expensive.
I've probably learned that the hard way, if I'm being perfectly honest.
In fact what you learn very quickly is this:
It's not about who has the fastest or most expensive track / road car on a track day, it's about who's having the most fun.
In fact, there are so many opportunities to acquire decent track cars for around £3,000-£10,000, all of which which will give you thousands of cheap laps around some of the best track day circuits in the country.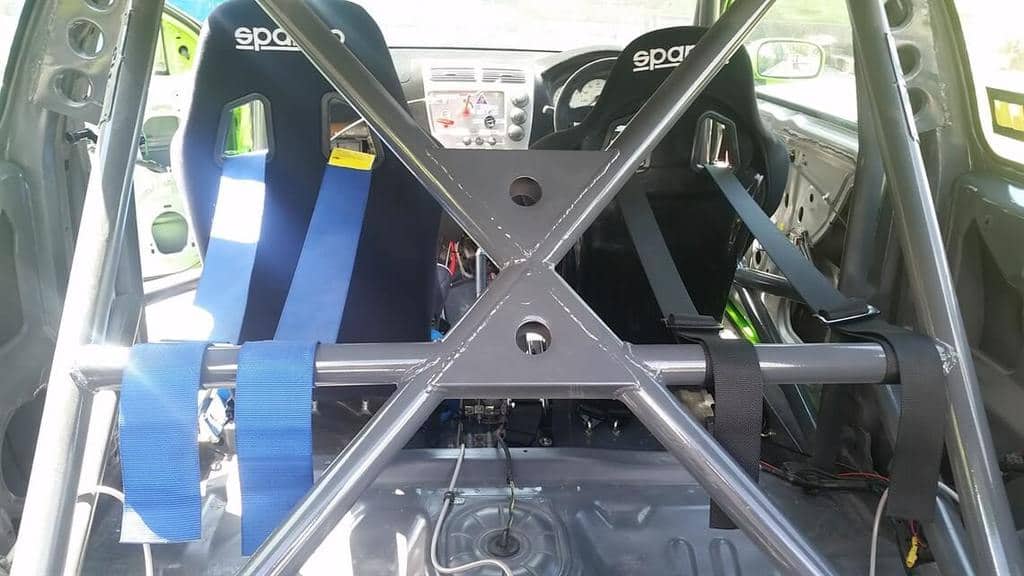 And, if you make a savvy purchase your new track day weapon could just as easily become your race steed. That's if you're planning to step up and go racing.
If you're looking for a "pure" track car; as in, you don't need a daily driver, this article is for you. Aside from the obvious issues with the cost of insuring a road car modified for track purposes, there's also the economical side. Your road car is probably quite nice; why would you want to run it on a circuit?
Taking a brand new road car to a track day may see like a good idea until the first invoices start to roll in, a knock in the suspension here and a new set of brakes there. Or a caliper fire, or damage from rolling it…
Rather than looking for a "road" car; buy a track prepared car
There's a lot to be saved by buying a well looked after, race prepared car.
You may plan to modify your own, but for most that's a big amount of new expertise required to even get started. Not to mention the budget required.
When there are so many nicely prepared, genuine race spec cars on the market, why bother doing the work yourself?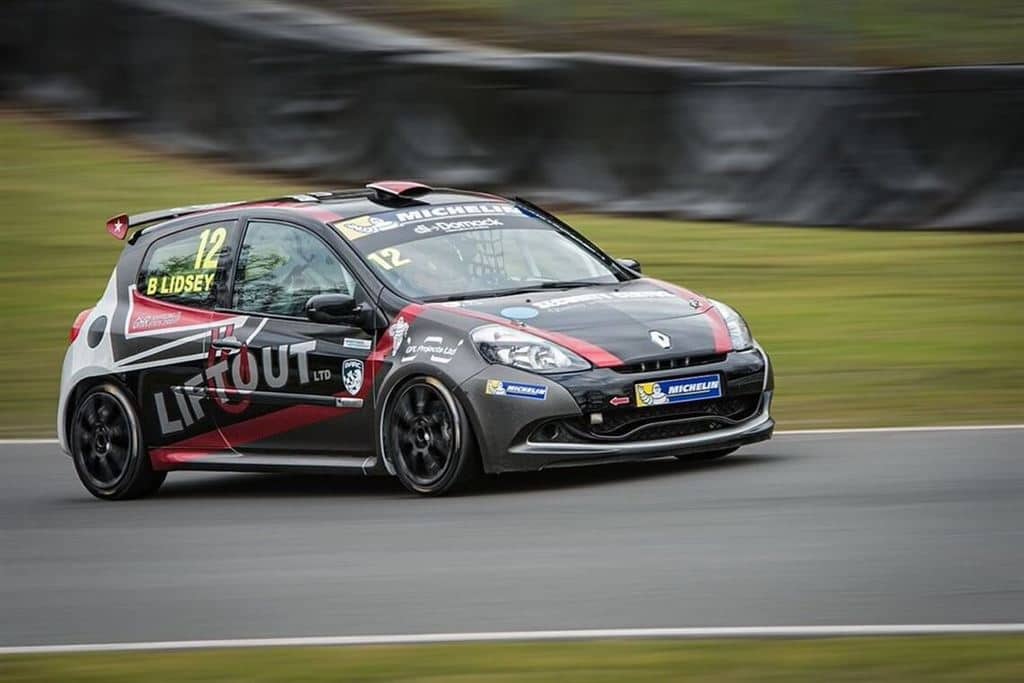 In my humble opinion it's best to leave your family daily driver in the car park and bring something lighter, cheaper and modified for better cooling, better braking, handling and grip. You'll have a blast and you might just find yourself matching pace with some significantly more expensive road cars!
So, what should you look out for? Here's a list of brilliant track day cars to get you started:
Mazda MX5
Driver 61 Opinion: The MX5 is cheap and bulletproof, (there are) loads of mods available and above all, it's rear wheel drive. Fantastic car to learn car handling and an extremely versatile track car. Super fun in the corners; driven properly it'll keep up with cars significantly higher up the price range.

As with any track car, especially one that's been raced it's good to know its history.
Just because the bodywork might look a little tatty here and there don't let that put you off. The engine in this car has been well maintained, performance tuned but serviced regularly.
There's a new clutch and prop shaft in this car too; so for track day use it's probably bullet proof and will be quicker than most things on the circuit so long as you're handling the car in the corners well.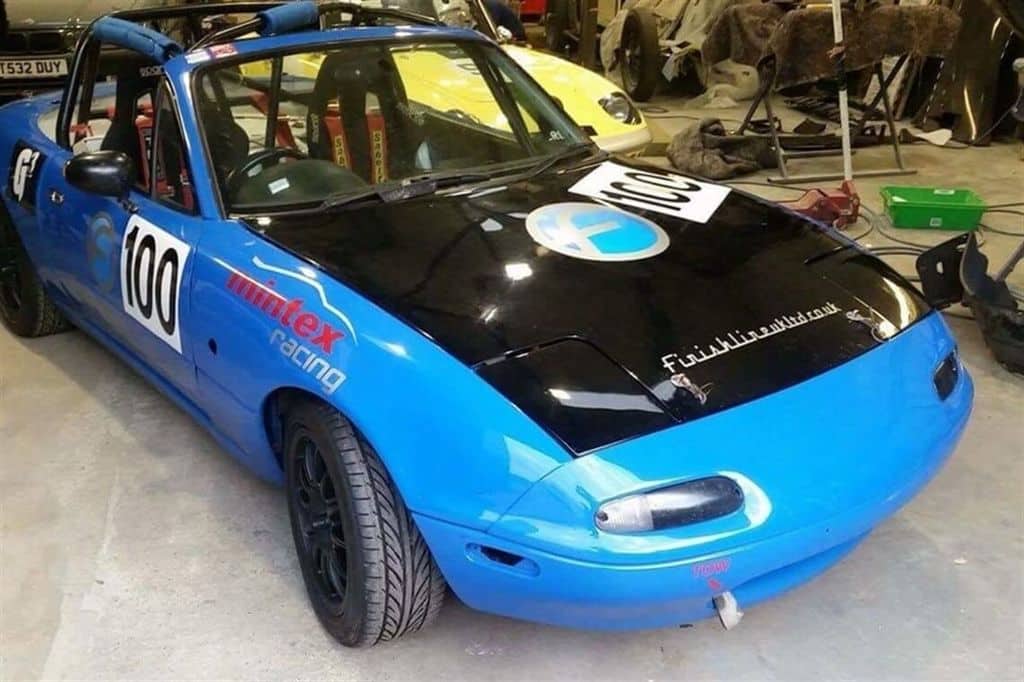 This car's also a really good example of coming from a working team; so, if there's need for a service or some work later down the line you know exactly where to take the car for the work. Also some teams will store and transport the car to tests, track days and races too; always a good option for those with limited storage.
Price – lots of spares £4595
For a bit more you could stretch to a MK3 MX5 like this one at around £12,000: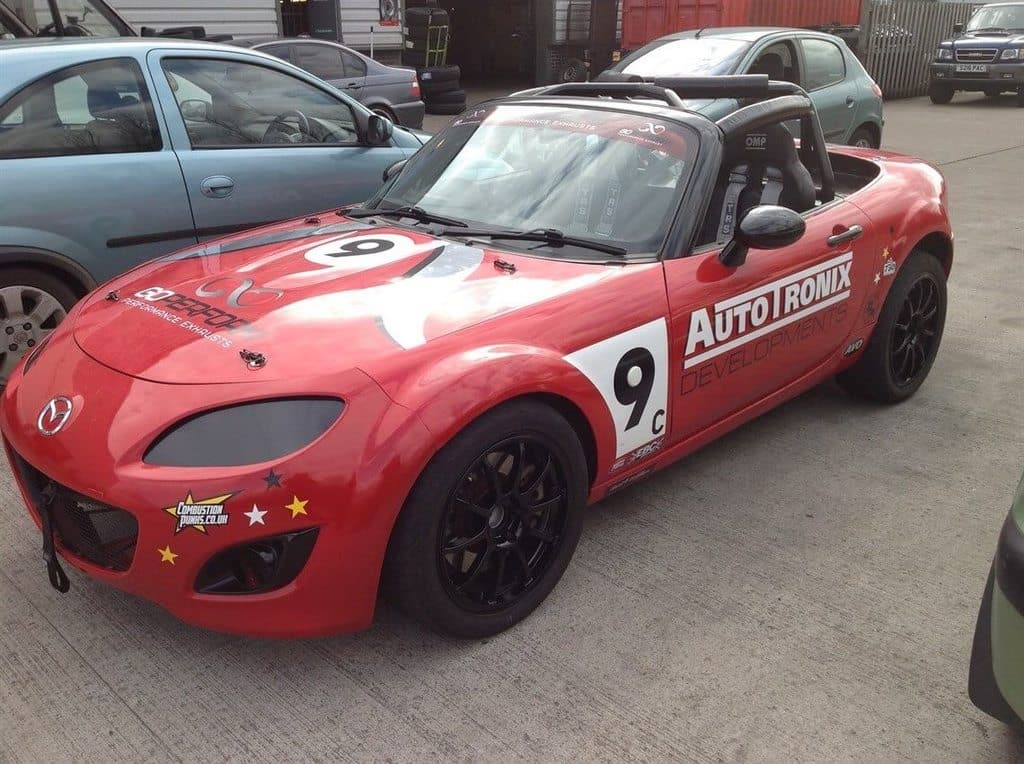 Honda Civic Type R
Driver 61 Opinion: They're hands down the most popular car at some track days. Cheap to buy, cheap to modify and easy to work on. In the right hands these cars are pretty quick and there's lots of support available through the owner's club.
Civic Cup teams like Area Motorsport know a thing or two about these cars, get in touch via our track day car hire page for some expert advice and support.
Here's a very tidy example: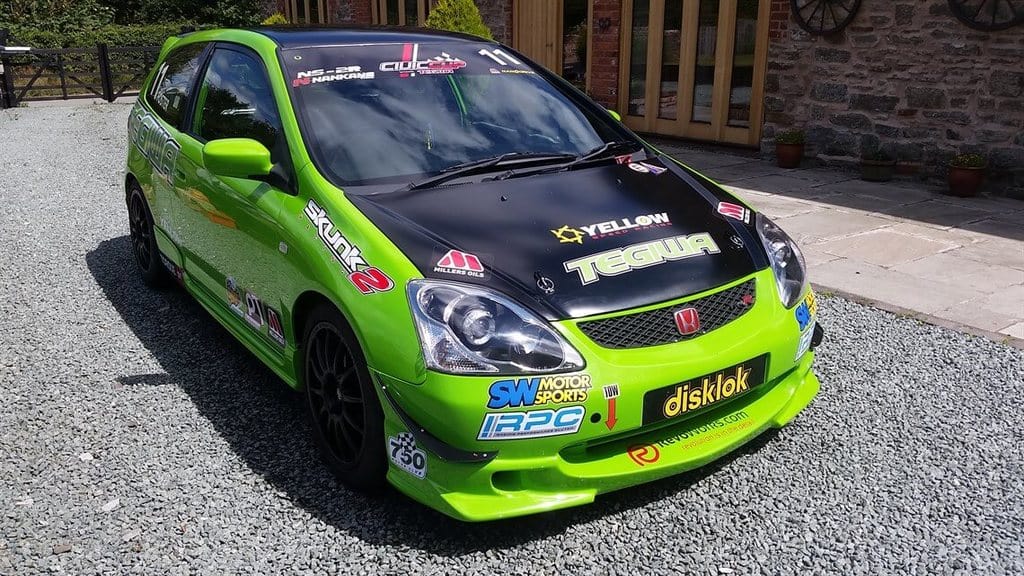 Price – £15,995 (now sold)
This is a really nicely prepped Civic Cup Works spec car; about as ready as they come to race. Sadly it's now sold but provided you'd be able to do a decent job of maintaining this car it'd be a tremendous bit of kit for a track day.
BMW E36 M3
Driver 61 Opinion: Highly desirable and easy to drive RWD car. Very popular on track days and plenty of eligibility to race in various categories in the UK. A fully stripped and race spec M3 will feel plenty fast and be hugely fun to manipulate in the corners.
Here's a fine example: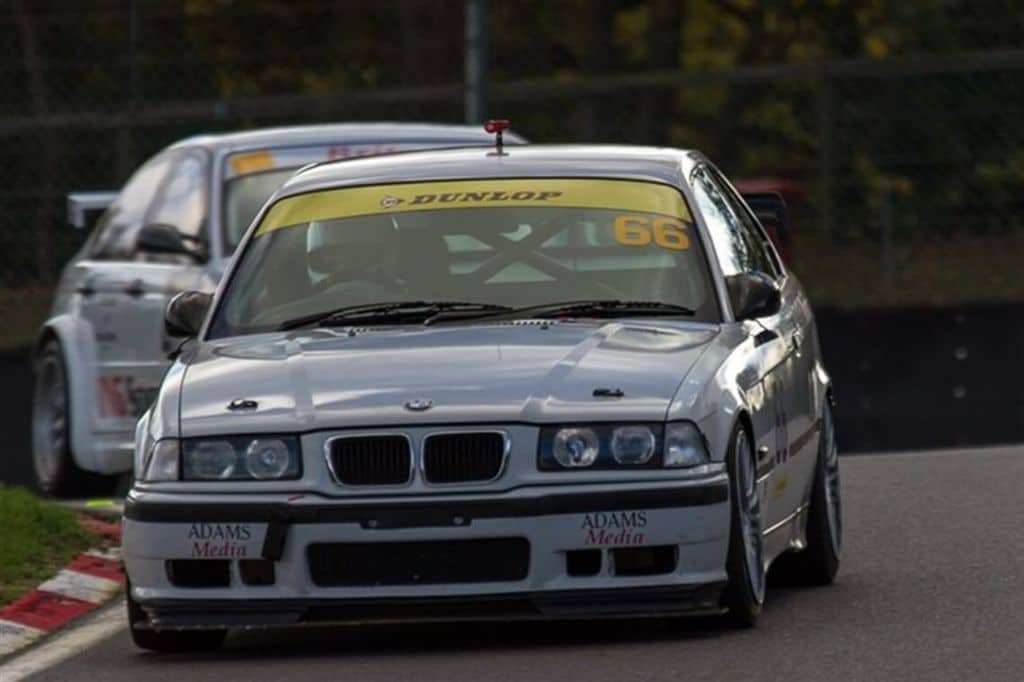 This BMW E36 M3 race car has been campaigned in the Britcar Endurance series. It comes with a 3.0 litre S50 engine with Airbox delivering a decent 360 BHP.
3 way adjustable AST shocks, a racing pedal box with adjustable brake bias. There's a lightweight, motorsport flywheel with competition clutch assembly installed. 5 speed gearbox with quick shift lever.
For a track day car this may feel like a lot at first but brake bias and a tuned engine are pretty standard features of a racing car. It's now prepped and ready for another season, which would usually mean engine and gearbox are serviced and rebuilt.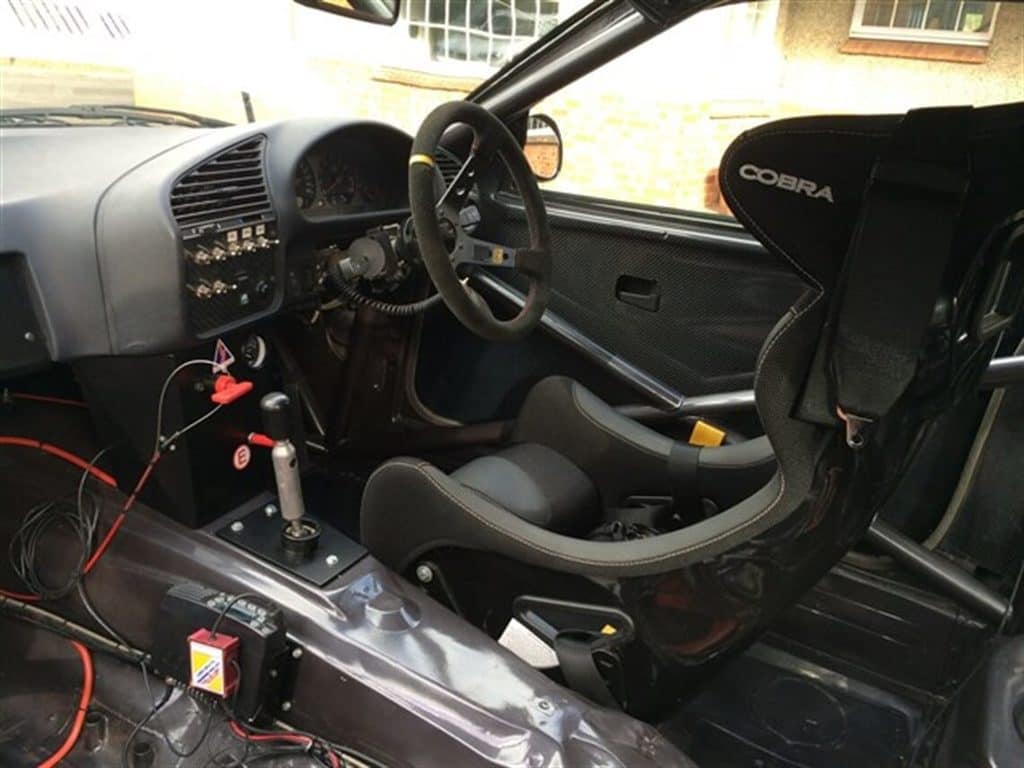 For £15,000, this car could be quite a bargain.
Price – £15,500
Renault Clio 172/182
Driver 61 Opinion: For the money you can't beat the Clio 172/182. You see an awful lot of Clio track cars at most track days. Granted they are front wheel drive but they're comparatively quick in the right hands. It's a very well supported car with a knowledgeable and friendly crowd of enthusiasts. Popular, cheap and reliable.
Here's one we found earlier: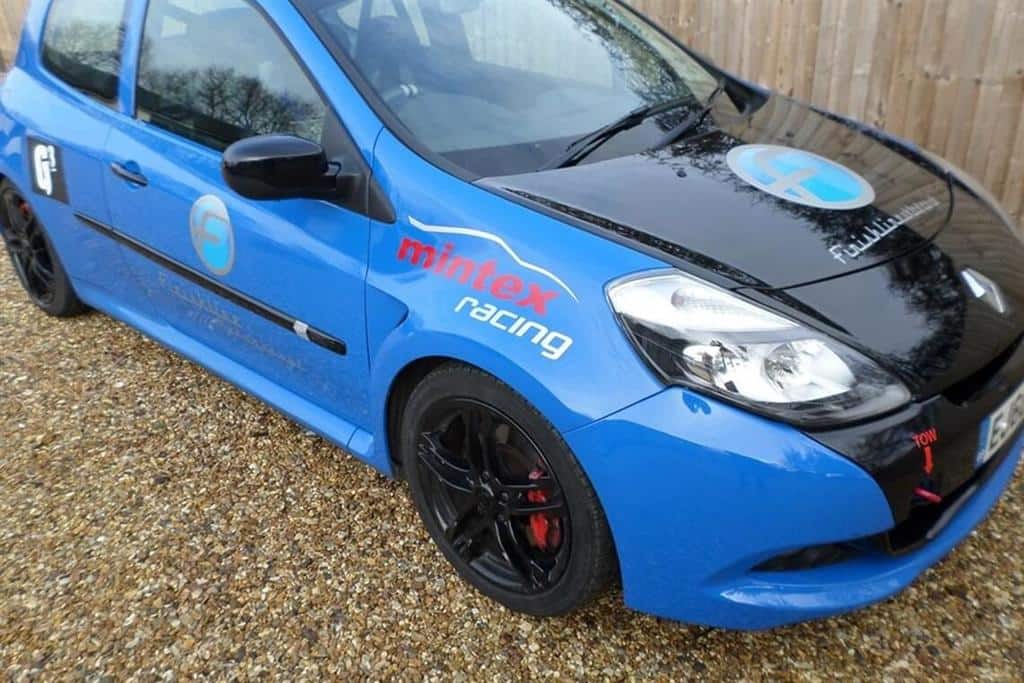 This gen 3 Clio track car conversion was built two years ago but has seen light use. The car has a Renault Sport drivers seat fitted with a TRS seat belt as does the race passenger seat.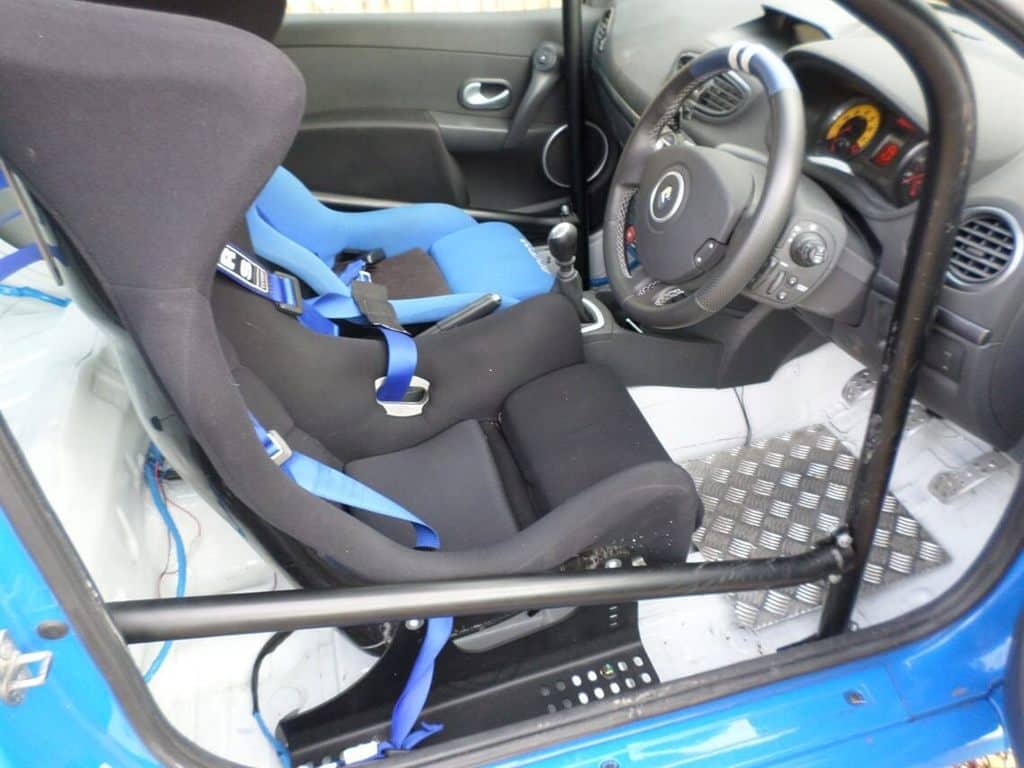 This one sounds like it has the start of a gearbox problem; check carefully!
Price – £ 7,595
You could decide to splash out on a race spec Gen 3 Clio Cup car: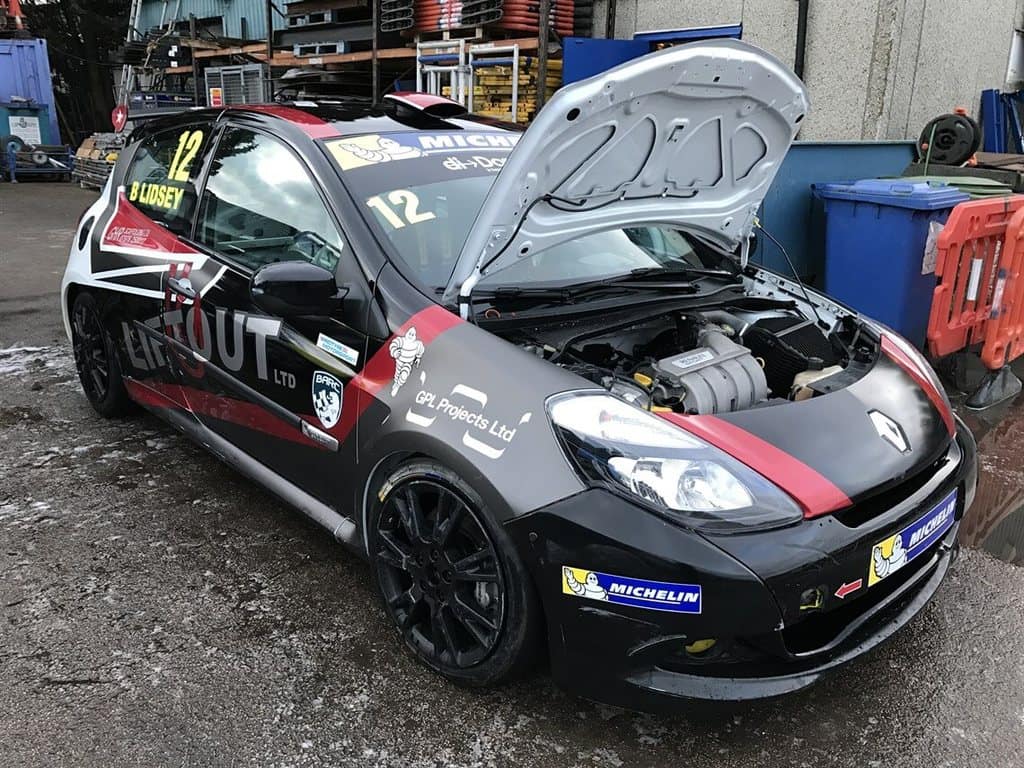 Mini Cooper Race Car
When I tested a Mini Challenge Car earlier this year, I had a lot of fun. These little cars are great for track days and are eligible for entry into the Mini Challenge.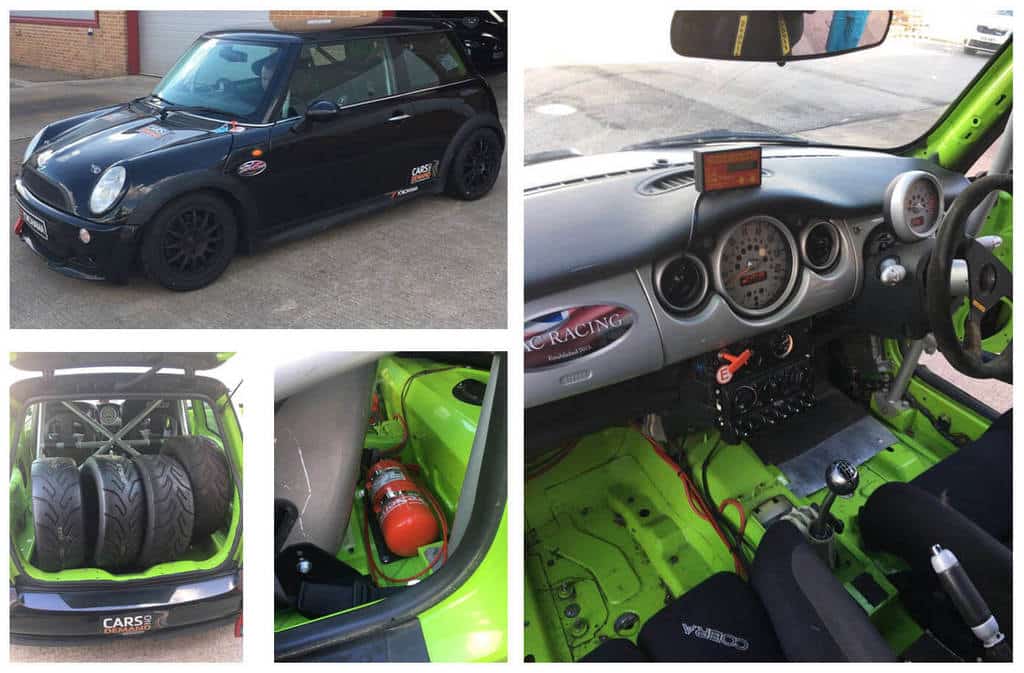 This one's got all of the required modifications for it to be eligible in relevant class races. As a track day toy, it's pretty perfect – new geabox and recent engine rebuild, competition ECU, suspension and so on. Racing Minis aren't a huge challenge to look after, but if you wanted an expert to have a look or give it an occasional service, take a look at http://www.areevemotorsport.co.uk/
Price – complete with spares £4950
Rear Wheel Drive or Front Wheel Drive?
For me, I'd always prefer to find a rear wheel drive car as the handling characteristics are often easier to come to terms at pace.
You get much more from trail braking and subsequently the turning characteristics of a rear wheel drive car are more suited to the track. That's in my opinion, of course.
Some drivers just prefer their FWD cars and I must admit, driving a properly set up Mini Challenge car really showed me how versatile and fun a FWD can be.
In Summary
I reached out to well known Facebook group, Track Time and their members made the feelings pretty clear about their favourite track cars; here's what they mentioned most often:
What are the best track day cars?
Mazda MX5
Renault Clio 172/182
BMW E36 M3
Mini Cooper R56
Radical SR3
Caterham 7 R500
Westfield Sport 250
Alternative Track Day or Race Cars
The wonderfully diverse world of Motorsport gives us so much scope to try other types of car. At a track day you'll see plenty of Toyota MR2's, Porsche 944's, Caterhams and Lotus Elises.
All very fine candidates with heaps of track day potential.
Looking for a more serious Race Car?
If you're looking for something capable of a bit more pace and you're taking racing a bit more seriously, you should probably check out the Ginetta G55 GT4, a Radical SR3 RSX, or a Caterham, and so on.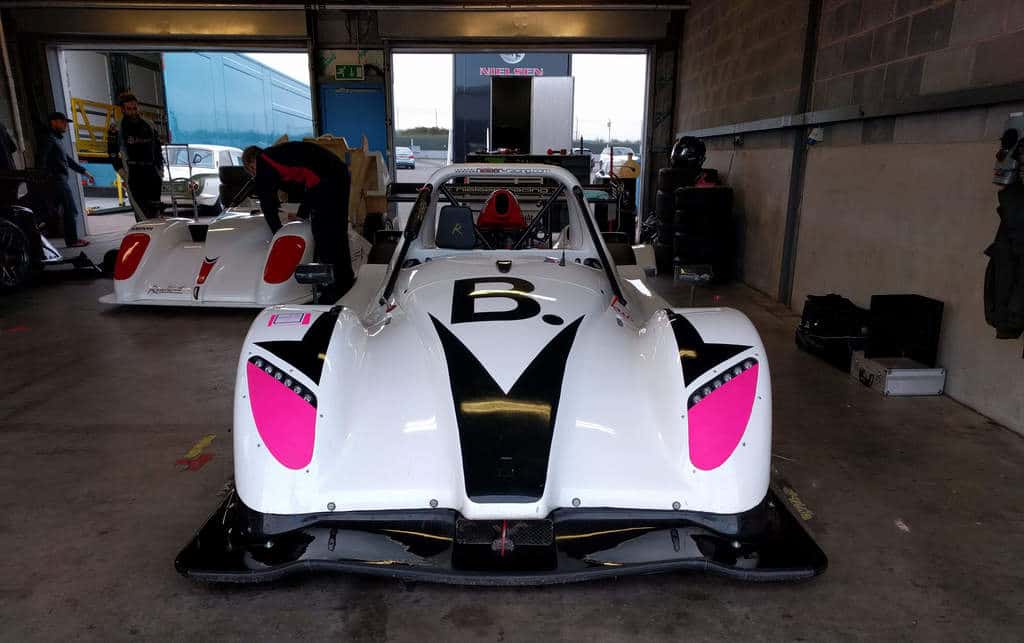 Don't forget you could always go down the "arrive and drive" route and test these cars out before you stump up the cash to purchase.
If you want to try hiring a car first, take a look at our recommended track car hire providers.
---
Featured Image: Source
---
About the author
Richard Baxter is an amateur driver having run in Radicals, Funcup cars, Mazda MX5's and Classic Formula Ford
Read his personal blog, Purplemonkeydishwasher here, Follow him on Twitter here or follow his sim racing action at simracingcockpit.com.