Your first track day can be enormous fun for a very low budget!
But, you do need to make sure you have the right gear, and especially when it comes to your choice of helmet.
Choosing the right track day helmet often boils down to budget. You don't need HANS clips (unless you plan to race), and because of the generally lower speeds you don't necessarily need the helmet to conform to the latest F1 spec FIA regulations.
What Safety Criteria does my Track Day Helmet Need to Meet?
All of our featured manufacturers from our racewear store (Bell, Sparco, Stilo, Arai) meet the basic (and higher) safety criteria for Track Days.
With that said, you really should be doing your utmost to ensure your own safety at a circuit, which starts with adequate head protection. Pay what you can for a helmet not what you'd like.
For more information, consult our helmet buyer's guide…
Open or Closed Face?
As most track day cars are saloons, you could go for an open or closed-face helmet. However, we'd generally go for the extra protection of a closed face helmet.
The only real advantage of an open face helmet is that it's slightly easier to be heard, but it's unlikely you'll be chatting too much as you're heading down the Craner Curves on a Donington track day.
If you're in an open-cockpit track day car such as a Radical SR3 rsx, a closed-face lid is the only choice.
If you're in an open cockpit you should seriously consider a Carbon Racing Helmet like a Bell RS7, too.
If you're looking at a lower budget here are our recommendations
What are the best Track Day Helmets?
Stilo ST5F N Composite Helmet
Sparco Air Pro RF-5W Helmet
Arai GP-Jet 3 Helmet
Bell Sport 5 Full Face Helmet
Bell Mag 1 Open Face Helmet
Sparco Club X1
OMP Star Helmet
Our Winner: Stilo ST5F N Composite Helmet £445 ex VAT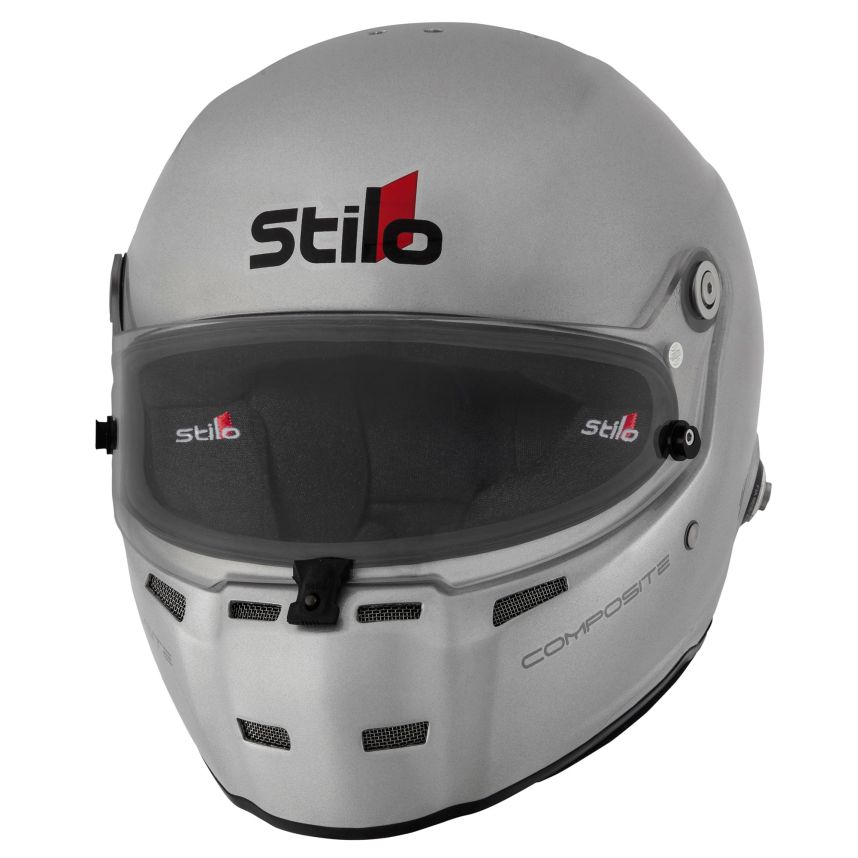 This helmet presents itself at an extremely fair price, for what it is! Stilo lids are the helmet choice of most PRO drivers on the race grid. And while this helmet is cheaper than its £3,000 carbon cousin, you are getting a lot of bang for your buck.
Take this helmet all the way up to international racing as it's FIA Homologation and fitted HANS posts permit. You won't need another helmet for a long time!
If I didn't already own a Bell RS7, I would be sorely tempted by this, or it's open face GT version.
>>> View
OMP Star Helmet £57.50 ex VAT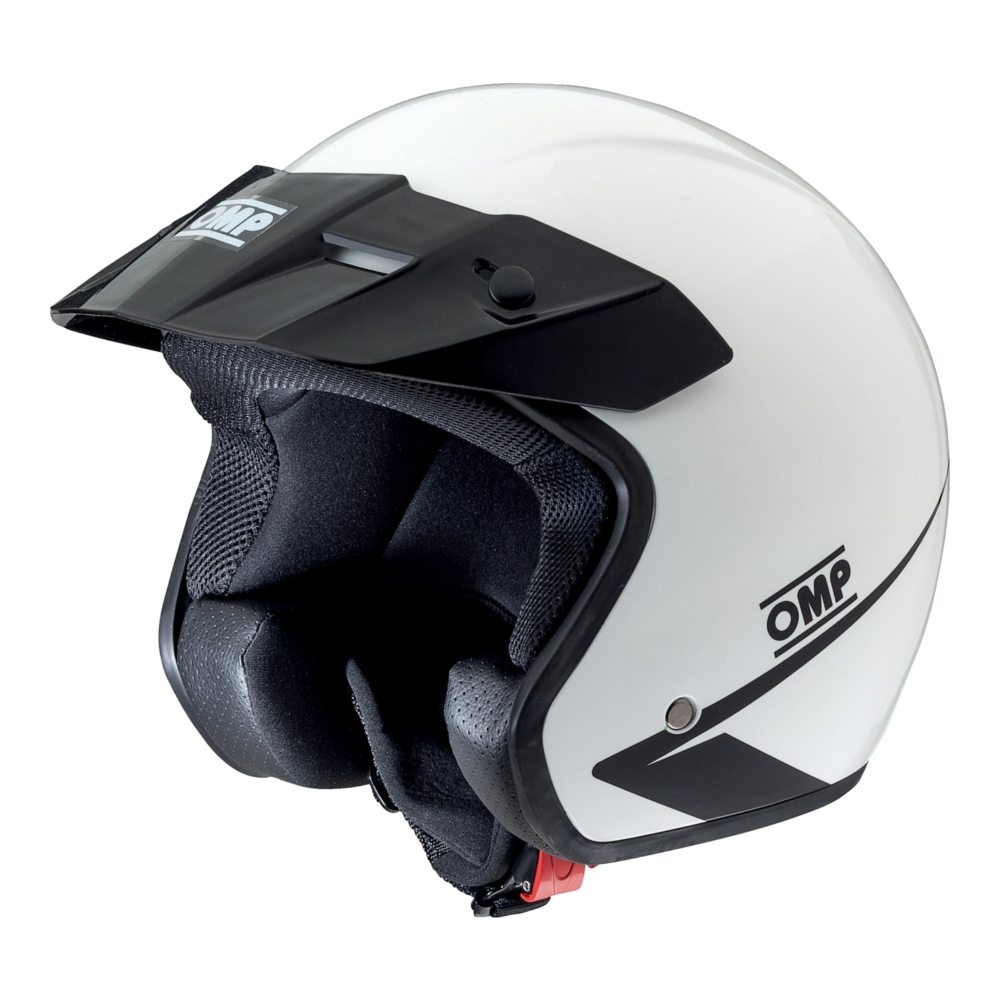 About as low budget as a helmet gets, this OMP Star open face helmet is made from tough ABS and comes with a soft padded lining.
It's not approved for any MSA/FIA Motorsport use but is OK for trackdays, non MSA/FIA karting events (non MSA / FIA) or other non MSA / FIA events.
>>> View
Sparco Air Pro RF-5W Helmet £391.25 ex VAT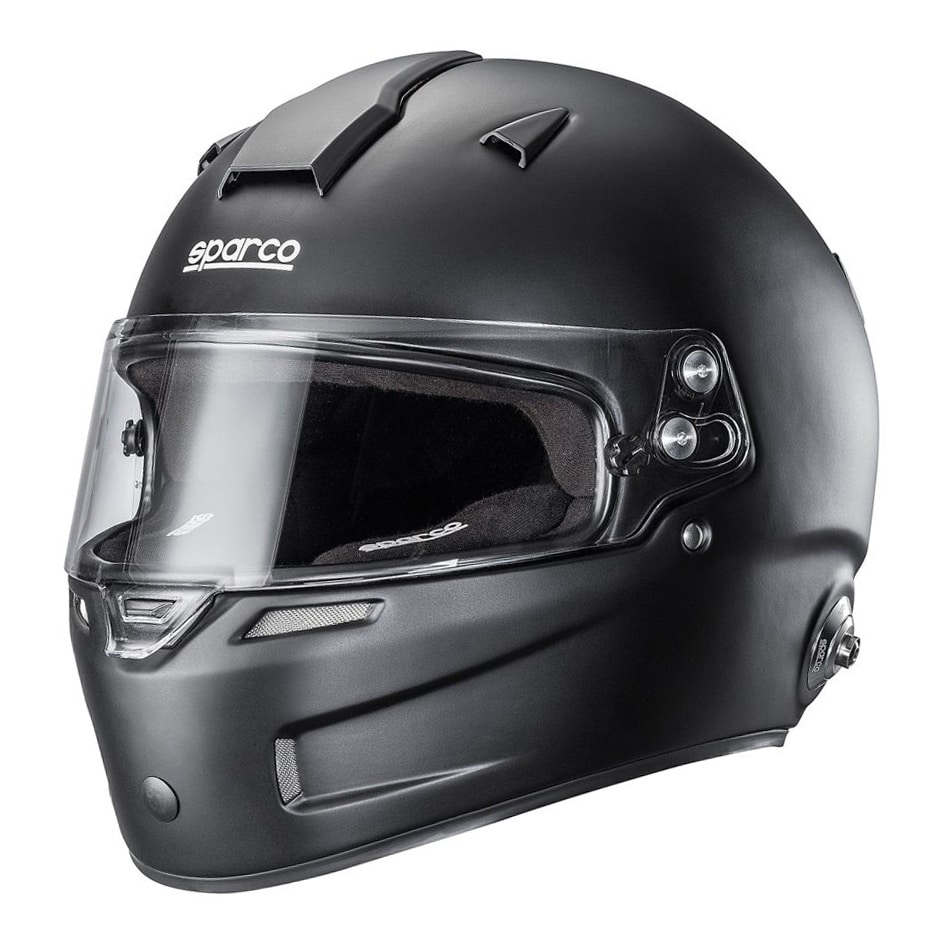 Sparco's Air Pro RF-5W race helmet is a more advanced proposition for track days. It uses more advanced "EPS" padding and lining on the interior of the helmet for cooling and comfort. The pads can also be repositioned.
The helmet includes vents on the front and six vents on the top and rear to ensure the driver remains cool.
In case you fancy progressing to racing, HANS clips are factory fitted and ready for use.
Homologated to FIA 8859-2015 Approval / Snell SA2015
>>> View
Arai GP-Jet 3 Helmet £399.99 ex VAT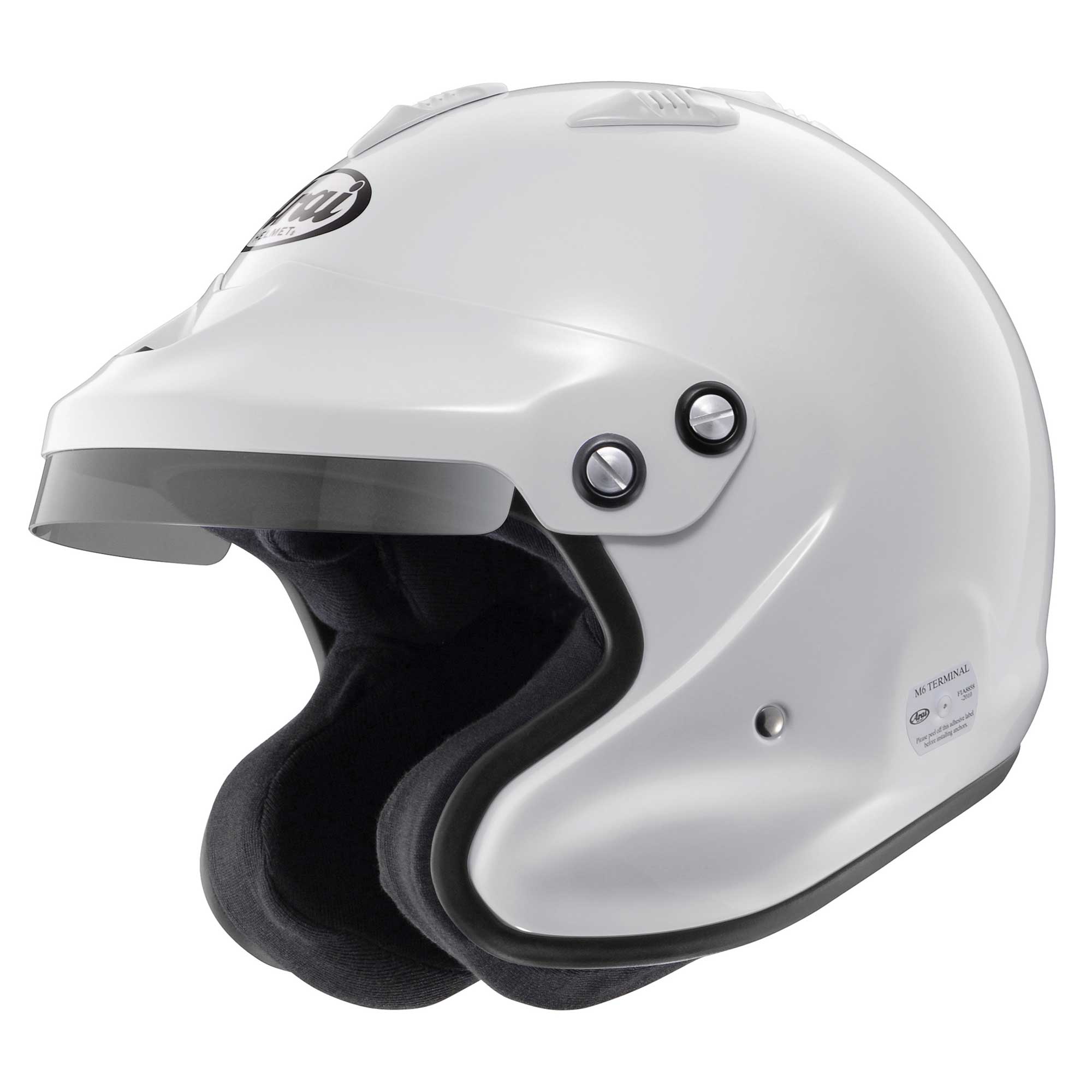 Arai's next generation "GP-Jet 3" has a classic open face design, ideal for touring cars and closed cockpits.
The helmet uses a completely new shell manufactured with "Complex Laminate Construction" (CLC) technology for enhanced strength with no compromise on weight.
>>> View
Bell Sport 5 Full Face Helmet £359.00 ex VAT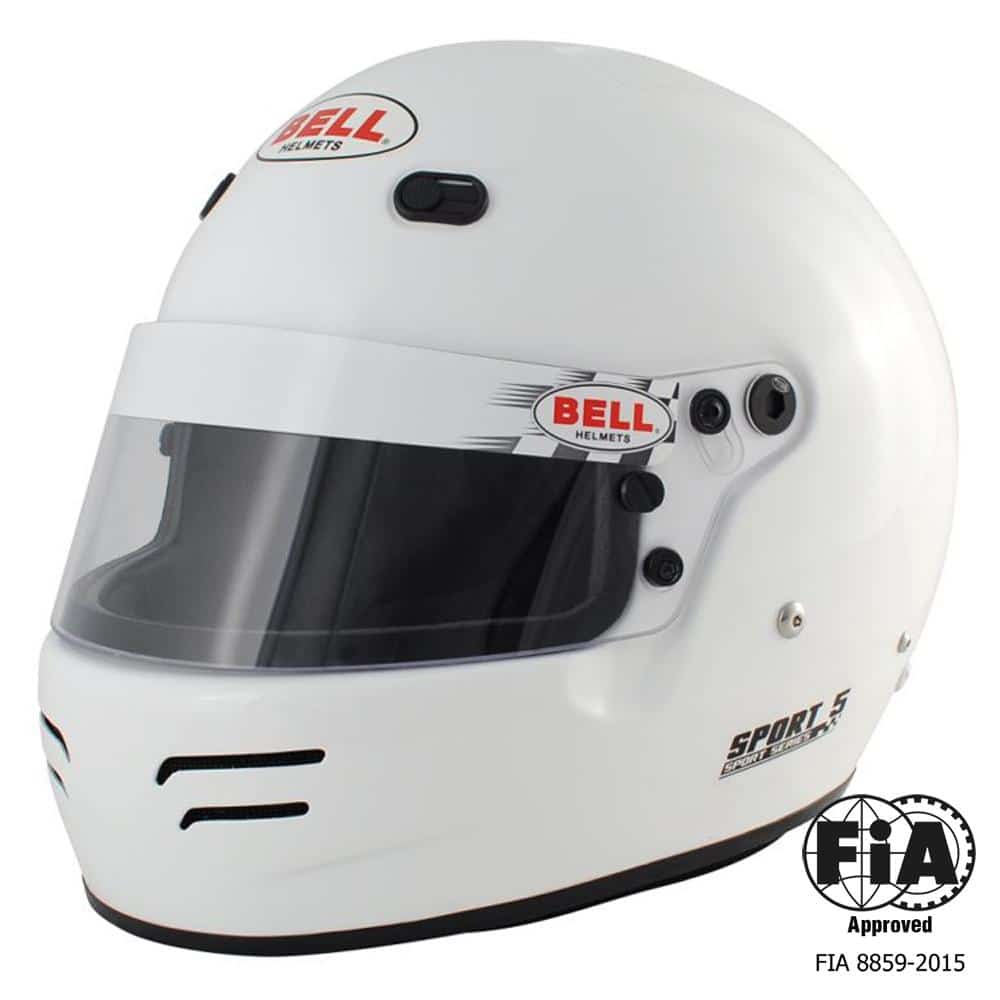 The Sport 5 from Bell is a classic racing helmet updated with a modern, robust fiberglass shell. Everyone recognises the Bell brand of racing helmets, they're market leading for a reason.
This FIA 8859-2015 Approved helmet comes fitted with a comfortable, soft inner lining with an adapted seat shape. Equipped with HANS clips and a larger field of vision through a wide visor aperture, this one is ideal for saloon car track dayers with an interest in progressing into Motorsport.
>>> View
Bell Mag 1 Open Face Helmet £265.00 ex VAT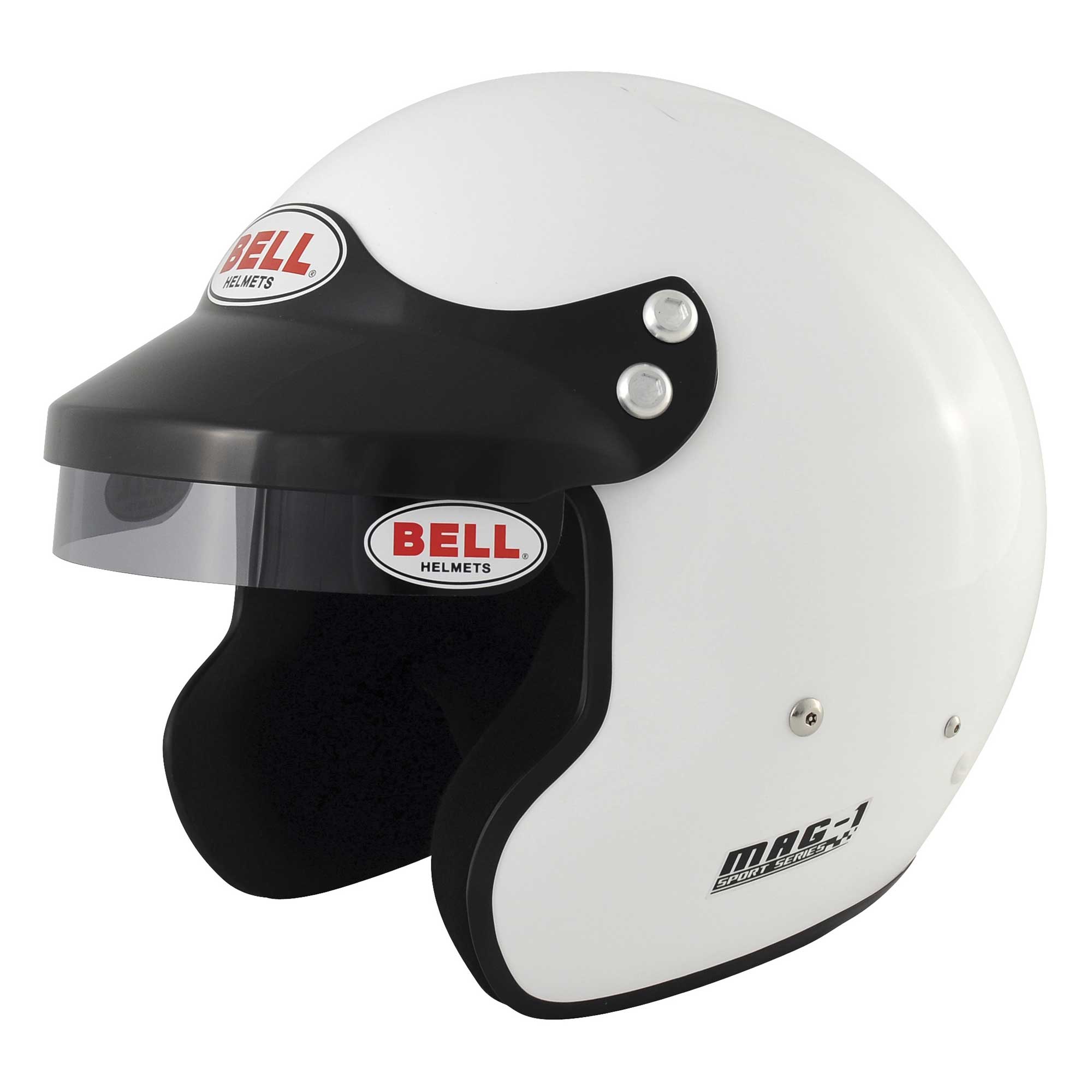 The Bell Mag-1 Open Face Racing Helmet is an ideal, entry level track day helmet for saloon car drivers.
The unit is manufactured from a lightweight Fibre Glass composite and is fully Nomex lined. The unit is supplied with the Bell Black anti-dazzle peak.
Suitable for future racers, as the helmet meets FIA 8859-2015 standard (compatible for use with Frontal Head Restraint Systems) and factory fitted with Hans FHR posts.
>>> View
Sparco Club X1 £73.95 ex VAT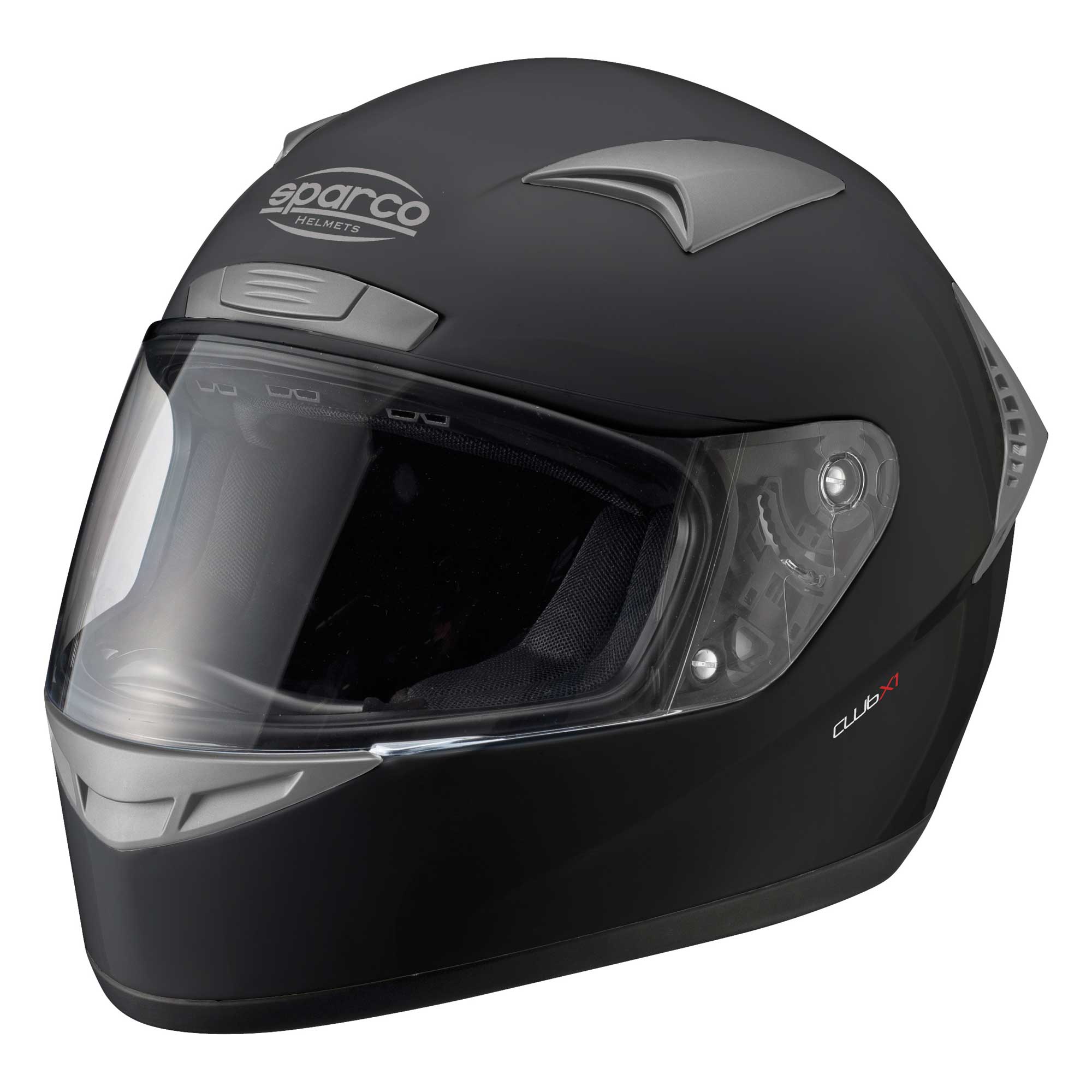 The Sparco Club X1 is a great value for money helmet that can be used at track days or clubman events. The Club X1 cannot be used at races that require a fireproof helmet.
The helmet features air vents on the chin, front and rear of the head to ensure the driver remains cooler in a hot cockpit.
>>> View
For more information on choosing the right race or track day helmet, consult our helmet buyer's guide…
---
About the author
Richard Baxter is an amateur driver having run in Radicals, Funcup cars, Mazda MX5's and Classic Formula Ford
Read his personal blog, Purplemonkeydishwasher here, Follow him on Twitter here or follow his sim racing action at simracingcockpit.com.