"You lifted on your fastest lap mate…"
After a pretty average first qualifying session, this was the last thing I wanted to hear.
By the time you're up to speed with your car handling technique, and you've got some testing under your belt, you're ready for your first race weekend.
In theory.
At the end of a really exciting 2016 I'd like to take a moment to reflect on some of the most important things I've learned about race weekends.
Let's start with qualifying.
You Need to Be Ready for Qualifying. I Wasn't
In retrospect, I wasn't quite ready for my first qualifying.
I still wasn't completely on pace in high speed corners in the car. While slow and medium speed stuff wasn't too bad, Paddock Hill at Brands Hatch isn't the best place to be unprepared for high speed corner entry technique.
But how hard can this all be?
Without any competitive experience (if you're anything like me) you've just got to approach these things with some optimism. Set out to give it your absolute best, take the negatives on the chin and learn for next time.
As it happens, my first qualifying session was a disaster. I went out without a plan.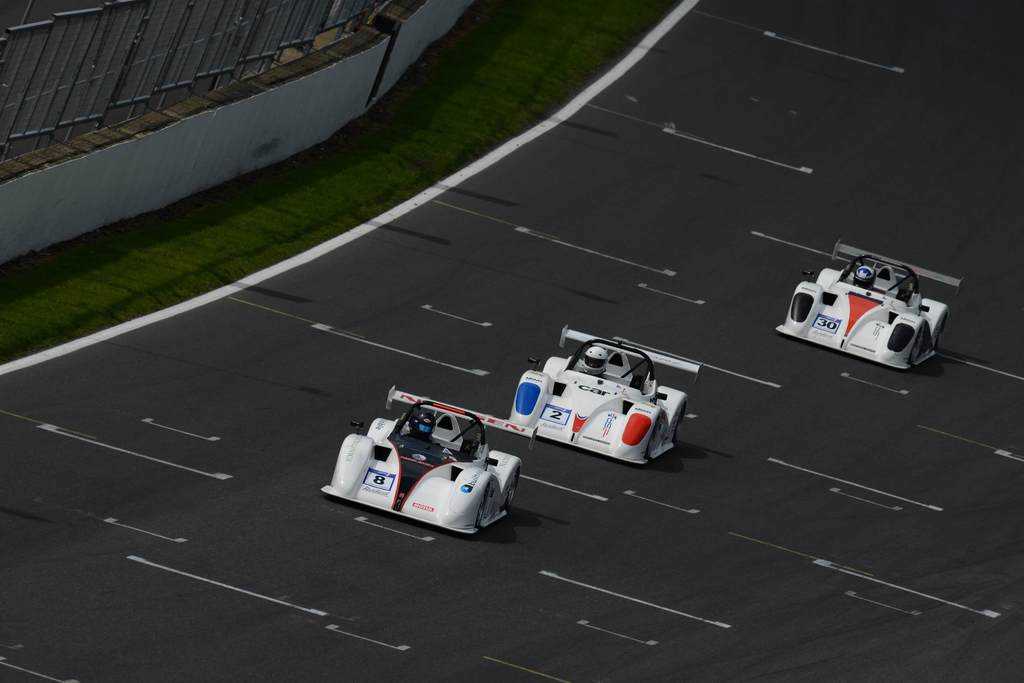 My first qualifying session, ever. It felt like I was being chased by a bear. Actually it was James Taylor, the 2016 Cup Champion and all round lovely guy.
What I Didn't Know and Wished I Had
I went out not knowing that your 2 fastest laps in SR1 Cup qualifying dictate the grid position for Race 1 and Race 2.
I thought I needed to adjust my brake bias (when it turns out I probably didn't) and lifted on my fastest lap, which would have put me further up the grid. I lifted on my fastest lap because I didn't know it was my fastest lap.
Then, the safety car came out and rather than pulling into the pits to re-insert myself into a gap, I just followed everyone else around.
These mistakes cost me the opportunity to qualify in or around 4th place which was my true pace at the time.
Since then, qualifying has become a procedure for me; developed to avoid all of the painful mistakes I've made this season. My experience is of course highly biased towards the specificity of the Radical SR1 and the cup qualifying rules. Still, I write this so you can learn from my mistakes so you don't have to make them yourself.
Understand How Your Car Performs Across a Session
In a typical session, your tyres take some time to get up to temperature. Slicks can take a few laps. Not so with the Dunlop treaded tyres on an SR1! A bit of a weave and a few corners in, the tyres are warm, and within a complete lap they're almost at their maximum grip level. This means lap 2 of qualifying can be on the pace.
The main takeaway; don't take ages to get upto speed. If you practice getting on pace as quickly as possible, you're not wasting any time. If you plan for this by having good tyre warming technique and you know when your tyres are at their best, you'll know when to attack.
Set Up: Try to Have a Wet Setup and a Dry Set Up
You can set out for a dry session when you leave the hotel, only to find it rains before the day starts. Ideally, you've had wet running at the circuit so, you know when and where to switch to the wet line. Better, you know how to find the maximum grip on the circuit in your session as the track evolves, so your driving can evolve too.
Tyres: Test with Similar (or the same) Tyre Conditions as you'll Qualify
If you've set the car up on old tyres, it'll more than likely be compromised when you put new tyres on the car. Run a qualifying sim on a test day and try to match the conditions, tyres especially, as best you can. Through the season we found more often that a new set of rear tyres had a huge impact on rear grip. As we could only take 8 tyres for the season, making this choice felt like a good compromise. Understanding how the car felt after this change was really helpful information ready for the qualifying session.
Be Ready Early and Get Out First
If you can get out on the circuit to qualify first, you're at a significant advantage over everyone else. You've got a few laps before the traffic starts to build up and more importantly, more potential track time than anyone else!
Remember to get up to pace quickly. Warm the tyres and assess the grip levels on the circuit – build a mental map of each corner. Build all the information you need to be on pace on lap 2. Heavy accelerate and brake, push the car into understeer and oversteer into slow and medium speed corners. If it's wet; make sure you're aware of the grip levels on and off the racing line and so on.
Use Data Properly
With all of the track information built up in your mind, you should be aiming to put in a good lap time very early in the session.
If you have a data logging dashboard, or some sort of GPS timing in the car, use your delta to find improvements in each corner.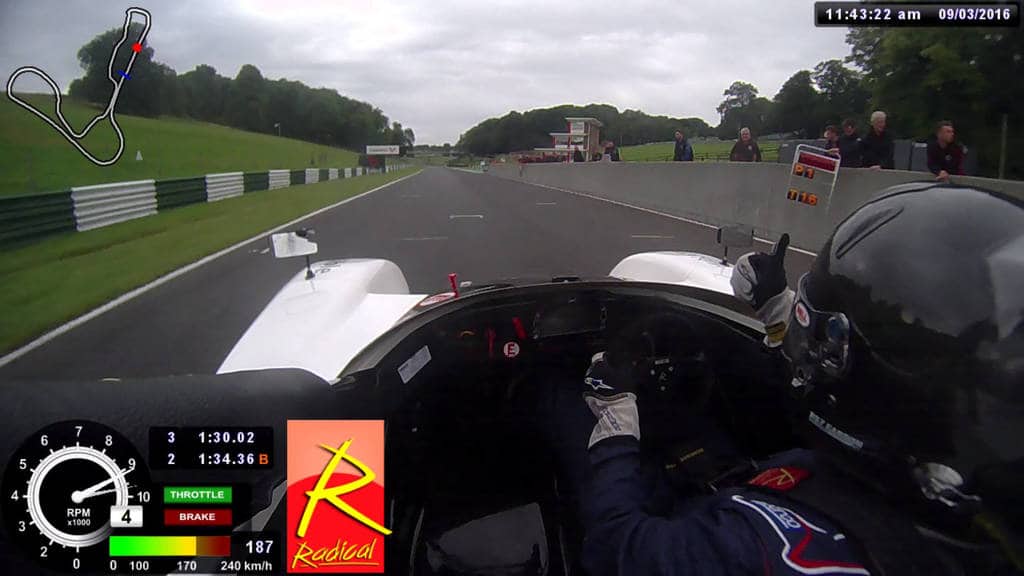 P1 during a qualifying session thanks to an early start and getting up to speed quickly.
Discuss what information would be useful on your pit board. I use qualifying position and gap to the position above.
Drive clean, smooth fast laps.
As Scott mentions regularly in the Driver's University, smooth inputs are the key to fast lap times. It's easy to feel pressured and make mistakes in your first qualifying session; try to overcome any nervousness and focus on driving smooth, clean laps. easier said than done, but with a few attempts the nerves settle and you can focus on the task in hand.
In my experience in novice level racing, the most important advice I could give anyone getting started is keep a cool head or you'll make mistakes.
If your Pace is Not Improving, Come in
If you can't get any faster after a few laps come in and discuss with your team. This is a good opportunity to check tyre pressures and talk about the behaviour of the car. If any setup changes are needed, now is the time to make them happen.
Have someone ready to show you where you are on TSL Timing. If you make the decision to run again, make sure there's enough time for an outlap!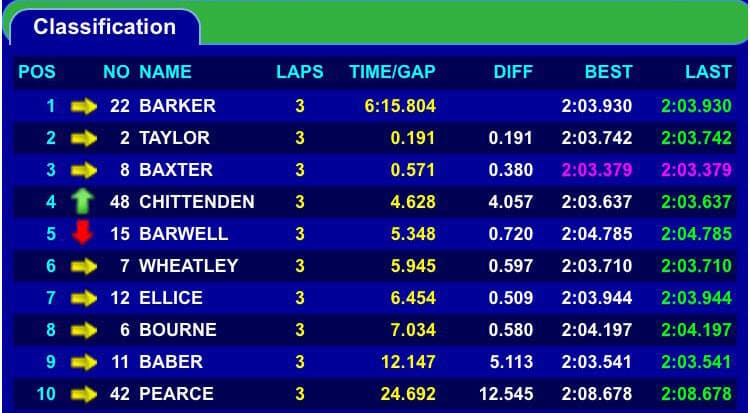 TSL's live timing screen can be handy to take a look at if you're able to return to the pits.
Focus on Maximising the Learning Process and Nailing Your Technique
In the end, my first qualifying session resulted in 8th and 9th places on the 2 race grid. By the end of my first season, I managed to improve this to a best of two P2 starts, two P3 starts and a P5 (wet) in the full championship by doing my best to maximise the learning process and focusing on my technique in the sessions.
Of course, converting those positions to actual race results is a completely different story. More on that next week.
---
About the author
Richard Baxter is an amateur driver having run in Radicals, Funcup cars, Mazda MX5's and Classic Formula Ford
Read his personal blog, Purplemonkeydishwasher here, Follow him on Twitter here or follow his sim racing action at simracingcockpit.com.