"How fast could it be?"
Looking back, I really had no idea. None. I didn't really know how quick this little car would be. I'd joked with my girlfriend the night before my first test, "how fast could it be?". Knowing I was reasonably handy on the road, in a Porsche 911, I truly thought I'd instinctively know everything ready for the first lap.
Nope.
Over the next few months I'm going to share the experience of actually getting into motorsport. I was a complete novice in August 2015, when I bought a Radical SR1. I had absolutely no idea what I was going to experience.
What's a Radical SR1?
Here she is: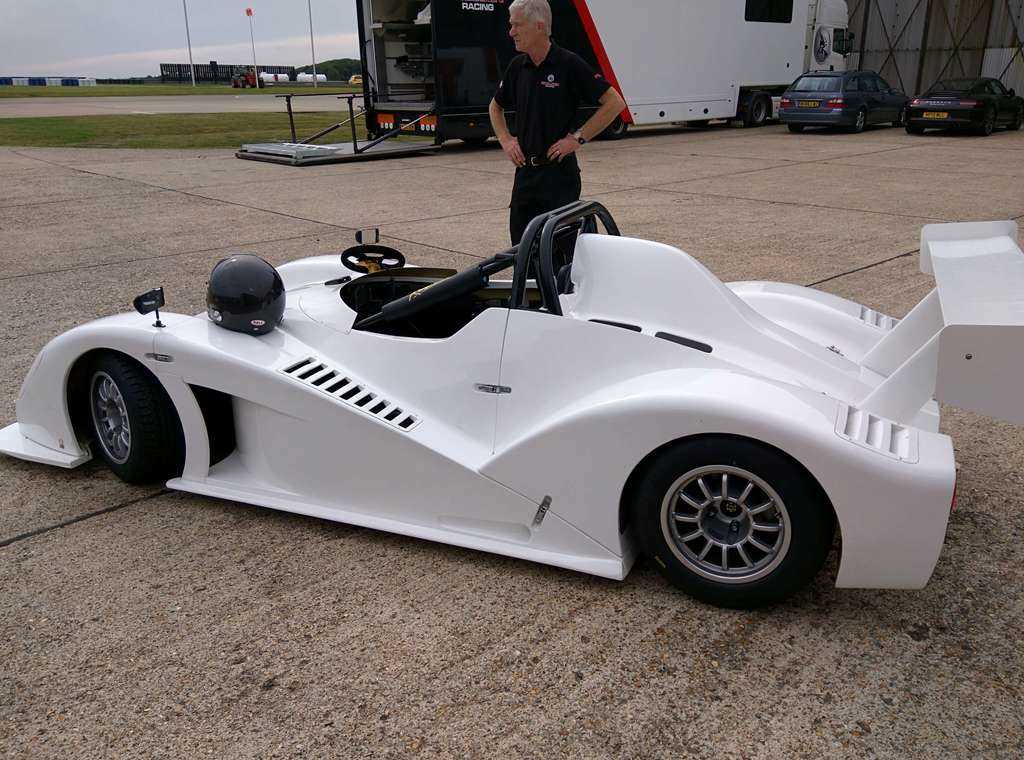 A 1300cc Suzuki powered racing car. There's 185 bhp in the back which at first seems pretty low by today's fast road car standards.
As I've learned, power matters little in comparison to weight. This car weighs 560kg – that gives a better power to weight ratio than a Porsche 911 GT3 RS.
More power than grip
Genuinely, for £25-30 grand, you have the pace of a pretty serious piece of racing hardware. The speed that these cars can carry through corners was a big surprise to a novice like me. The main limiting factor in an SR1 is the tyres; they're essentially Dunlop road tyres, very hard and because they're not slicks they have limited grip. More on that in a moment.
I turned up at Bedford Autodrome to collect my Radical and use the circuit to gain my first experience. At the time I had no experience of a racing car, I'd never been in a Radical and my only track time had been under tuition in a BMW M3, 3 years before. Unfortunately I'd forgotten everything I'd learned that day.
There I met Roger from Radical, Derrick and Dave from Nielsen Racing and Ian Flux, who took me out on my first ever lap. I was shocked by what I experienced.
With Ian driving the car; the first thing that registered in my mind was the braking. You could be so hard on the brakes, the car slowing incredibly aggressively. Next, corner entry. The car entered into the corner so quickly I couldn't fathom we would make it round. Finally, exit. Ian used a lot of throttle and the car oversteered, gracefully, out of the corner.
Back then I had no idea what I was feeling. There was a feeling of movement underneath me during braking, followed by a rotating feeling, almost as if the car was on a pivot point somewhere in the centre of the chassis.
This was my first experience of the car being on the limit of its available grip, and rotating in the corner. As I now know so well, these sensations are the feedback you need to register to fully understand what the car is doing.
Where I started
I'm reluctantly sharing an early onboard video of a slow set of laps around Donington Park. I'd never had any coaching there; and I clearly wasn't confident in the car:
There's lots of mistakes happening in this video, in particular:
Over slowing the car into slow, medium and high speed corners
Not using full throttle in numerous places around the circuit
Not using the full width of the track
Not "self coaching" by adapting as I drive the car
Those points are all mistakes that everyone makes at first. What I wish I'd known then is the importance of coaching. If you're a novice driver, it doesn't really matter what car you're in or what circuit you go to, you need coaching to get anywhere.
Where I am
Thanks to some amazing coaching from Scott and Andrew Bentley, I'm making progress. This was my fastest lap at Cadwell Park, enough to qualify a competitive 3rd, only 1/10th of a second off 2nd:
I'm happy with this lap; the main reason is that there's not an awful lot more pace in the car. It's on the limit of grip through the entry, mid and exit phases on every corner and I think where there is time, it's a tenth here and a tenth there (rather than seconds per lap to find!).
What I wish I'd Known
There are a few things that I wish I'd been able to tell myself at the beginning of this process. Here they are so hopefully, you won't make the same mistakes as I have:
Vision is Everything
It sounds obvious but it needs to be said: if you're not looking where you want to go, you're going to really struggle in the car. An early mistake I made was staring intently at the braking point, rather than scanning across for the apex as I'm approaching the braking point and the exit as I'm coming out of the braking phase and entering the corner.
Your vision transforms your confidence in the corners, but it's not an intuitive procedure at the beginning. I had to work on this and it's still something I have to remember to get right, especially on a new circuit. Take a look at this guide to vision in the University.
Learn Car Handling
Learning car handling is your top priority. Nothing else matters until you've mastered the basics of corner entry, rotation and corner exit managing oversteer, or understeer.
After a few days in the Radical it became clear that I needed to work on my car handling technique. We took a road car and the Radical to Blyton Park for 2 days. One day in the road car, one day in the Radical.
After half a day of tuition in the road car, learning about grip, practicing my vision and slow corner technique, it felt like a whole new world had opened up.
I think it's an excellent idea to spend time in a slower, more forgiving road car. You can be quite thoughtless with the throttle and the driver aids step in. Despite the driver aids, you certainly gain enough experience for it to prepare you for a much less forgiving Radical sports prototype.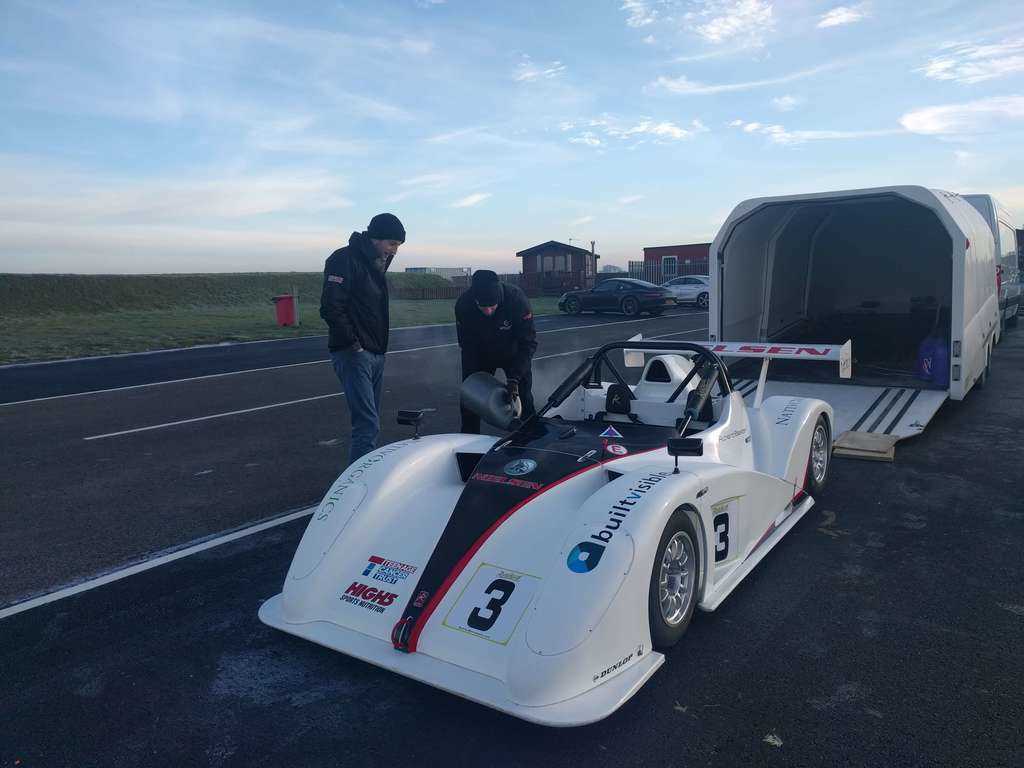 A few weeks later I hired a Caterham and went drifting with an instructor. This experience gave me so much confidence to lean on the car, use the throttle and be confident with oversteer.
I still love practising my car handling. It's an art you can never practice enough. It's fundamental to fast track driving and I'll be talking about it again soon. In the meantime, use the Driver's University guides and just as importantly, use a coach!
Your Attitude to Learning
The more willing you are to accept that you're a novice, you're at the track to learn and that you need to listen to everything you're told, the better.
The most important reason is just obvious; listen and process what you're told because you're paying for the time. It's efficient not to interrupt your coach while he's giving feedback.
Also, coaches like students who listen to what they're told and then go and do it! Everyone has a more enjoyable time especially as you make progress as rapidly as possible.
The danger is that without really being willing to absorb what you're taught and thinking about how you're learning, you get to a certain stage and stop progressing. I've seen this happen to drivers that started out a little quicker than me; and now it's the opposite way round.
Your Preparation
I think the main thing that made a difference to my day on the circuit has been my physical fitness. I train twice a week with a bit of bodyweight, flexibility/mobility, resistance and cardio-vascular exercise. What I found at first is I'd get so tired that by midday I'd stopped learning anything. Your body and your mind are both really important and one being out of shape can affect the other.
I also found keeping hydrated and eating properly (not always easy at a circuit) helps too. I drink a lot of water and take occasional hydration salts (High5 is excellent).
Find a coach
There are good coaches and then there are bad. I've been lucky, I've only ever had brilliant coaching. With that said, you need an instructor who can articulate the fundamentals. Car handling is the main priority, so look fo a coach who can explain those basics very well.
The most important piece of advice, relax and have fun. You're there to enjoy yourself and the more you do the more skilled you'll become with your car. Enjoy!
---
About the author
Richard Baxter is an amateur driver having run in Radicals, Funcup cars, Mazda MX5's and Classic Formula Ford
Read his personal blog, Purplemonkeydishwasher here, Follow him on Twitter here or follow his sim racing action at simracingcockpit.com.